EroticTails
Incendiary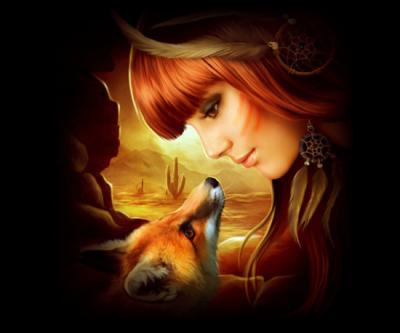 Friends, Journals and rates desires will rtf

Set at 00:09 on February 26 2017

| | |
| --- | --- |
| WHAT EROTICTAILS IS DOING | |


Every morning she wakes up before him. Kisses his cheek and pulls the covers back up over him. She takes a shower, dries, and styles her hair. She grabs her headband and slides it in place. She smiles in the mirror as she adjusts her fox ears on the headband. Does her make up and gets dressed as scantily as possible. Last pieces of the wardrobe. Her tail and her paw gloves. She bounds down the stairs and gets her food and water dishes. Sets them on the floor in the kitchen and bounds back up stairs crawling into the bed and nosing her Master to wake him up. She purrs as he sleepily pets her back and gets up. He walks down stairs and fills her bowls so she can eat. He reads the paper as she kneels on her hands and knees eating and drinking. She comes over after she's done with her leash in her mouth and nudged him. He hooks the leash and walks her outside into the yard for some exercise. This is the perfect life for a pet. The end of the day comes and she's walked back inside fed, bathed, and put to lounge about in her pet bed. Her ears and tail now back in their box. Her clothes now nothing but one of her Masters shirts. She passed out holding a squeak toy ready to repeat the next day as the same before. Such is the life of a happy pet. Now let's see what she does next...

I think we have come to the point where an introduction would be proper. My name is Catelyn....but I prefer to be called Cat or Minx. I would suggest keeping all pet names and cheesy pickup lines to yourself...trust me this is an easy way to annoy me. I am the famous Cat people will warn you about.... some of you will eventually find out why they warn you about me because of stupidity. Some of you will discover I am a harmless kitten all of this depends on how you approach me and speak to me. I also to tend to not play nice in the sand box...if its mine then its mine fuck off.






I am your basic little goth girl with the heart of an emo.. I am your basic outcast which didn't phase me I actually despise the human race. I am a strong willed individual and I will not hesitate to speak my mind. I have a foul temper and I tend to try to hide my temper but when it does show off it usually means run. I have a twisted sense of humor also...yes I am the type of person to laugh at someone bleeding out but do not mistake this for I am cruel person I actually have a heart of gold and this feature tends to get me hurt and used a lot. I am the type of person who cares more about other people than myself.





When it comes to a lot of profiles if you truly pay attention they are covered in beautiful women. So with this being said I am a very proud bisexual woman. I do not hide this. I tend to be more attracted to men over females. I guess I am picky which is not an issue. I do not hide my sexuality so if you have a problem this fact about me tell someone who cares. This is not a formal invitation for all the creeps and slime balls of this website to attempt to crawl up my ass. I do not mind helping you with self-mutilation. Your balls or tits will look nicely in a jar above my fireplace. Yes I am a sadistic little bitch that gets off on the pain of others in some cases.





Within this world the best advice I can ever offer anyone is nothing is ever is as it appears to be....and well I am the best example of that I can give you. On this website I have a nasty rep because of drama whores but not the point. I am your basic bad ass little freak. I know you are confused by that so let me explain...I love Bondage more than most people actually this is something I can not function without. So before you even ask I adore BDSM and yes I live within the lifestyle. I am what is known as a Switch...which means I am both Dominant and submissive. I will bow only to men but I dont mind making a bitch learn their place so to speak.




Lets move onto the most important thing of my profile...my relationship status. There are some Delusional people who think dangling certain things will change my future because of their spite and jealousy...well guess what I have an announcement I am the future Mrs.Bunnell...so take your control issues else where....its not working cupcake nothing you do will. On July 12 2014 Mike Bunnell made a choice to upgrade from a waste of space to something stronger and better. After that choice it was not long before the question came about and by a previous statement you can I accepted. I will always be his...and he is mine. Those who like drama I have a suggestion please make sure you are smarter than I am. So Check Mate!



Now lets discuss my interests shall we...I have a big heart for music....my favorite genres are Heavy Metal and Rock....I do listen to Rap, R&B, and other types of music. I do not listen to gospel so dont ask. I do love to read favorite Author is Edgar Allen Poe...favorite pieces is The Cask of Amontillado and The Raven. I love to write and I normally major in Horror Short Stories and Poetry. My biggest passion is graphic design....as you can tell by my profiles. Lastly I adore animals but I hate birds, fish, and cats. I own two little ferrets. Nami and Nado have been there for me in ways most humans havent been.






When it comes to my profiles I tend to show off a different aspect of myself...Well lets focus on this profile shall we. This profile is another side I hide from the world because of judgmental pricks. This profile is an expression of my pet submissive side and is the counter part. Just like normal xOwnedbyDarknessx wrote the first paragraph but in this case he is the one who came up with the theme. He thought since I made the Little profile it was time that I revealed the hidden beast within so to speak so accept me for me or fuck off either way I will prance around with my head held high with my fluffy tail behind me.




Lastly my adding and rating policy. Well how do I put this I do not like having to add the same fucking person every damn day so after the third name change I start ignoring your messages. I wont rate you or add you. Also I do not give honor I only take it away....so dont bother asking for mine. If you earn my block good for you it wont come off and having other people bug me about them will only get them the same treatment so think twice before annoying me. I have more than one account and some of them tend to hit ratings hard....trust me. As I said I dont play nice with others....and I dont give a fuck if you like this fact or not.


Profile Created: Sep 06 2010

Last on: February 26 2017 at 03:13 UTC

Times Viewed: 14301

---
| | |
| --- | --- |
| Times Rated: | 197 |
| Rating: | 9.983 |
Rate this profile
---
~10~




21:10:34
Feb 25 2017
| |





19:06:21
Feb 25 2017
| |
[
All Comments
]