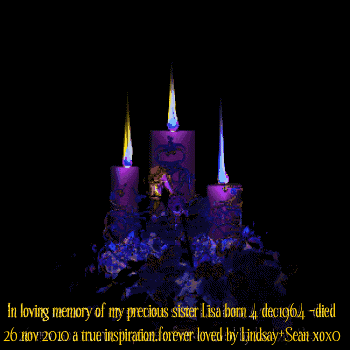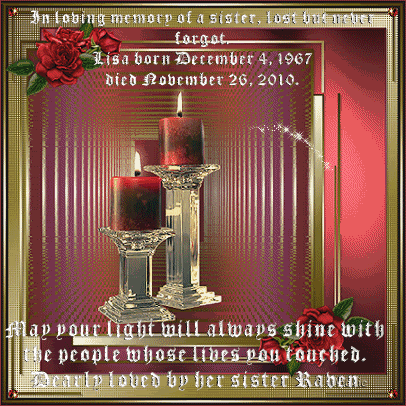 TODAY I GOT DEVASTATING NEWS. MY BELOVED ADOPTED SISTER LISA AKA TOURMALINE BLACK AKA AS BLACKXSWAN DIED SUDDENLY LAST NIGHT FROM A CARDIAC ARREST DUE TO COMPLICATIONS CAUSED BY PNEUMONIA ENDO CARDITIS AS WELL AS SUFFERING FROM 3 STROKES IN HER BRAIN STEM HEART AND LUNGS.. HER DEATH WAS SUDDEN AND UNEXPECTED . I AM SIMPLY HEARTBROKEN AND COMPETELY DEVSTATED. SHE WAS MORE THAN MY ADOPTED SISTER SHE WAS MY BEST FRIEND AND SUCH AN INSPIRATION TO ME . I AM TRULY A BETTER PERSON FOR HAVING HER IN MY LIFE. SHE WAS MAMA LISA TO MY SON ALSO AND ONE OF THE SWEETEST AND MOST KINDEST PEOPLE YOU COULD EVER MEET. SHE ALWAYS HAD A KIND WORD TO SAY AND HELPED ANYONE WHO NEEDED HELP. SHE WAS AN OLD SOUL AND SOMEONE WHO'S SMILE LIT UP THE ROOM. THE HARDEST THING FOR ME IS THAT I SPOKE TO HER ONLY A FEW HOURS BEFORE SHE DIED AND SHE WAS CHEERFUL AND EVEN THOUGH I KNEW SHE WASNT WELL I NEVER EXPECTED THAT IT WOULD BE THE VERY LAST TIME I WOULD SPEAK TO HER. AT LEAST SHE DIED IN HER MOM'S ARMS AND WENT QUICKLY AND DIDNT SUFFER OR DIE ALONE... LISA SEAN AND ME WILL NEVER FORGET YOU AND WE WILL LOVE YOU ETERNALLY. YOUR FLAME OF LOVE COMPASSION KINDNESS AND INSPIRATION WILL BURN FOREVER IN MY HEART. I AM SO BLESSED AND PRIVALEGED TO HAVE HAD YOU IN MY LIFE AND I WILL NEVER EVER FORGET YOU . MY SON AND I WILL LOVE YOU ETERNALLY . GONE BUT NEVER FORGOTTEN . WE WILL FOREVER LOVE AND CHERISH YOU AND THE PRECIOUS MEMORIES YOU GAVE US. LOADS OF LOVE LINDSAY AND SEAN BOY XXXX
PLEASE EVERYONE CHERISH THOSE YOU LOVE AND ALWAYS MAKE SURE THAT THEY KNOW YOU LOVE THEM AND NEVER LEAVE THEM ANGRY BECAUSE YOU NEVER KNOW WHEN IT WILL BE THE VERY LAST TIME YOU WILL SEE OR SPEAK TO THEM. THE ONLY COMFORT I HAVE IS THAT SHE KNEW THAT I LOVED HER AND I KNEW SHE LOVED ME AND MY SON.. THE LAST WORDS WE SAID TO ONE ANOTHER WAS THAT WE LOVED EACH OTHER AND GOODNIGHT SEE YOU IN THE MORNING. WE ALWAYS SAID THIS EVEN IF IT WAS DAYTIME. I MISS HER AND LOVE HER HEAPS.
THE MESSAGE I WAS SENT TELLING ME OF HER DEATH
Dear Lindsay
By this way i will inform you that my daughter Lisa has past away.
She has had a hart attack this evening on friday 26 off november.
Would you also inform Lisa friends about this situation because i don't know all her friends.
Thanks you for being friends of Lisa, and you may call me if you need more information.