I am a taken man already bitten by the one I want...I am a father of four with three grandkids.I take no crap from anyone.I will not fill you with bull.Iam what Iam...
I am 6' 1" tall with dark brown hair and sexy green eyes. I am a Journeyman Master Technician and a major Dealership in the area. I have been repairing automobiles for about 27 years, now. I started when I was just 16 years old. I have a couple of degrees. One in business management and the other in pre-law. I would love to stop turning wrenches to become a lawyer that specializes in fathers rights (not priests but dads everywhere, lol). I would not want to be an ambulance chaser. It just wouldn't be my thing. Oh and I have heard nearly every Lawyer joke out there, but if you think you have one I haven't heard send me a message and we will see. I have 6 tatts and in the works of getting at least 3 more really soon.
My hobbies: home improvements, baseball, football and hockey when the 'ol lady makes me watch it, camping, fishing, hunting, playing with my son, arguing with my step son, playing pool, parties, and of course having the time of my life on the Vampire Rave.
My likes: Chicken from Popeyes, Rum and Coke, Tequilla straight up, walks in the woods, walks after a rain shower, full moons, peace and quiet, Metallica, Journey, Boston, Styx, Bread, Meatloaf, 70's rock, alot of the newer country music, getting tattoos, family get togethers, etc.
My dislikes: People who drive under or right at the speed limit in the fast lane, people who don't know how to drive, stupid people, users, pepsi, screaming kids, bitchy women, pit bulls, one uppers (people who always have to do you up one better), etc.
You're just the happy go-lucky type. You might have
your pet peeves, but other than that, you're
mainly calm. Blending in with your
surroundings, you're the type of person who
everyone likes. Usually it's you who cracks
jokes at social gatherings - after all,
laughter is the best medicine. Sometimes you
pretend to be stupid, but in all actuality, you
could be the next Einstein.
What Type of Soul Do You Have ?
brought to you by
Quizilla
You Are A Black Goth. You Are Evil And Only Depend
On Your Self.
What Color Goth Are You?
brought to you by
Quizilla
********WHAT DRINK ARE YOU??????*********(cmon i know you wanna know) ;)
brought to you by
Quizilla
Your evil eyes are blue. As evil as they come. The
Blue Fire in your eyes it what makes you evil.
Your cold..
What Evil Eyes Would You Have?
brought to you by
Quizilla
The Hammer
What sign of the Black Zodiac are you?
brought to you by
Quizilla
Web Counter
As The Hearts Of The Pure, Your Dragon Color Is
Gold
What Color Dragon Are You?
brought to you by
Quizilla

Take the quiz:
"what color rose does you soul have*PICS*"


The red rose
yous is the red rose you have love for many and think there might be a god but your not yet sure you cant stand to know that people you love are hurtting because it hurts you also so you try to make them happy in any way you can
Take the quiz:
"Are you a NECROPHILIAC, a RAPEST, or a CANNIBAL?"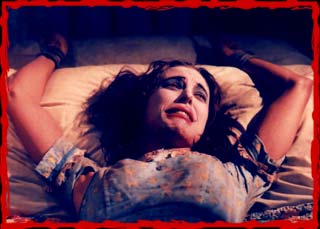 RAPEST
You like it when other people are afraid of you. You like the thought of having massive power over someone, especially sexually. You are probably a sex fiend of some sorts and have some weird fucking fetishes. You were either raped when you were little, very confused by sex, or turned down a lot in high school. Whatever it was something in your head makes you hate the opposite sex. You feel the need that if someone says no to have sex with you they have to pay for it. Also the thought of someone begging you to stop and get off makes you want to fuck them harder... you strange fuck you... stay away from the neighbors children please...
You're a werewolf. Werewolves where mutated people
who would transform into wolf-like beings and
would lose control of themselves. Often times
when a little child would go out into fields in
Europe, they would encounter a werewolf and be
eaten. They had charatceristics of their human
selves but where usually hairy with canine like
teeth and strangely shaped heads when they
transformed. They often had bad tempers and
would lose control of their actions very
easily. They were excelent hunters though. (If
you cannot see the picture, go to my userpage
and look near the bottom. There should be the
picture and description for all the results)
What Mystical Creature Are You? (Pictures)
brought to you by
Quizilla
| | |
| --- | --- |
| O | Overwhelming |
| U | Useful |
| T | Tempting |
| G | Gloomy |
| O | Outrageous |
| I | Important |
| N | Natural |
| G | Gloomy |
Name / Username:
Name Acronym Generator
From
Go-Quiz.com