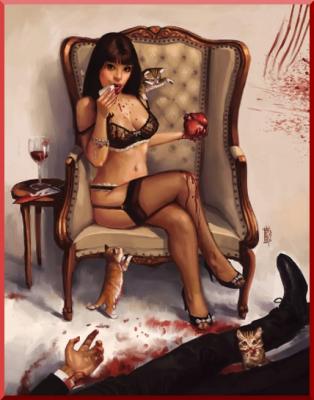 • Sete Diabolica •
Set at 03:53 on August 03, 2016

Websites
Quote:

Scream Me Something Beautiful

About Me:

Ok so I'm not to good at doing this so here goes..

I found Vampire Rave a few years ago when I was browsing the internet and I still haven't left. I guess you can say that this is sort of a second home for me. I have met alot of really awesome people and made a few very good friends. Besides spending time on here I also enjoy writing poetry, I suppose that sounds a little cliche on this site but I absolutley love to write. I have a deep love for reading also. I love the way books can take you from one realm of your mind to another in the flip of a page. I am a advocate for animals and hope to open a rescue shelter for small dogs. I myself own two pomeranians their names are Sasha and Chloe and they are the best lil critters that I have ever had the pleasure to care for. I guess I can say that I have a little bit of a dark side which is a good thing :) I am a shy person at first and please don't take offense if I don't message back right away but once I get to know you better you probably won't be able to get me to shut up lol. I am also a tattoo collector. I have 19 so far and I do plan on getting more. I am a nice person but please don't make me angry because I can be a real bitch. So I hope that I have left you with a better impression of myself..thanks for taking the time and visting



Proud ACM Of:






My Alliance:





Mentor Of:










My Dislikes:

Stupid People, rude people, bill collectors, child abusers, animal abusers, people that don't use their turn signals and men that hit women


My Rating System:

I usually give out 10s. Who am I to judge your profile, right?And I use a rating stamp so sorry in advance. If you have nothing on your profile it's usually a one. I don't re-rate so don't ask.

Your Profile:

If I have rated you then I have read your entire profile and journal if you have one. I know everyone puts in alot of effort to make their profiles reflect them so the least I could do is read them and your journals.

Revenge Rating:

It's just stupid.



I do not need to watch for 'Promised' stamps. This has to do with a part of the system known as Forced Induction- and NO it is not against the rules. Want to claim a member is 'yours'? Be quick enough to induct before someone else does. If not be ready to offer a trade RESPECTFULLY.



Movies:

Labyrinth

Resident Evil (All Of Them)

The Crow

Interview With A Vampire

Bram Stokers Dracula

Pee Wees Big Adventure

The Messengers

Twilight

New Moon

Eclipse

Transformers

Jennifers Body

The Rocky Horror Picture Show



Games:

Resident Evil (All Of Them)

Left For Dead 1 and 2



| | |
| --- | --- |
| Member Since: | Oct 27, 2009 |
| Last Login: | Apr 17, 2023 |
| Times Viewed: | 64,331 |
---
| | |
| --- | --- |
| Times Rated: | 2,233 |
| Rating: | 9.906 |
Rate this profile


---
AstrologyQueen15
14:21
Aug 01, 2023
CrimsonJuliet
22:45
Jul 02, 2023
Bennu
21:54
Jun 29, 2023
[
All Comments
]
NEWS



16:11:41
Jun 14 2021


I had to apply some security updates. I needed to take the site down for a few hours to complete everything. I did it in the middle of the night.. When hopefully, most of you wouldn't notice :)

More News...