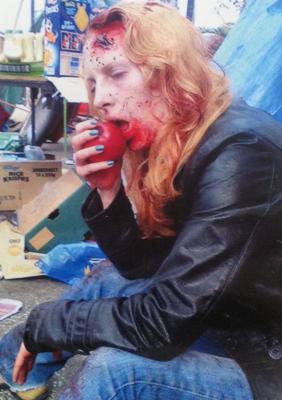 THIS JOURNAL IS ON 48 FAVORITE JOURNAL LISTS
Honor: 0 [ Give / Take ]













8 entries this month


Musical Endeavours

15:17 Jun 30 2015
Times Read: 818


I have been playing my violin along to MM Mephistopheles of Los Angeles and have now got it to sound pretty damn good, I think the song is pretty damn good too :)

TRUTH

17:47 Jun 27 2015
Times Read: 826


Here's hoping Andy Murray fails in every single tennis match he plays from now on...



Ah Wimbledon....

Andy Murray 0 My smile 1

xoxo

13:38 Jun 27 2015
Times Read: 840


https://www.pinterest.com/pin/387520742909893923/

PRIVATE ENTRY

14:04 Jun 23 2015
Times Read: 844


• • • • PRIVATE JOURNAL ENTRY • • • •

First Look

12:35 Jun 22 2015
Times Read: 853




Body Modifications




11:46 Jun 20 2015
Times Read: 868






I have put my new 9ct gold sleeper studs into my second ear piercing as I have not used them for nearly twenty years. I am refraining from using my first ear piercing until the six week clean and settle period is over. My left is still inflamed and weeping my right has begun to settle down.

SCREW YOU
10:21 Jun 20 2015
Times Read: 875
I have now officially deleted my twitter account :)



Musical endeavours
11:54 Jun 04 2015
Times Read: 894
I have been practicing my violin 3 times a week and my guitar twice a week now for the past year or so. I will be taking my violin grading next June so I have started to also practice my singing for scales and notes (which is needed for the oral part of grading exams), my voice is not that bad but still pretty weak on low notes.

~BV~
REAL VAMPIRES LOVE VAMPIRE RAVE
Vampire Rave is a member of
Page generated in 0.0934 seconds.