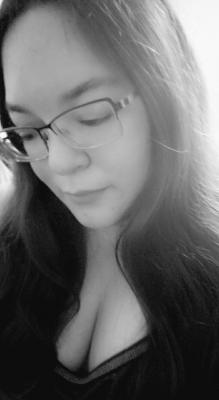 THIS JOURNAL IS ON 402 FAVORITE JOURNAL LISTS
Honor: 391 [ Give / Take ]













11 entries this month


05:29 Feb 28 2011
Times Read: 1,715


Sent to Songbird:





fuk lookz like i could have the antichrist w/u dammit lovely treacherous song bird..lost in ur dark gaze fuker..

Uh... What the hell does any of that mean? I honestly couldn't make heads or tails of that message. And.. did he call me a fucker? Oh VR, it's stuff like this that keeps me coming back. The entertainment value is just priceless.

PRIVATE ENTRY

06:59 Feb 27 2011
Times Read: 1,728


• • • • PRIVATE JOURNAL ENTRY • • • •

00:46 Feb 24 2011
Times Read: 1,762


Diety mentioned it in her journal, now I'm seriously craving a Double Double from In-N-Out. Once my mother gets home with the car I'm off to go grab us some yummy yummy burgers. :]



If you've never had an In-N-Out burger, you're seriously missing something good.

05:02 Feb 21 2011
Times Read: 3,482


From a message I got on Facebook:





"Even though I'm rarely on these days, it's good to know you'll be around for a spell. It would be a shame to lose such an attractive addition to that place. Afterall, you've always managed to hold my attention and intelligence is such a rare thing these days. "

Haha, it's a dirty dirty lie (in my opinion, anyway), but it made me smile nonetheless.

MrD

is truly fantastic.

04:09 Feb 21 2011
Times Read: 3,492


All I gotta say is, win!



Too much went on to get my way, but in the end it all worked out. :]

04:27 Feb 19 2011
Times Read: 3,642


So, everyone is speaking ill of the Admin team. I don't understand it. It's not because I'm a former Dominar, I've had my share of recent bumps with a few on the Admin team when it came to my portfolio. But, people, why do you guys have to be so harsh on them? They're just doing the jobs given to them by Cancer. You don't like the decisions that they make? No one is forcing you to stick around and put up with it. I mean, come on, can't we all get along?





I'm aware that this will get me negative feedback from a select group of members, but I'm stating what I feel. Don't agree with my opinions, simple solution, don't read my journal. 'Kay? Thanks. :]

PRIVATE ENTRY

01:53 Feb 18 2011
Times Read: 3,661


• • • • PRIVATE JOURNAL ENTRY • • • •

01:18 Feb 17 2011
Times Read: 3,745


I just have to say this, since apparently this is all you talk about.





Having the largest Coven on VR does not mean you are the best. Especially when a good chunk of your members aren't active.

You've got yourself 285 members? No body gives a fuck. I repeat, no one gives a fuck. You keep ranting and raving that you're Coven is so great that that you think you're the best. Think what you want, it won't make it true.

You even state on your coven's main page:

QUALITY OVER QUANTITY



And:



We are a very picky Coven and are more interested in our serenity than how many members we have.

What a fucking joke. If that were the case you'd let go of over half your inactive member base. So kindly shut the fuck about being

the best

when you're so obviously not. Thanks. :]

11:29 Feb 12 2011
Times Read: 3,879


So, my Matthew introduced me to this somewhat old anime, Ghost Stories. And, my god, the English dub for the show is just hilarious. Honestly, I don't thin I've ever watched an anime that had me laughing at just about every line. I am definitely going to have to hunt this one down and buy it. I've only seen four episodes, but, I believe it can only get better. I mean, how can you go wrong with lines like these:





"I want a huge allowance and breasts, when I get older."

"And when I get older, I want to fondle said breasts."



....



"What is it Leo?"

"Yes, it's me Leo. After doing some more checking on the piano ghost, I discovered some new facts."

"What? What new facts?"

"The facts.. Well, we probably shouldn't discuss it over the phone. Hey, yeah, I've got an idea. Why don't you come to the scary, isolated pay phone on the bad side of town? Alone. Yeah."

"Okay. Give me a minute"



....



"You wanna be an airforce ranger! You wanna live a life of danger! You don't wanna get raped by strangers!"



.....



"Huh? Nice ass."

"Do not lust in the name - Jesus, you're right."



....



"Ohmygod,whatthehell'shappeninghere?

ThesearethefastestlipsighsI'veeverhadtosynch!"



....



"Don't you have any money for shoes? Did the Crypts beat you up and take yours too? They took mine and now my dad only buys me cheap ones from Payless. But enough about me, are you a student here too? I haven't seen you. Must be night classes. You're kinda pale."

"My... My friend."

"Who?"

"A long time ago I had a friend. He was at the elementary school."

"Must be nice to have a friend. Everyone here hates me."

"He died though."

"Oh, sorry. Suicide?"

"In a traffic accident. It was on the news."

"Fox I bet."



....



"And then, on the morning of the Sports Festival... BLAM!"



....



"Let's pray- Screw it."

"After you eat you are going to leave us alone, aren't you?"

"I am so over my Giada De Laurentiis phase."

"Choke on it."

"Satsuki, may I get something to drink?"

"Yeah, I think there's some Miller High Life in the 'fridge."

"Great. Empty."

"Yeah, dad's been lonely."

"I'll go get something non-alcoholic."

"'Kay. To each his own. Damn it, he gets loaded and forgets to pay the bills."



....



"I'm home! Keiichiro!"

"What?"

"Have you done your homework yet? Oh, wait, you're dyslexic. Done your yet homework, have you? You I'm answer. Hey talking, me too."



....



"Ah! It's like a zombie weight watchers meeting!"

"Yeah, let's leave before weigh in!"



....



"My mirror homies are trying to knock down the front door. Like angry Avon ladies."



....



"What the hell is this thing? A copier? A hard drive?"

"It's a called a scanner. You use it to transfer pictures to Myspace.com. Or, Jewishnerdboyslookingforhoochies.org"



....



"I'm all alone and forgotten like a black family in Bush America. *phone rings* That must be FEMA, late of course."

Plus, any anime with the super awesome Greg Ayres is good in my book. Though, Leo, the kid he voices, sounds way too much like Kaoru Hitachiin from Ouran High School Host Club, who he also voiced. -shrugs-

05:52 Feb 10 2011
Times Read: 3,946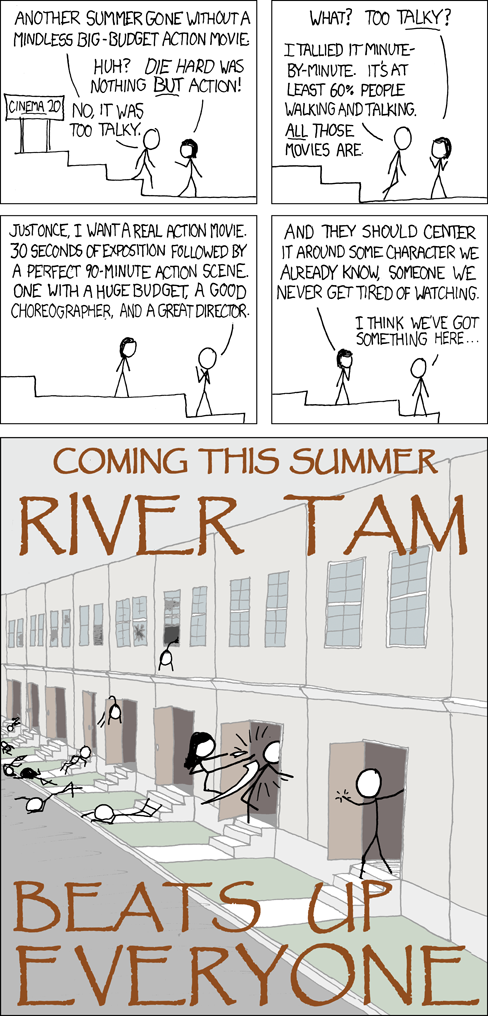 Yeah.. I'd watch that. Over and over and over and over.. River is like the
best
character ever.
14:01 Feb 04 2011
Times Read: 4,203
Talking to you is about as appealing to me as a prostate exam is to any man.



You make me want to bash my head right into a brick wall. My god, the nonsensical ramblings you try to pass off as "intelligent conversation" is beyond laughable at this point.
REAL VAMPIRES LOVE VAMPIRE RAVE
Vampire Rave is a member of
Page generated in 0.2665 seconds.