---
---
PROUD AND HONORED MASTER AND MEMBER OF THE COVEN OF THE HYBRID BLOOD

There are many great Covens available to you here on VR. But in case this one catches your eye please message either myself or one of my assistants! My coven is based on family and being in a home where you can have friends and have fun. I love my coven and would gladly put everything aside to help and be there for any of my members!

Thank you Cancer for giving me this oportunity to contribute to VR and have a place to call home on this great website!
---

Feel free to message me anytime you see me online, even if it is just to say hello and chat!

Don't get affended though if I don't respond right way. I'm always doing something while on VR so sometimes it takes me a minute to get to my messages. Also sometimes I get so many I delete a few before reading them by accident so feel free to send me another one if you haven't heard back for a while.
---
Yes I am bi-sexual. Yes I care about what people think. Don't come to me with negative things to say about how I choose to live my life. I've known I was this way since I was 9-years-old and I intend to stay this way. Personally, I see nothing wrong with it. I'm not going to hit on you so don't worry.

And no, I am NOT saying this to get attention. I'm saying it because I get asked all the time and I'm sick of telling people. Not to mention this is my profile and that's a part of my life.
---
Division Views:
| | |
| --- | --- |
| I think I'll start off with the whole wolf and vampire division. I've noticed over my years on the rave that a lot of VR is split into the vampires and wolves. I personally, don't have a problem with that. You are all individuals who know what you like and want, and who you are. I think that's great. So, just to clarify with me, I'm not sure what I believe in anymore. So I wont be taking any sides, but my mind is still wide open to different scenarios. | Next I think I'll go for racial division. I firmly believe that everyone has the right to their own personal opinion and therefore all I will do is give mine. I am not racist at all, I hate everyone equally. That is not to say I hate everyone, but for the people that I do hate, or strongly dislike, I have those opinions based on their personality or things they have said or done to wrong me in one way or another. I am a guarded person but if I like you enough and you prove yourself to be trust worthy I will let you in no matter who you are or what you look like. I'm very open when it comes to giving most people a chance. I judge everyone the same, on their personality and the way they treat myself and others around them. |

Messaging ~ Adding and Biting:
I will say this once and only once. I do not think I'm better then anyone else because I have a high rating or because I am at a high level. I do not mind getting messages from anyone on vr no matter what their level or rating be. If I ignore your messages it is because of what you said, or what I've heard, but in no way has anything to do with your status or rating or anything that has to do with VR it'self. Also, if you message me please have something nice to say, or don't message me at all. If you message me I hope it is because you liked my profile and want to get to know me as a person. If I message you, it is because I actually read your profile and would like to get to know you and maybe become friends.

Do not message me asking permission for you to add me to your friends list, because I will say no. I do not want anyone adding me to their friends list unless we are friends. If we've had a few conversations and are likely to stay in touch then I do not mind at all if you add me, but please let me know so I can do the same. Also, I will not add you without your permission first.

As far as biting is concerned I don't mind it, but don't bite me unless you are interested in holding a conversation. I consider biting a way of getting attention, or showing affection if I already know you.

Stalking ~ Rating:
| | |
| --- | --- |
| I prefer not to be stalked. The only people that I do not mind stalking me would be my coven members or my friends. Even though it is your right to stalk anyone you like as a VR member, it is my right to state how I feel and the way I would like to be treated. If you feel you must stalk me, please tell me. Other then that, ask my permission and mostly likely I'll give it, even though you don't need it, it's just common curtosy. | When it comes to rating, and this goes for profiles and portfolios, I rate in several different ways. If you rate me anything less then a 10 and do not give a reason why, it is likely I will rate you a 1. If you rate my profile with a stamp that stretches out my page I will rate you a 5 until you change it. If you have nothing on your profile and you've been on VR for more then a week, I will rate you a 1. If you ever get a rate from me that is less then 10 and you have updated, or you feel you got it by mistake, don't downrate me in return because than you will get a 1 and it will stay a 1. Instead, send me a message and ask for a re-rate, I will check your profile or portfolio out and if I feel you've updated or I miss-rated I will glady change my rate. |

Getting ahold of me:

PLEASE ASK MY PERMISSION ON VR BEFORE YOU ADD ME ON ANY OF THESE, THANK YOU! There are several ways to get ahold of me outside of VR. The best way is to call my cell phone, which I almost always have on and near me, but to get my cell phone number I must trust you enough, which means we need to be friends and in that case if we're good enough friends and you've asked for it you probably already have it so call me lol. I also have three different kinds of instant messengers that include:

MSN: Heavenisboundtofall@hotmail.com
AOL: LesDarkAngel67
YAHOO: Vampire666BloodFilledGoblet

My Personality:
People say I look gothic. I get called a rocker all the time. Some people have even called me emo. But the truth is, I am just me. My wardrobe consists of mostly blacks and reds because those are the colors that I like. I wear makeup and yes eyeliner is one of the things I use, but hey, I like it, you can make cool designs lol. I listen to rock and metal because that's the music genre that most of the songs I like are under. Yes I am an emotional person, and I like that, It just means I'm not afraid to show my feelings. If you know me you also know that I absolutely love leather! I am totally a crazy biker chick and I get it from my crazy biker father hehehehe.
Things I want to do in life:
I was once part of a band. We broke up and went our seperate ways when I moved away. I would love to be in another band one day. A job career I always thought I might want to get into was being a mortician. I absoluetely love animals so I also might want to persue something in that field. I love graveyards and cemeteries, I would love to work at one where I was doing something like upkeep and maintanence.
Personal Message:
I'm a dark angel sent from the depths of hell. People close to my sword call me Blade. But if I like you, then you'll like me. By the way, I'm a very outgoing person so feel free to have some fun when you message me! I have a good sense of humor so bring on the jokes! Pleasent Nightmares!
Some random things about me:
I love mythical creatures like unicorns, dragons, gargoyels and griffins. I've had my heart broken.I have some really great friends. I have been teased before.
I have an-ever changing amount of pets (currently 1 cat, 1 dog, 2 turtles and 2 frogs) My grandmother was wiccan, and I have practiced the wiccan and pagan lifestyle, most of my beliefs are based on them. I can be a really big flirt.
I can also be either really shy or really outgoing depending on the situation. I have dry tear ducts, and a few times I've cried for so long and so hard I've cried blood.

Funny Times with my best friend:
PERSON A: Hey can I see that leather bracelet?
PERSON B: Hun, I don't sell bracelets, that's a leather cock ring.
Likes and Dislikes:
I love walking and dancing in the rain.
I love staying up during all hours of the night, and sleeping the day away.
I love finding different shapes in the clouds.
I love trying to count the stars.
I love listening to music, singing, dancing, and writing song lyrics.
I love the fact that I can be a bitch, or the nicest person on earth.
I love my friends and most of my family.
I love my pets.
I love blood and gore.
I love horror movies and novels.
I love to read and write poetry.
I love to bite and be bitten.
I love to read books and write stories.
I love drawing.
I love to go swimming.


Dishonest people
Lieing
Drugs
The sun
Backstabbers
Cheaters and users
Abusers
Stupidity
Immaturity
Childness
Lack of responsibility

DEDICATIONS: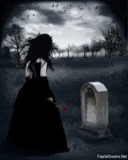 September 20, 1950 - May 22, 1996
My true Guardian, My true mother, The greatest person to ever walk the earth, My grandmother. Dead but never forgotten. I love you with all of my heart, I love you more then I'll ever be able to love another soul. You mean more to me then life it'self. May you rest in peace and may you be happy no matter what happens. I hope I make you proud. I know you would aprove of this place. And I know you would be a part of it if you could be and I'm sure in some way you are. I love you.
HERE ARE SOME OF MY FAVORITES:
Favorite Movies:

Blade series
Nightmare Before Christmas
Dracula 2000
Dracula 3000
Fraggle Rock
The last Unicorn
Pitch Black
The Chronicles or Riddick
Pirates of the Carribean series
Corpse Bride
The craft
The Phantom of the Opera
The Exorcist
The Excorcism of Emily Rose
Rose Red
13 Ghosts
Ghost Ship
The cube
Hypercube
ect.

Favorite Bands:

3 doors down
Evanescence
Creed
Saliva
System of a Down
Metallica
Ac/Dc
Pink
Korn
Disturbed
Ozzy
Nickleback
Ozone
Staind
Hinder
Audio Slave
Blue October
Cold
Cradle of Filth
Slipknot
Lamb of God
GodSmack
Incubus
ICP
Marylin Manson
Rob Zombie
Mudvayne
My Chemical Romance
MurderDolls
Nine inch Nails
Nirvana
NonPoint
The offspring
Panic at the disco
POD
Papa Roach
A perfect Circle
Ramstein
Rancid
Rise Against
Semisonic
Sevendust
Story of the year
Taproot
Train
3 days grace
Trapt
The used
Cross Fade
Silverstein
ect.

Favorite Authors:

Dean R Kootnz
Stephen King
Nora Roberts
Anne Rice

Favorite T.V. Shows:

Supernatural
Smallville
House
Hostage
Surviver
The nanny
Friends
Everybody Loves Ramond
Celebrity Duets
American Idol
Tom and Jerry
Anime
The Fresh Prince of Bellaire
ect.


---
If you are reading this, and you are glad I'm on the rave, you can thank this woman right here. You all know her as LadyKrystalynDarkstar. This is one of if not the sweetest most kind hearted woman you will ever be lucky enough to meet on this site. She has helped me numerous times when I thought there was no more road left to walk on. She's really good at paving the earth lol.

I consider this woman like a mother to me. I will have her back no matter what, so don't come talking $#!* about her please.
---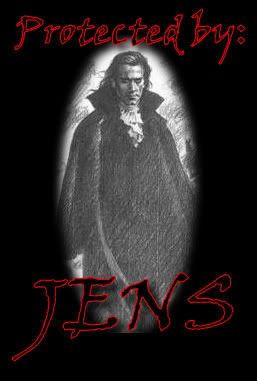 Jens, wow, what to say? He has made my time on VR 10x more enjoyable than it used to be. I am so proud to call him my friend. He has shown me that not all people are evil, that there are really some genuinely amazing people left in this world.

I'd like to give a special thanks to Jens for helping me out with graphics including my current Coven Crest. He does absolutely wonderfull work, one of the best I know! I'm so glad that I was introduced to Jens and got the chance to become friends with this awesome individual.
---
Beware if you should ever talk to this girl, or go onto her profile for that matter, cause if I find out that you are anything but nice to her I will hunt you down and you'll regret it. She is known here on VR as DarkSeleene. She's a very good friend of mine, and helped me through some hard times I had here on VR a while back. She also happens to be one of my ACM's. She means a lot to me and I'm glad I can still call her my friend after everything. I am also happy to say that she is now one of my ACM's in which I have full trust knowing that I couldn't have made better choices.
---
---

Thank you very much for actually taking the tour of my little hell hole if you did. Please feel free to come back since there are always new things being added. Please be so kind as to rate this trip. I shall return the rate you leave me. Oh and don't forget to check out my journal, a few things that were on my profile were moved into there for space reasons. My journal is also a good way to get to know me. Blessed Be and Pleasent Nightmares!
---