User is SUSPENDED until: Infinity

Quote:

Everytime I make My Mother Cry An Angel Dies And Falls From Heaven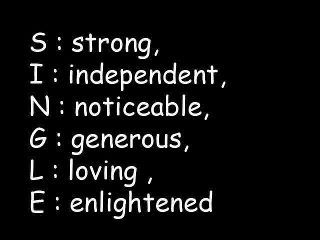 I Am Not New To This Site And This Is Not My Only Profile.

I Have Run Four Covens Previously

And Been On VampireRave in various Forms Since January 2005


Something Just keeps Me Coming Back For More !!






Most Things In Life
Fake Goths(Jesus Was More Goth Than You)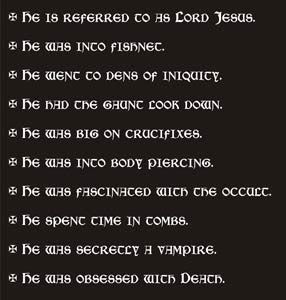 People Who Judge Others
People Whining To Get Their Own Way
Shit-Stirrers
Gossips
Back-Stabbers
Drugs
Authourity

Saint Louis
Saint Louis, Missouri is the fat capital of the world. It is a city where if you are walking somewhere, you are automatically assumed to be homeless, unless you make it clear to people that you are exercising by wearing a jogging suit, and in that case, you are just an idiot rather than homeless.

One might wonder what has led such a quiet, little city to become a gargantuan eating machine. The answer is that there is absolutely nothing to do in Saint Louis. Probably the biggest attempt and biggest failure to do something creative was build the Arch, and for prospective tourists, the funnest part about seeing the Arch is the grueling 10-hour ride to the top on elevators that move slower than the electric handicapped grocery carts.

Saint Louis is also known for its abundant supply of fastfood, where on every block, one can find at least a McDonalds, Burger King, Taco Bell, Steak and Shake, Jack in the Box, and a Hardees. So, without anything to do except eat, eat, and eat, the prosperous city of Saint Louis has turned into a monstrous hunk of fat.

But aside from being the fattest city known to man, Saint Louis is also home to the biggest low-lives one could ever dream of getting to know. In Saint Louis, a simple nod or a wink at someone could get you shot and killed on the spot. Why would someone kill another for winking at them? Hey, in Saint Louis, anything is possible.

Saint Louis is broken up into 4 major districts. Whoever came up with the names is beyond me, but such creativity will last through the ages. North County, West County, South County, and East Saint Louis are the 4 districts of Saint Louis. There also is Downtown Saint Louis and Saint Louis City, but those are hardly worth of mention since the only thing that manifests in those areas is crime. The breakup of the counties goes as follows:

-North County is inhabited by a bunch of lazy hoosiers and contributes nothing to society.

-West County is a bunch of suburban white folks that sit around and think about how much better they are than the rest of their world while making sure to lock their doors and windows in their BMWs at the sight of a black man.

-South County is a mixture of North and West County.

-East Saint Louis is where one can go for sexual desires at strip clubs and at the same time get mugged by a mean-looking man.

Saint Louis is a large city that the rest of the world could not care less about. Most likely the only recognition it receives is from its sports teams such as The Cardinals, The Blues, and The Rams. Other than that, there is really nothing special about the place with the exception of Ted Drewes, the best frozen custard one can ever get. In fact, if one should ever go to Saint Louis, it should be for the sole reason of tasting the heavenly delight. Just don't eat too much, or you'll become fat like the rest of us here in Saint Louis.
Jimmy, "Daddy, can we go to Saint Louis someday?"
Dad, "Fuck no, Jimmy. Fuck no."

I Will Add More Very Soon







Flirting With Women
Sex On The First Date
Break Up Sex
Make Up Sex
&
Best Of All
On The Re-Bound Sex

(Sorry Was That Just Sex ?)
Smoking
Alcohol
Diazepam
Curry
Horror Films

AND JOKING AROUND !!!






Music I Adore Includes All By Marilyn Manson




Each time i make my mother cry an

Angel dies and falls from heaven

When the boy is still a worm it's hard to

Learn the number seven

But when they get to you

It's the first thing that they do

Each time I look outside

My mother dies, I feel my back is changing shape

When the worm consumes the boy it's never

Considered rape

When they get to you

Prick your finger it is done...

The moon has now eclipsed the sun...

The angel has spread it's wings...

The time has come for bitter things...









Rating:


I rate according to content. I do not grant automatic 10s. Empty profiles, get a 1. So do suspended to infinity profiles. Blinded profiles will not be rated a 1, but they will not receive a 10 either no matter how good they may be.





Oh, and if you change your screen name every week repeatedly, I will not rate you above a 1. Sorry. I do not give a damn if you are a friend or not, I am not going to keep up with your 10,000 names and who the hell you are.





Do NOT beg me to add, rate, stalk, or favourite you. You may add me, that is fine, but I will only add if you are a friend or I talk to you frequently. If I wish to rate you, then I will find my way to your profile on my own. I rarely rate anymore, unless I am extremely bored. You will see there are not protection marks upon my page as well, because I need no protection, I can do bad all by myself.






And Keyboard Warriors ... Bring It On Fuckers Cos My Bite Is Worse Than My Bark !!

So Bring Your Evil My Way & Be Assured I Will SEE ... HEAR ... & SPEAK of YOU IDIOTS In My Suspended Journal !!




| | |
| --- | --- |
| Member Since: | Jul 11, 2009 |
| Last Login: | Jan 26, 2013 |
| Times Viewed: | 54,562 |
---
| | |
| --- | --- |
| Times Rated: | 723 |
| Rating: | 9.033 |
Rate this profile


---

QueenZombiee
23:44
May 14, 2019
JUDGED by Venerable Sire
QueenZombiee
Dorian
12:36
May 13, 2019
ABHORASH
03:45
May 01, 2019
Love your "one" like there's no tomorrow because there very well be no tomorrow.
[
All Comments
]
REAL VAMPIRES LOVE VAMPIRE RAVE
Vampire Rave is a member of
Page generated in 0.141 seconds.