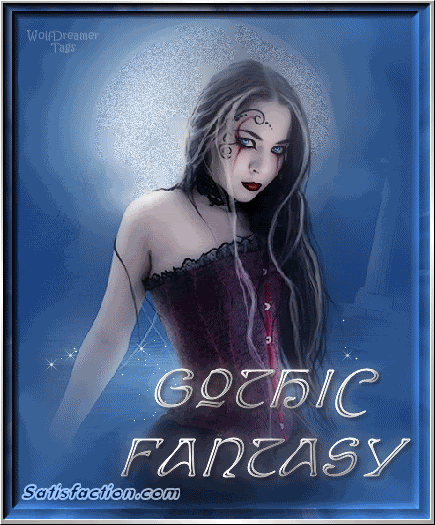 Comments and Graphics - Gothic Layouts - Photobucket
Hot Encouragement Graphics!
Hot Fantasy Graphics!
You are The High Priestess
Science, Wisdom, Knowledge, Education.
The High Priestess is the card of knowledge, instinctual, supernatural, secret knowledge. She holds scrolls of arcane information that she might, or might not reveal to you. The moon crown on her head as well as the crescent by her foot indicates her willingness to illuminate what you otherwise might not see, reveal the secrets you need to know. The High Priestess is also associated with the moon however and can also indicate change or fluxuation, particularily when it comes to your moods.
What Tarot Card are You?
Take the Test to Find Out.

You aren't sure where you came from. Perhaps your sire did an embrace and run. Or maybe your sire was an outcast himself. Either way, your powers are unique and really don't belong to any clan...or maybe a little from each. Because you of these circumstances, you aren't really sure where you belong. You tend to wander and do a bit of soul searching in your eternal life. Maybe some day...you have a while after all.

What Vampire Clan Do You Belong To?

The Caitiff
The clanless. Caitiffs, are a new aspect to the vampire's society. They don't have anyone to teach them Disciplines, and no one to tell them of the Traditions. This doesn't mean they don't know any Disciplines, they could very well make their own, but usually they figure out a few small tricks to a few Disciplines. Some may even group together every once in a while, but not likely. They prefer their freedom, and the will to do what they will.
Caitiff are vampires with no clan to call their own. This usually happens because their sire despised them and left them to die. And the occasional victim of feeding gets lucky, and some how gets some of the vampires blood. They are also the rebellious ones, and some take leave of their sire and do as they will, most of the time moving to a new city or some where remote.
Most of the other clans look upon the Caitiff as trash, weak blooded, no knowledge of who and what they are and leave them to them selves as long as they don't cause any trouble, and most defiantly don't break the Masquerade.
Freudian Inventory Results
Oral (23%) you appear to be stubbornly and irrationally against receiving help even when it might be the more intelligent option.
Anal (70%) you appear to be overly self controlled, organized, and possibly subservient to authority, this effectively narrows your exposure to a wider set of options and ideas lowering the odds that you will make the best decisions in life.
Phallic (43%) you appear to have a good balance of sexual awareness and sexual composure.
Latency (53%) you appear to have a good balance of abstract knowledge seeking and practicality, dealing with real world responsibilities while still cultivating your abstract and creative faculties and interests.
Genital (10%) you appear to have a conventional, closeminded, and regressive outlook on life. Change is an inevitable and positive part of life, learn to contribute to it, not fear it or oppose it

Take Free Freudian Inventory Test
personality tests by similarminds.com
Best graphics, layouts, and more for your profiles! Click Here!
What Classic Bombshell Are You?

Elizabeth Taylor
You are Elizabeth Taylor! The epitome of glamour. You love diamonds, and you are always the center of attention. You change your men, like you change your underwear but thats okay, you are worth it.
How do you compare?
Take this test! | Tests from Testriffic