Hail to you friends of the shadows and the night, I am Korathan, also known as Rev. Korathan.





How old are you? I am old enough to know better and young enough to enjoy the fun had by doing it anyways.

When is your Birthday? Look up.

What color eyes do you have? I guess that would depend on whether I have my contacts in...lol. Naturally a storm blue, although with contacts, yellow with red border.

What color hair do you have? None I prefer to keep a shaved head, save for my gotti, which is a three fold, dirty blond, light brown and natural red highlights.

How tall are you? I am big enough that I am left alone and small enough to fit into most tight areas, so I guess you could say average, and I like it that way.





What is your race? I am a W.A.S.P. ... White Anglo-Saxon Pagan ;) With a littel Irish/Scot tossed in to confuse me...lol.

What is your worst fear? The day I buried my sons, is the day that I lived through the worst fear any person could have.


Do you have any tattoos and/or piercing? But of course, I have four piercings, two in my left ear, one in my right eyebrow, and one in my right nipple, the left is the next to get done. And I ddefinitely have been inked, I have five tatts with more on the way.


What is your favorite game? I guess that depends on with whom I am playing ;) and what the stakes are.





What is your favorite movie? Too many to count, though I am avid horror, thriller and suspense junkie, anything psychological and paranormal is right up my interests. However, I am also a fan of the many vampire movies that have been produced, I am alittle iffy about the whole Twilight thing...LOL. Definitely an intersting twist on the vampire mythos...and definitely for the teens and girls, maybe thats why I can't get into it....LOL.

What is your favorite song? Depends on my mood.

What is your favorite color? Black and red.

Any pets? Well if this isn't a typical question, but I thought I would throw it in here before someone asks...lol. Yes, I have a black cat, a bearded dragon, and unfortunately my Chillean Rosey tarantula, just crossed over. And before anyone asks, I do love animals, however there are certain animals that are food. I don't look at a cow and go awww...I look at a cow and go...mmmm, steak!





Favorite Television Shows? I have a few of those too: Charmed, Paranormal State, Extreme Paranormal, Most Haunted, Rescue Mediums, Ghost Whisperer, True blood, Vampire Diaries, Just for Laughs, and Big Bang Theory. I also prefer to watch documentaries and historical programs.

Favorite Bands? ACDC, Dropkick Murphys, Great Big Sea, Enya, Metallica, The Pogues, NIN, Ozzy, Black Sabbath, BLS, Evanescence, Inkubbus Sukkubus, but I also like country, blues, folk and all kinds of others. Just depends on my mood and what the situation is, whether I am in the mood to dance or just chill and relax with friends.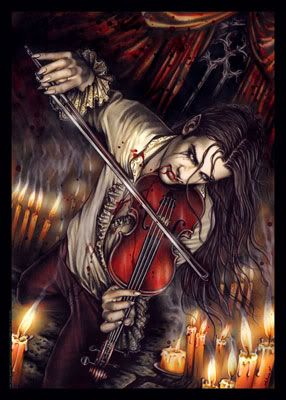 Do I play an instrument? Not yet, I want to learn to play the fiddle and have recently found the kind of instructor I was looking for. Someone who can teach me to play, folk, gypsy, country, rock, and classical violin, when I want to. I love the fiddle, you get such a broad range of musical forbiddens that you can play with it.





Do I classify myself as anything or part of any type of group? Yes, I am me thats enough. The world has enough trouble with just me, I don't think that I really fit neatly any to any group or subculture. To quote Popeye "I ams who I ams!" I get along with just about everyone and don't feel the need to be a certain way or act a certain way to fit in. I am one of those people, where it is, love me or hate me, your choice and I respect it. We don't have to get along, just show me the respect that you want in return!

Likes: I like people who are real, honest, and loyal to their friends and family. I think that this should be essential for all people. I like learning and helping people. I like all kinds of animals: bats, wolves, dogs, hawks and horses being right up there. I like to hang out with my friends and go to the pub or dancing when I can. I like my coffee and Mead. I like to have quiet nights by a roaring fire and just relaxing with my family with a glass of nice red wine. I love the night and especially a clear full moon night. I like to go to cemeteries and look at the monuments and the art work and they are a great place to go and meditate. And in case you hadn't noticed, I like the paranormal and the supernatural...LOL. I like to cook when I have the materials to do so. And I really like meeting new people, discussing a wide variety of topics from philosophy, religious, metaphysical and paranormal, as well as more mundane things.

Dislikes: Ignorance and Intollerance of any kind, especially when it comes to a persons faith or spiritual beliefs and practices. I may not agree with the person's choice, but I will defend their right to believe as they feel called. Liars, cheaters and bullies, these are three things that we can all do without. I especially can't stand people that betray a friendship or trust, as it shows their lack of dignity and respect. Anyone who harms a child...oh watch me loose it then!!!






If there is anything else that you want to know, message me and I will answer it, and depending on the question, post the answer here as well for all to see.