Evanescence
H.I.M
Nightwish
Xandria
Blackmoore`s Night
Loreena McKennit
Kamelot
Danny Elfman
Marilyn Manson
Disturbed
Korn
Lacuna Coil
Within Temptation
Enya
Tristania
Stradovarius
My Dying Bride
The Rasmus
The 69 Eyes
Linkin Park
Static X
Type O Negative
Blutengel
Rammstein
Inkubus Sukkubus
Tchaikofsky
Chopin
Andrew Lloyd Webber
Irish Music


I ADORE tatoos, and plan on having one done as soon as I move to my own place (that`s way in the future for now). My tatoo will be exactly like the one in the picture below.




"Lilith" - Dante Gabriel Rossetti

Of Adam's first wife, Lilith, it is told
(The witch he loved before the gift of Eve,)
That, ere the snake's, her sweet tongue could deceive,
And her enchanted hair was the first gold.
And still she sits, young while the earth is old,
And, subtly of herself contemplative,
Draws men to watch the bright web she can weave,
Till heart and body and life are in its hold.

The rose and poppy are her flower; for where
Is he not found, O Lilith, whom shed scent
And soft-shed kisses and soft sleep shall snare?
Lo! as that youth's eyes burned at thine, so went
Thy spell through him, and left his straight neck bent
And round his heart one strangling golden hair.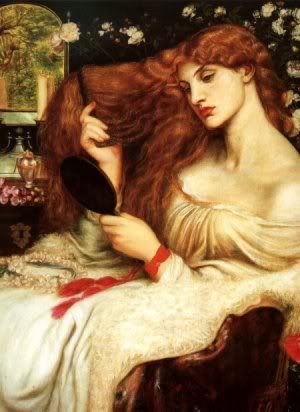 "People once believed, that when someone dies, a crow carries their soul to the land of the dead. But sometimes, something so bad happens, that a terrible sadness is carried with it and the soul can't rest. Then sometimes, just sometimes the crow could bring that soul back to put the wrong things right."- 'The Crow'




Female Comebacks!

Man: Haven't I seen you someplace before?
Woman: Yes, that's why I don't go there anymore.

Man: Is this seat empty?
Woman: Yes, and this one will be if you sit down.

Man: Your place or mine?
Woman: Both. You go to yours, and I'll go to mine.

Man: So, what do you do for a living?
Woman: I'm a female impersonator.

Man: Hey baby, what's your sign?
Woman: Do not enter.

Man: How do you like your eggs in the morning?
Woman: Unfertilized

Man: Your body is like a temple.
Woman: Sorry, there are no services today.

Man: I would go to the end of the world for you.
Woman: But would you stay there?

Man: If I could see you naked, I'd die happy.
Woman: If I saw you naked, I'd probably die laughing.


Masquerade!
Paper faces on parade . . .
Masquerade!
Hide your face,
so the world will
never find you!
Masquerade!
Every face a different shade . . .
Masquerade!
Look around -
there's another
mask behind you!


Many people have discovered Wicca through books or internet, well, that is definitely not my case. When I was twelve I began to research into mythology, and began to believe in a Goddess and a God. I had never heared there was a religion with these beleifs, and I began to immagine of bringing back the ancient beleifs of the Mother Goddess (who, as you know, was widely worshipped in Malta) . When I was 16 I discovered a book called ' The Encyclopedia of Wicca and Witchcraft ' and realized that there existed a religion which embraced exactly my beliefs! Immagine my amazement when I got internet and found hundreds of websites and people with my same religion! I was simply elated! So, you see Wicca was allready in my blood long before I ever heard its name!!! I am what is called a ' naturally inclined witch ' in that I was not influenced by anything or anyone to tread this path. I am proud to be a Wiccan and always will be.



I can feel your soul of ice,
You hide yourself behind these lies
You became a creature of masquerade
It's your bleeding heart you hate
You're building a wall of confusion and lies,
Nobody can hear your silent cries
But when you sleep you dream of me
And I kiss you in your dreams...



From Blutengel`s 'Soul of Ice' - Describes me perfectly.