WHAT NEKOBOOKWORM IS DOING
Quote:

Being the best version of my I can be
She's sugar and spice, and everything nice, yet there is something about her, that seems to draw you into her embrace. Is it her looks or is it the way she presents herself? She's one who seems to enchant another to begin with. She seems to shine like no other, yet, there is a darkness that falls upon the ever waking shadows that always follow her around. Will you take her hand and allow her to guide you? Or will you fall, under a spell and fall for her like every other has? She is one of natures truest and sweetest forbidden sins , she is a Delightful Sin that some wish to have and yet, another already has.

I mainly go by Neko or Nik on here. If you wish to know my real name, then you must earn that. I do not give that out very often, for that is saved for those I deem worthy enough to know my name. I am not here to entertain, I am here to escape the world of adulting and get lost on this site as well. I have been here on and off for many years, though, due to someone asking me to come back, I returned and have aided her with her covens on multiple profiles.

My husband, is not only my husband, but he is my Dom and I am his sub. I'm a brat by nature and he holds the the chain to my collar rather tightly. I am his Neko, as he is my master.

As far as my interest go.

I'm into music, anime, books, mythology and other various things. I am, in the process, well, have been, trying to learn about crystals still. I'm also, working getting back into gaming and fan fiction writing as well. Things haven't been as difficult, but I am thankful for things.

Anyways. If you wanna know more, feel free to message me and what not!


As a fair warning, I am MARRIED. Please do not inbox me with nonsense or saying that "Oh, I like you." or "I wanna get to know you more."

I will LITERALLY block you or you will get a taste of my tsundere personality. I'm not here to date as I stated above. I am happily married.

Also, I recently got into anime cosplay as well!


Here are some of the bands and artists I tend to listen to quite frequently..




Black Veil Brides
Avril Lavigne
Poison
3 Doors Down
Guns N Roses
Panic! At the disco
Fallout Boy
Aaliyah
LiSA (Japanese Singer)
Disturbed
Drowning Pool
Linkin Park
Within Temptation
Nightwish
Skillet
Three Days Grace
Creed
Trivium
Avenged Sevenfold
Metallica




Coven:





Alliance: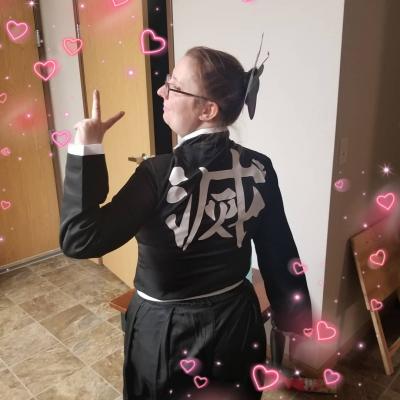 | | |
| --- | --- |
| Member Since: | Jul 11, 2010 |
| Last Login: | Dec 07, 2023 |
| Times Viewed: | 29,913 |
---
| | |
| --- | --- |
| Times Rated: | 63 |
| Rating: | 9.987 |
Rate this profile


---
XxBrokenAngelxX
14:29
Nov 26, 2023

Cadrewolf2
22:27
Nov 24, 2023
CrimsonJuliet
10:16
Nov 20, 2023
[
All Comments
]
NEWS



16:11:41
Jun 14 2021


I had to apply some security updates. I needed to take the site down for a few hours to complete everything. I did it in the middle of the night.. When hopefully, most of you wouldn't notice :)

More News...