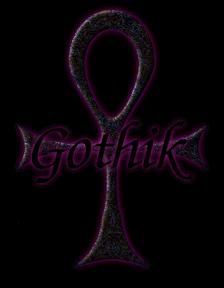 Goth unashamedly celebrates the dark recesses of the human psyche. Put
the back of your hand on your forehead, and you're there: dark
sensuality, sweeping sadness, morbid fascination, forbidden love, the beauty of
enduring pain, you get the picture.
History Of Goth
Modern goth (ignoring where the name itself originally comes from)
started in the early 80's as part of the punk subculture (which is itself
was a rejection of most societal values, and anything considered part of
the 'norm'). The phrase was coined by the band manager of Joy Division,
Anthony H. Wilson, who described the band as 'Gothic compared with the
pop mainstream'. The term stuck, and as punk eventually died, Goth
survived and became its own subculture. The punk clothing and hairstyles
mellowed, and the core 'rejection of society' attitude alone lived on in
the gothic subculture. Over time this itself has been modified to be
more of a 'no more blind acceptance of society's values' as opposed to
rejection because it was there to be rejected (and because you could get
away with it!).
Movies such as The Crow, and bands such as the Bauhaus helped establish
the gothic image as dark, depressing, and even evil. As more and more
'dark' movies came out, numbers in the gothic subculture expanded, and
there is now a gothic community in almost every major city around the
world, and quite a number of towns have their own representative
contingent. Nowdays there are more goth bands around than ever, and it has
turned from an 80's phenomenon into a 90's way of life for many people.
Unlike the punk subculture that it spawned from, there even exists a class
of mature goths, still following the scene around even past their 20's
and into their 30's and beyond.
The gothic stereotype
Many stereotypes of goths exist these days. It seems everyone has their
own way to define 'what is goth'. From the stereotypes based on
clothing to music right up to the stereotypes of all goths being satanists or
part of some kind of cult. Categorically, all of these are false.
The goth scene is just as widely varied as society in general. There
are many different professions represented in the scene, from highly
skilled professionals like doctors and lawyers, to tradesman, to
technically minded people to clerical workers. Many different musical tastes
exist (and not all of them goth, there is a HUGE 80's following in the goth
scene for some reason). The fashion varies vastly from goth to goth
from the traditional flowing victorian style garments to the buckled and
studded style regalia (also called industrial style, which is often
closely related with goths, and have come to an understanding of
co-existance, if uneasily at times).
Overall, Goth in its simplest form, is a subculture. A group of people
who feel comfortable within each others company. There is no specific
thing that defines what you need to do or be to fit into the goth scene
(except of course the implied black clothing). People in the goth scene
all have different musical tastes, follow different religions, have
different occupations, hobbies, and fashion sense.