User is SUSPENDED until: Infinity
Friends & Journal Adds Needed. All will be returned.
Set at 21:13 on December 12, 2012

Quote:

Dedicated To The Memory Of Sophie Lancaster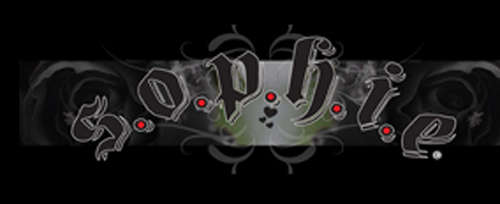 PROUD MEMBER OF





Black Roses (Dedicated to Sophie Lancaster): By Simon Armitage

I didn't do sport.
I didn't do meat.
Don't ask me to wear that dress:
I shan't.
Why ask me to toe the line,
I can't.
I was slight or small
but never petite,
and nobody's fool;
no Barbie doll;
no girlie girl.
I was lean and sharp,
not an ounce of fat
on my thoughts or my limbs.
In my difficult teens
I was strange, I was odd,
- aren't we all -
there was something different down at the core.
Boy bands and pop tarts left me cold,
let's say
that I marched to the beat
of a different drum,
sang another tune,
wandered at will
through the market stalls
humming protest songs.
I wore studded dog leads
around my wrist,
and was pleased as punch
in the pit, at the gig,
to be singled out
by a shooting star
of saliva from Marilyn Manson's lips.
But for all that stuff
in many ways an old fashioned soul,
quite at home
in my own front room,
on my own settee.
I read, I wrote,
I painted, I drew.
Where it came from
no one knows
but it flowed. It flowed.




ABOUT Sophie




Sophie Lancaster 26 November 1986 - 14 August 2007

Sophie was an English Degree student from Lancashire . England

She is described by her family as being a quiet , loving , homely girl. She was slight in stature and very kind & loving. What set her apart from 'the crowd' was the simple fact that she happened to be different - into the alternative music scene or to give her a label she would be proud of a 'GOTH'

She had been with her boyfriend , Robert Maltby . for sometime and the couple shared an interest in the goth culture aswell as a hope to settle down together and make a home.
Following a night out visiting friends Sophie & Robert were returning home in the early hours of Saturday, 11 August 2007.
They were confronted by a group of teenagers as they passed through a park.
The group followed them, but there was no trouble until some of them suddenly assaulted Robert Maltby without provocation. When he was knocked unconscious the gang attacked Sophie Lancaster, who was trying to protect him by cradling him in her arms. A 15-year-old witness told police: "They were running over and just kicking her in the head and jumping up and down on her head." One distraught witness used a mobile phone to call for emergency services saying: "We need... we need an ambulance at Bacup Park, this mosher has just been banged because he's a mosher."


Witnesses revealed that afterwards, "The killers celebrated their attack on the goths — or "moshers" - by telling friends afterwards that they had "done summat good," and claiming: "There's two moshers nearly dead up Bacup park — you wanna see them — they're a right mess." The injured couple were assisted by some of the teenagers who called emergency services, and then stayed with the couple and tried to tend their wounds.

Robert Maltby, a 21-year-old art student at Manchester,hed been with Sophie for three years and they both had a long-standing attachment to the goth subculture. The couple's family described them as "Goths", and said: "They're both intelligent, sensitive kids. They're not the sort of people to get in trouble, but they have had problems in the past because they stand out."



Sophie's parents said of her after her death:
"We were proud to know our daughter. She was funny, kind, loving and brave. She was a beautiful girl with a social conscience and values which made her a joy to know. Not being able to see her blossom into her full potential or even to see her smile again is a tragedy beyond words."




Sophie's mother said:
"The thing that makes me most angry is that it is seen as an isolated incident, maybe the seriousness of what happened to Sophie is isolated, but attacks are far from isolated. Just because you follow a different culture you are targeted; you are seen as easy pickings."
| | |
| --- | --- |
| Member Since: | Feb 26, 2012 |
| Last Login: | Dec 24, 2012 |
| Times Viewed: | 6,656 |
---
| | |
| --- | --- |
| Times Rated: | 350 |
| Rating: | 9.281 |
Rate this profile


---
LadyAtanasya
00:59
Jan 26, 2023

ShadowBorn
04:58
Dec 31, 2022

LadyGrimoire
02:43
Nov 10, 2022
[
All Comments
]
REAL VAMPIRES LOVE VAMPIRE RAVE
Vampire Rave is a member of
Page generated in 0.155 seconds.