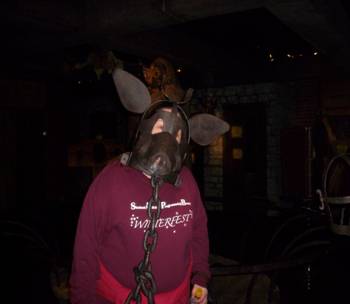 | | | |
| --- | --- | --- |
| | | |

Quote:

".....trying to bend the truth..........lying my way from you"
I'm 35 years old living 10 min Outside of Trenton, Nj I appear to be a fun type of girl. I like to hang out with my friends, go to parties, shoot pool and hang out at the movies. I like to go and hang out every once in a while at bars and have a few drinks with my friends, especially during the super bowl. I have the tendency to go casinos just for fun on the weekends and do a little gambling here and there.

I have been in College since August 2000. I went to community college for four years and eventually got my Associate Degree in Elementary and Secondary Education in May of 2004. I transferred out to a school in Pennsylvania for a year and studied Social Studies with a concentration in Education. I was there for about a year before I transferred to upstate New Jersey. I have been here since September 2006 and have enjoyed every minute of it. I have one more year left until I graduate with my Women Studies degree. A lot of people are wondering why I decided to do women studies. Well because it's simply I can do a lot with my degree. I do so much with my degree and it's not really restricted like other degree holders. I can do anything from being a preacher, priest, government worker, any type of counselor, a teacher, pretty much anything dealing with people.

I plan on doing an internship for a crisis center for women or the like. Hopefully that will work out for me. After graduation and doing my internship, I plan on getting into working with the government and working for a government contractor. We shall see how well that goes for me at some point in spring of 2008.

Overall, I tend to be a little out there and say random things. I do like to joke around and have an odd sense of humor. My current goal right now is to take a vacation to California. It is one place that I really want to go to and hopefully will have the chance to in the near future.

Things I like
*Family
*Friends
*Books
*Writing
*Music
*Sleeping
*relaxing
*Smirnoff
*Yuengling
*Bars
*Football
*Coffee
*Chocolate
*Casinos
*Loyalty
*Trust
*Honesty
*the shore

I dislike a wide variety of things:
*Loud obnoxious people
*People who think they know everything
*People who think they are more intelligent than others
*People who have a donut tire on their car for over 6 months
*Stale Cigarette smell

Some music selections
~Ozzy
~Marylin Manson
~Rob Zombie
~Linkin Park
~My Chemical Romance
~Rascal Flatts
~Bon Jovi
~Rob Thomas
~Fall Out Boy
~311
~The Offspring
~Maroon 5
~O.A.R.
~Bowling for soup
~Gwen Stefani
~Good Charoltte
~Cold Play
~Simple Plan
~The Cure
~The Doors
~Journey
~Ben Folds
~Hoobastank

Here's some of the movies that I like. It is an odd list but for whatever reason I can watch them over and over again:

*Willy Wonka and the Chocolate factory
*The Others
*Queen of the damned
*Edward Scissorhands
*Saw I
*Saw II
*Home Alone 1 & 2
*The Grudge
*Final Destination 1 & 2
*Bride of Chucky
*Charlie and the Chocolate Factory
*March of the penguin
*Madagascar











| | |
| --- | --- |
| Member Since: | Nov 29, 2005 |
| Last Login: | Dec 02, 2016 |
| Times Viewed: | 18,985 |
---
| | |
| --- | --- |
| Times Rated: | 925 |
| Rating: | 9.815 |
Rate this profile


---
ThanaNight
17:02
Feb 26, 2022

Sensitivity
17:41
Oct 16, 2021

AlderxWolf
03:06
Oct 02, 2021
[
All Comments
]
REAL VAMPIRES LOVE VAMPIRE RAVE
Vampire Rave is a member of
Page generated in 0.0632 seconds.