There is no you and there is no we, there is only me.
Set at 23:03 on May 24, 2019

WHAT ZOMBIEMLEGENDRE IS DOING
Welcome to my slice of VR!


Our Alliance







I remain on this website for friends that I have made over the years. They have been better to me than I truly deserve. With that in mind, pay no attention to the "age-bat" on my profile. That's right, as with many others on Vampire Rave, I have been on here longer than it says on my profile. Not that that really matters because, believe me, it doesn't.




I am constantly thinking of new ways to make my profile better. Though not always successful, I do try to add as much as possible, without making it too long. Offline, I am always trying to improve my situation. I am a professional flooring installer and I have installed just about every type of flooring. I have also worked in various other fields such as, semi-truck driving, landscaping, factories and warehouses.

I grew up in a small town in northern Ohio and I happen to really love that part of my life. I really don't like any form of hustle n bustle and I'm not a fan of large crowds. I love the idea of going to work, doing my job, coming home and just relaxing. Where I am on my own time and I'm the boss. I have enough offline interaction with people through my work. Some may consider my lifestyle to be quite the bore. I most certainly do not. To me, it's peaceful and quiet.




I am very selective when it comes to music. That is to say, I will not listen to everything that is played on the radio. I love big voices like Adele and gifted musicians like Eddie Van Halen. However, I do like music from just about every genre. Music runs deep in my family. My mother's father could play any instrument that had strings. He was also in a banjo band in Cleveland, Ohio. They were on local radio many times. My mother has the most beautiful voice. My brother (RIP) was gifted with the guitar. Music is a very personal and deep form of art. It is my favorite art form.

'The Walking Dead' is my all time favorite television series.

I also love 'The Big Bang Theory'


I am a movie fan. I would much rather watch a movie than read a book. In fact, if the movie isn't good, I probably won't read the book version (if there is one). The greatest film of all time, or (more appropriately) the most perfect film ever made was 'The Godfather'. I am a fan of actors, directors and producers. I believe Johnny Depp is the greatest actor of my generation. Martin Scorsese is probably the greatest director of all time. Although, I have an affinity for films directed by Clint Eastwood. In my opinion, 'Watchmen' is the greatest superhero film ever made. 'The Exorcist' being the greatest horror film ever made. If I had to choose my favorite film (if I were forced to choose), it would definitely be 'Jesus Of Nazareth', which was a "made for television" film.




All of that being said, I am not here looking for a relationship. I am always open to the idea but, internet relationships tend to have a very low success rate. Of this, I can truly testify. Friendship is always welcome and is key, if I am to remain here. How I rate is really quite simple, I rate within VR TOS.



Thank you for visiting!
Enjoy Vampire Rave!
| | |
| --- | --- |
| Member Since: | Apr 24, 2009 |
| Last Login: | May 24, 2019 |
| Times Viewed: | 189,781 |
---
| | |
| --- | --- |
| Times Rated: | 194 |
| Rating: | 9.961 |
Rate this profile


---

QueenZombiee
23:48
May 23, 2019
JUDGED by Venerable Sire
QueenZombiee

FieryRed
19:07
May 21, 2019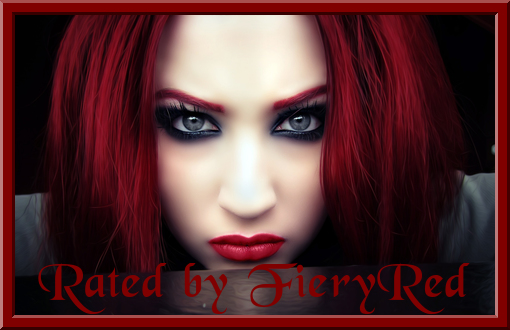 ShadowedBaby
16:40
May 21, 2019
[
All Comments
]