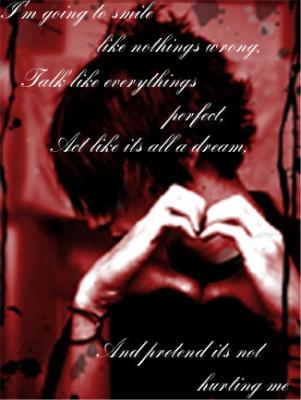 | | | |
| --- | --- | --- |
| | | |

Websites
Quote:

Blood is Thicker then water and taste much better
Likes:

The cold side of the pillow
My Cat
VR
Late Nights
Photography[just learning]
Photoshop
Reading
Writing
Cemeteries
Blood
Bitteing and being bitten
Scratched
Skateboarding
Thunderstorms
Mountain Caves
Computers
Music
Fire


Dislikes:

My Father
Winter
Abuse
Large Bodies of Water
Big Crowds
Neon Colors
Preps
Alcohol
My Neighbors
Sun
Know-it-Alls




I am considered very weird even a freak
But to me that only means I am unique and I prefer the Unique over the Cookie Cutter Idiots that live around me.
They probably never had a unique thought between then.
I have noticed all they can do is puke up the ideas that either their parents or their friends put in their heads. So if you are Unique or considered weird then drop me a line and add me to your friends list

Why pretend?

I pretend not to care
But it's all a lie.
Who am I fooling?
Certainly not I.
I say I don't need anyone.
Or care what they think.
When in all honesty
I need you
to be complete.
I pretend not to care
If you love me or not
Without your love
I feel
like I been shot.
It's not the life
I wish to live.
I'm done pretending.
I don't need you
To survive.
So why do we pretend?
When everybody needs
One special friend.


Movies
Crow[the original]
All Underworlds
Queen of the Damned
Paul
The Millers
Internship
Sorcerers Apprentice
The Internship
Dark Prince
Wolverine
I Frankenstein
I am Number 4
Kingdom of Haven
Priest




There really not much to say Call me Lee, I'm 17 almost 18
I am pretty easy to get along with unless you fuck with the people I love, Then I can be your worst enemy. I don't have a bad temper and I have a very bad habit of trusting others to easily and it has gotten me hurt quit often.

I really don't have that many friends but the few friends I have L know I can trust completely. I live in a dinky town full of preps and rednecks, so I am pretty much the town weirdo to everybody.



I do smoke a little weed but I'm not a huge "Pothead"


MUSIC:



AFI, Airborne Toxic Event, All-American Rejects, Asking Alexandria, Atom Smash, Avenged Sevenfold, Black Veil Brides,Blink 182, Blood On The Dance Floor, Blue October, Breaking Benjamin, Bullet For My Valentine, Cherri Bomb, Chevelle, Collective Soul , Crossfade, Death Cab For Cutie, Escape The Fate, Evanscence, Flyleaf , Foo Fighters, Foster The People, Forever The Sickest Kids, Framing Hanley, From First To Last, Good Charlotte, Gorrilaz, Green Day, Hawthorne Height, Hinder, H.I.M, In This Moment, Iron & Wine, Jametown Story, Linkin Park, Lost Prophets, Maroon 5, Metallica, My Darkest Days, My Chemical Romance, Never Shout Never New Found Glory, Nickleback, Nirvana, Of Monsters & Men, Panic At The Disco, Paramore, Porceilian and the tramps, Pretty Reckless, Red Jumpsuit Apparatus, Redlight King, Scary Kids Scaring Kids, Secondhand Serenade, Shinedown, Sick Puppies, Silverstien, Simple Plan, S.I.X A.M., Skillet, Sleeping With Sirens, Slipknot, Sublime, Supercharge, System Of A Down, Taking Back Sunday, The Killers, The Maine, The Used, Three Days Grace, Underoath, 30 Seconds To Mars.


| | |
| --- | --- |
| Member Since: | Jul 01, 2014 |
| Last Login: | Jul 12, 2014 |
| Times Viewed: | 3,462 |
---
| | |
| --- | --- |
| Times Rated: | 216 |
| Rating: | 9.674 |
Rate this profile


---

JoyOFsatan
23:02
Dec 11, 2022

Queenlady0ftheUndead
12:55
Apr 22, 2022

MistressofChains
14:38
Jan 12, 2022
[
All Comments
]
REAL VAMPIRES LOVE VAMPIRE RAVE
Vampire Rave is a member of
Page generated in 0.0673 seconds.