Proud member of the Coven of the Vampire Dove
"I hold it to be the inalienable right of anybody to go to hell in his own way." - Robert Frost, 1935
You should try everything once... except incest and polka music...
"Whoever would overthrow the liberty of a nation must begin by subduing the freeness of speech." - Benjamin Franklin
Never a lip is curled in pain that can't be
kissed into smiles again...
Unknown
"Don't tell me the truth hurts little girl...cuz it hurts like hell."
David Bowie
Walk softly and carry a bigger bottle...
I don't know
I have to admit, I'm not a Vampire or a Goth. On a scale of one to ten of how goth you are I'm probably a five. But I do like goth guys... piercings and eye make-up (very nice). When it comes to Vampires I love the idea behind them and every thing that they symbolize. But sadly I'm not immortal, a girl can dream can't she?
My dark vice? That's my secret...

Then again I guess it isn't that big of a secret...
I'm not into hardcore, but I do have a thing for chains.
Cold metal, hot skin... I like that...
I'll end it there. I have to keep some of my secrets...

You can't tell me this doesn't look like fun...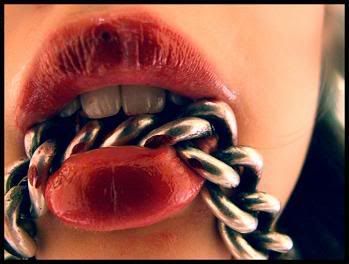 Me revealing this here, does not mean I want to cyber, I think that is silly. I am merely sharing an interest, I know that other people on this site can relate. So my above mentioned "vice", is NOT an invitation for online sex... that is just weird to me...
I don't like posting pictures of myself, I have never proclaimed that I was so dead sexy that the world should know what I look like, so I don't see the point. Then again I may be ugly as sin, so there is really no point to telling me that you think I'm beautiful...you don't know me.
I also have BIG issues with guys messaging me and calling me "mil'lady"...I will kill you... this is not the dark ages and I'm all out of dragons for you to slay (and I'm sorry but I don't play D&D). For your sake and since I really don't need to be convicted of murder right now, please don't call me that... please..
I am generally a nice person, I'd never turn down a fun or intellectual conversation. But the second you start talking about suicid or how much your life sucks, I'm out of there. I have very little patience for that stuff.
I have one tattoo (and I'm not afraid to be a pussy, it hurt like a bitch!) It's on the inside of my left wrist. I LOVE painting (to those who care, I use mostly acrylic). I'm not afraid to admit that I'm a romantic, I realize this kills any "coolness factor" I did have, but I don't care...I love the yucky love stuff.
I also love being scared shitless though. I very much enjoy watching horror flicks, I get grumpy if it's all gore though...I think horror movies should rely more on what keeps you up at night then blood spatter.
Random Questions About Yourself.
Do You?....
Bite Your Nails?: nope
Have Nightmares Often?: like " the stinky, ugly guy is my husband" nightmares or "being chased down a deserted street, wearing nothing but a t-shirt, by a plastic wrapped bloody torso" nightmares...
Find Yourself Typing LiKe DiS OfTeN?: um...no
Swear?: all the fucking time!!!!!! :)
Have Friends?: well if I did I wouldn't tell you.... *cough*
Have Any Phobias?: YES!!!!! Sharks, I hyperventilated in an aquarium once...that was fun
Have Any Disorders?: I don't think a person would really answer that with "why, yes I do, I am a skitso, bulemic, with depression and narcolepsy" those are things we often keep to ourselves...
Have Suicidal Thoughts Often?: no... promote suicide often?
Like The Way You Look?: does anyone answer this question?
Think Your Attractive?: I'm noticing a pattern here...narcissist
Play Any Sports?: I run... preparing for the zombie invasion, you know....
Have Friends You Don't Really Like?: well they wouldn't be friends now would they?
Get Along With Your Parents?: pass
Have Your Own Computer?: Yep......I love my computer
Random...
What Color Is Your Room?: that's a tricky question
What Was The Last Thing You Said?: "my foot is stuck"... yeah figure that one out...perverts
Who Was The Last Person You Talked To Over The Internet?: Eric...he said *goodnight bitch* that's true friendship
What Was The Last Thing You Ate Today?: Top-Ramen....Oriental.....good stuff
Do You Know All The People Who Are On Your MySpace As Friends?: I don't MySpace
Are You Single?: thanks for reminding me
Do You Like This Quiz So Far?: maybe
Have You Ever?...
Been In Love, Truely?: no...*sigh*
Been Heartbroken?: no...*sigh*
Broke Someones Heart?: you suck I don't want to play this game anymore....
Wished You Could Go Back In Time?: Yes
Made A Mistake?: Yes
Been Called A Poser, Prep, Emo, Goth, Punk, Gangster, Ect?: not to my face....
Labeled Someone?: not a label they didn't deserve
Missed Someone Who Dumped You ALOT?: beat em' up and move on
Wondered If Someone You Loved, Loved You Back?: sometimes
Loved Someone Who Was Taken?: yes...I was in the 5th grade does that count?
Been Confused By Someone If They Like You Or Not?: yes... sucks cuz I was crazy about him
Do You?...
Like Alot Of Music?: yes... I never take my headphones off... it's harder to hear stupid people if you have something shoved in your ear
Like System Of A Down?: yep
Like Screamo?: never heard of em'
What Was The Last Thing You....
Ate?: you already asked me this... Oriental Top Ramen...want some?
Touched?: fluff on my puppy's neck
Talked To?: air
Said?: "my foot is stuck" I hate repeating myself...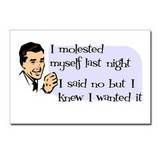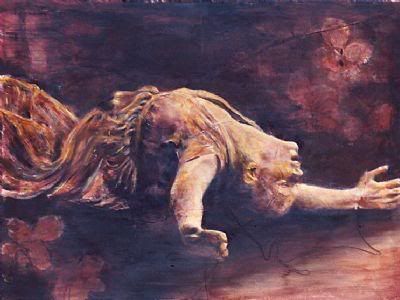 My favorite poem:



He Wishes for the Cloths of Heaven

Had I the heavens' embroidered cloths,
Enwrought with the golden and silver light,
The blue and the dim and the dark cloths
Of night and light and half-light,
I would spread the cloths under your feet
But I, being poor, have only my dreams;
I have spread my dreams beneath your feet;
Tread softly because you tread on my dreams...
William Butler Yeats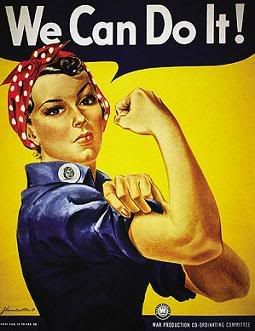 I love Rosie The Riveter...very woman empowered...She kicks ass!



VIDEOS I LOVE!!!


Breaking Benjamin - So cold

I LOVED this movie!!!

oh it was such a good movie...


You scored as Dracula. You are the smooth sexy cool Dracula. Patient and lustful. If you were any cooler youd be ice. Great style with a way of seducing those around you. And three brides who wouldn't want to be him.



| | | |
| --- | --- | --- |
| Dracula | | 100% |
| Marius | | 83% |
| Spike | | 83% |
| Armand | | 67% |
| Akasha | | 67% |
| Deacon Frost | | 67% |
| Blade | | 67% |
| Lestat | | 58% |
| Angel | | 42% |
| Louis | | 33% |


Whose your Vampire personality? (images)
created with QuizFarm.com


You're a Freaky Kisser



When you kiss, you want to experience something new

A new technique, a new partner, a new piercing...

And your own personal kissing style is very unpredictable

There's no saying where your tongue or hands will go

FUCK THE GOVERNMENT
SHOW YOUR SUPPORT!!!