Christmas is awesome for me, because it reminds me of all those magical childhood dreams of the fantasy of Santa Claus, snowmen coming alive, elves hard at work, the excitement what might come as reward for being a good little kid, and knowing that almost everyone was else was feeling the same way: decorating and into the spirit of things.
I have personally always been a Christian, but the holiday has never been so much about the birth of Jesus for me. I have always known that Jesus was really born in the Spring, and that Christmas wasn't even a holiday until long down the road when our (Christians) beliefs were melded with old Pagan tradition in attempts at an easier conversion of them. I have always known because I have always been nerdy with Theology. And so I have also known from a young age that there was indeed once a real Saint Nicholas (bishop in Myra, Turkey), patron saint of children, known for leaving gold pieces in stockings or shoes of children, among other things. He was also the patron saint of sailors- which makes it even more interesting old images of Saint Nicholas are quite similar to that of Poseidon. Also, think about Thor and his chariot led by two goats (Santa in a sleigh, reindeer). Many old legends formed the Santa Claus we know today. I have no problems with it, and I find that
being and thinking creatively and imaginatively is a very healthy thing
.
This time of year in this day and age, tons of people are complaining- about commercialism, and keeping Christ in Christmas (anti 'Xmas'). Christmas today is bigger than religion. It is tradition for the masses. Not everyone celebrates the same way. I don't mind the commercials at all- I appreciate knowing what's on sale, quite frankly. Although, I am not into 'Black Friday' shopping and traffic (no one will ever catch me in a store the day after Thanksgiving). I love being surrounded by the decor, and if it were to all go away I would mourn it greatly. I know that the spelling of 'Xmas' has to deal with an old Greek abbreviation (X standing for Christ... Chi, actually). It was never about taking Christ out of Christmas (when actually we put him into a tradition he was not once part of). In fact my son Christopher's nickname is 'Cristo', and we've often spelled it, 'Xto'.
As the world begins its rants on the holidays, I begin my rant in favor of them. Choose not to partake in the magic if you don't care for it, but please don't take it from me. I very rarely received any of my childhood Christmas wishes, but it never made the dreaming any less sweet. I did not blame Santa for not fulfilling them either. I always figured there had to be more to it than I understood- and that 'mystery' was also part of the allure. Without a fulfillment, the dream never ended.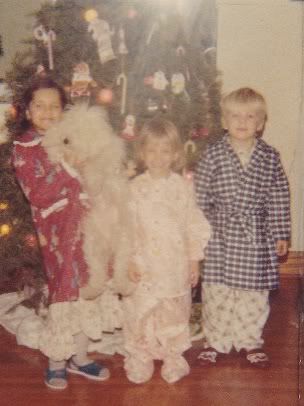 My sister, brother, and I in 1976 (me in the middle).
I go to church on Christmas, but I am celebrating two very different things. I am not here to force 'the right way to understand and celebrate Christmas'. I am just a person who loves the holiday, and that includes all aspects of it. I will read my favorite story, 'A Christmas Carol', get lost in Dicken's imagery and good moral ending... and return to my yearly Never Never Land. Any time that I can recapture those hopes and dreams of a possible ride on Santa's sleigh while everyone else is sleeping, with peppermint on my tongue and gingerbread in the air... It's a good time to be 'present', for me.
Merry Christmas, to all.
I want an official Red Ryder, carbine action, two-hundred shot range model air rifle!
*Published December 6, 2011*