Elder Scrolls: Daggerfall
: The Vampire Database : Games : Electronic Games :

[
EDIT THIS ENTRY
]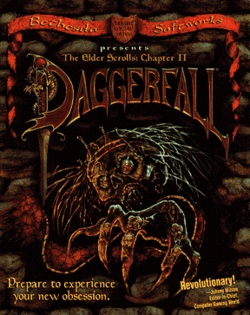 Also Known As:
Daggerfall
The Elder Scrolls II


Publisher:
Bethesda Softworks
Daggerfall is the second game in the TES series and is a 1996 RPG game where players can do almost whatever they want and do need to pursue the main questline.

Daggerfall is supposedly has the largest map of the franchise with it being 161,600 km² (62,394 mi²) Bethesda had claimed it to being the size of britain, however, the size is possible because most of the content such as the wildernass and buidings and interiors are actually randomly generated.

Daggerfall is located in High Rock, the homeland of the race known as Bretons. The main plot revolves around the player, who is an agent of the Emperor. The agent must exorcise the ghost of King Lysandus from his limbo and to discover what happened to a letter that sent by the Emperor.

The player can achieve different life-states as in addition to becoming a Werewolf or a Wereboar, the player can become one of nine different bloodlines of vampires. Cosmetically looking the same but each bloodline has its own unique powers. Certain bloodlines have alliance or rivalry with one another. Some quests can only be found and taken after becoming a vampire.

One interesting aspect of becoming a vampire is that the player literally dies in-universe, you will wake up in a tomb after becoming undead and your progress within the factions are reset as you are legally dead.

The game was highly popular despite numerous glitches with many fan made remakes available such as DaggerfallXL and Daggerfall unity.

| | |
| --- | --- |
| Date Added: | February 21, 2017 |
| Added By: | Vitiosus |
| Times Viewed: | 1,356 |
| | |
| --- | --- |
| Times Rated: | 98 |
| Rating: | 9.569 |
Rate this entry
XAngelicCharkaX
02:43
Jul 01, 2022
~. Entered a lovely rating!.~

MistressofChains
04:26
May 08, 2022
Rated by MistressofChains

Mandalorian
20:47
Apr 22, 2022
REAL VAMPIRES LOVE VAMPIRE RAVE
Vampire Rave is a member of
Page generated in 0.0617 seconds.