The Coven of Vampyre Lovers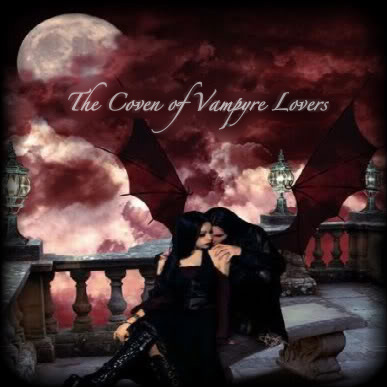 | | |
| --- | --- |
| Members: | 5 |
| Standing: | 6 of 65 |
Ratings Score:
3.274
Status Score:
3.333
Favor Score:
0.179
Total Score:
6.786

Score FAQ

Average Member Rating:
9.921
Average Member Level:
101.01






Welcome to the home of the

coven of Vampyre Lovers



Our representation is the crow





This coven on Vampire rave is here for individuals seeking a coven home on this website, who are of a free spirited nature and have their own ideas & belifs, which have been based and gained from a personal exsperience.



To those who would also find an interest here to contribute & share your knowledge and a sense of humour in a friendly environment, to listen to other ideas and to gather information to investigate within the coven forums.



This Coven would also be of interest to those of you out there who have a love for listening to music.



Without listening to a dictator.



"Coz bleeding heart is worth fighting for"





For more information on enquiries or joining the Coven of VampyreLovers click on the Introduction and castle gates pages on the top menu.






REAL VAMPIRES LOVE VAMPIRE RAVE
Vampire Rave is a member of
Page generated in 0.049 seconds.