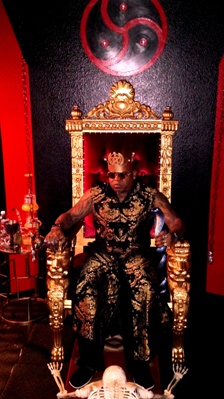 THIS JOURNAL IS ON 397 FAVORITE JOURNAL LISTS
Honor: 1,673 [ Give / Take ]













14 entries this month


A PICTURE CAN SAY A THOUSAND WORDS

20:57 Dec 28 2011
Times Read: 1,837





I WANT TO GET OUT AND...........PLAY
17:40 Dec 28 2011
Times Read: 1,861
18:40 Dec 27 2011
Times Read: 1,892
The Human Centipede, South Park Version...Oh I Have To Find The Actual Horror Flick Now!




PRIVATE ENTRY
14:43 Dec 27 2011
Times Read: 1,869
• • • • PRIVATE JOURNAL ENTRY • • • •
07:49 Dec 25 2011
Times Read: 1,919
FROM: Lord MOGY




NEWLY APPOINTED ACM...HELL HAS FROZEN OVER!
18:59 Dec 23 2011
Times Read: 1,939
03:01 Dec 21 2011
Times Read: 1,953
And there is peace once more in the realms....LORDMOGY is very please!
13:53 Dec 20 2011
Times Read: 1,987
So after 7 months of wondering when all this VR Drama I read about was going to be experienced up close, I finally experience it! Coven Wars! Gotta love them, however, the only people that really may take it personally are those that are concern about 'Levels'...Really? It's just an internet game. Cyber fun! Like playing a video game, your levels go up or down. They attack our forces we attack theirs.



I honor my Coven and Alliance wishes...Attack one of us is as attacking us All. We are family!



Now if actual family that goes beyond just cyber space is attacked, then it can get a bit personal. Simple as that!



Well I'm having fun so...who's next? Or will there be a truce among the Generals..um, er Sires....only time will tell.. :)
18:09 Dec 15 2011
Times Read: 2,018




LMAO!!!




01:32 Dec 15 2011
Times Read: 1,998


You have been visited by LORDMOGY of Further Down The Spiral (Coven)...and rated a 10!


PRIVATE ENTRY
22:34 Dec 11 2011
Times Read: 2,041
• • • • PRIVATE JOURNAL ENTRY • • • •
The Coven Of The Downward Spiral
23:36 Dec 02 2011
Times Read: 2,083


Too Freaky For Heaven

Too Good For Hell

Rejected By Both

Earth Was My Cell



Drawn To The Music

Yes, Gothic Metal I Remember

Into My Mind As Sharp As A Knife

Evanescence Was Playing

Bring Me To Life



To The Edge I Walked

I Had No Fear

A Voice In My Head Saying

"Come Down Here"



Into The Darkness Below

I Fell From The Light

On My Journey Down

I Was Given Power And Might



At The Bottom Of The Pit

I Came To Rest

No Air In My Lungs

No Beating In My Chest



A Vampire Born

Loving Sex, Filled With Lust

Accepted Among Friends

A Family I Trust



My Coven Is The Best

Unlike Any Other I've Witnessed

Loved, Cherished, And Protected

Thanks To Our Coven Mistress






FOR LOVE
19:01 Dec 02 2011
Times Read: 1,800
She loved me and I loved her. I couldn't change her back, so I asked to be changed by her. She gave me the dark gift of eternal bliss, power, and love. She also gave me the curse of the eternal thirst. Heck, small price to pay for love I suppose. I was slowly changing, but it would take about an hour to fully transform. I placed my love in her casket and then into the van. The sun was setting so I drove West as fast as I can. Chasing the sun. Making it last as long as I could. It was the last time I've ever felt the warmth of daylight. Heck, very small price to pay for love...
Man vs Food Oyster Challenge
00:53 Dec 01 2011
Times Read: 1,878
Oyster Challenge...




REAL VAMPIRES LOVE VAMPIRE RAVE
Vampire Rave is a member of
Page generated in 0.2866 seconds.