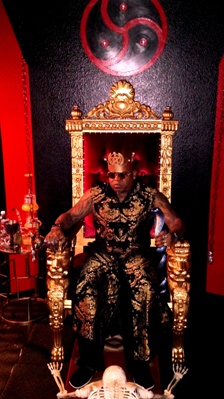 THIS JOURNAL IS ON 395 FAVORITE JOURNAL LISTS
Honor: 1,487 [ Give / Take ]













3 entries this month


21:19 Apr 21 2015
Times Read: 818






PAGAN AS I DEFINE IT




Monica Diggs' Jewelry In Candles
03:06 Apr 07 2015
Times Read: 843




My candle from Monica Diggs' Jewelry In Candles arrived today. It smells awesome and I've placed it on my Warlock Altar. I go through a lot of candles in my magickal practice.



Apparently it's 100% soy wax so I don't have to worry about black residue since it burns clean with a clean smell. I was even told these types of candles are amazing for people who have asthma because it will not trigger an attack.



A friend of mine was very interested in the little jewelry that comes inside each candle and was so excited that she talked me into digging it out before allowing it to burn down low enough to exposed the gift. LOL!



Well when ordering my Candle I had a choice of a Necklace, Men's and Women's Rings in different sizes or Earrings. So I figured they wouldn't have Pagan Necklaces and I already have Rings for each my fingers, but I didn't have any spear backings for my one earring yet. So I chose the Earrings for their backings only, but in the future I'd give them to a GF because they are VERY Nice looking, but just too girly for me to ever wear.



Excuse the blurry pics, but my phone isn't good at taking close-ups of small items. The Earrings came in a plastic pouch wrapped in gold foil. You can't really tell from the picture quality, but the earrings are a very nice color green and very ornate.



I'm going to choose different items in the future just to see what I get and I have a few Nieces that probably wouldn't mind receiving nice jewelry...In fact, these earring are so nice, I'm going to gift them to someone and just buy some spare backings....LOL!



The soy wax doesn't leave that normal waxy residue either. I've been told that it can even be used as a lotion so instead of pouring hot was on a female play partner, I'll use this type of candle for play time and not worry about the messy clean up that normal wax candles leave behind. ^_^



If you love candles as much as I do and are interested, you can order at



www.jewelryincandles.com/store/monicadiggs










19:14 Apr 01 2015
Times Read: 853
In my belief, our Spirit is all of our memories and our Soul is the type of Spirit we are (e.g. Good, Evil, etc) and our Spirit is pure Energy. When we transition, it's only our Energy being released back into the Universe, but Energy is all around us and that's why those we love never truly leave us as long as we hold on to the memories of them. To a part of their Spirit.
REAL VAMPIRES LOVE VAMPIRE RAVE
Vampire Rave is a member of
Page generated in 0.099 seconds.