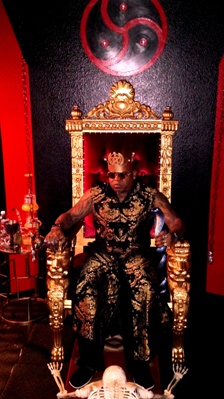 THIS JOURNAL IS ON 347 FAVORITE JOURNAL LISTS
Honor: 1,514 [ Give / Take ]











5 entries this month


15:42 Mar 02 2021
Times Read: 10



Wow, yesterday was a busy day.

However, I did accomplish a lot.

My Sauna and Gym time made a sacrifice though.

I recorded, edited, and published The Bless Program content.

I recorded, edited, and published content for my WeedTube channel.

I recorded content for my YouTube channel.

I also conducted Ministerial duties via Skype and other social media.

Bandit play time.

Home chores.

Budgeting.

You know......Life 101.

Anyway, back to my normal routine.

Sauna Sesh Treatments #1-#3 (3-hours total)
Gym Time (60-minutes)
Recording content for my YouTube channel
Reading
Home Chores
Bandit
Whatever the fuck I want to





But I have a couple of hours sooooo.....



08:14 Mar 02 2021
Times Read: 20
01:22 Mar 02 2021
Times Read: 33


THE VIDEO....




Congratulations to

Shala

the March 2021 Recipient

of

"The Bless Program Of MOGYOLOGY"

BLESSING: $31
_________________________________

MUSIC CREDIT:
INTRO: Pink Floyd (Comfortably Numb)/Venemy & Aznar ft.
Azaleh - Moonlight
[No Copyright Music] Chill Hip-Hop Beat FREE (Copyright Free) Music By: Yakuzee Beats
Adam Vitali - CONSCIENCE
OUTRO: [Non Copyrighted Music] Torin - Tubular Bells [Dark]

_________________________________

MUSIC FOUND ON YOUTUBE PAGE(S):
Fluidified
Chill Out Records - No Copyright Music
Frequency Music

_________________________________

Disclaimer: No copyright infringement intended. For entertainment purposes only.


(Video May Be Slow To Load)

THE BLESS PROGRAM OF MOGYOLOGY MARCH 2021 RECIPIENT




_________________________________


The Bless Program of MOGYOLOGY has assigned the following Coven Members with their assigned numbers as follows:

#05 Dakotah
#74 Liliancat
#55 Chupacabra
#38 TheFireWithin
#03 PaganMoon
#08 Shala

As previously stated, the cash amount to be 'Gifted' between $25-$50 USD will also be chosen by Bingo Spin Wheel method.

Winner failing to claim their prize within 3 days forfeits their winnings.

Serenity & Happiness To You

~ LM

___________________________________


The Path of MOGYOLOGY Ministry continues to look at unique ways to share the results of living a life focusing on whatever contributes to the 5 Elements of Warlock Awesomeness: Serenity, Happiness, Love, Sex & Magick.

The Path of MOGYOLOGY is active when it comes to "Giving Back To The Community" or "Paying It Forward".

Therefore, it is my honor to share with you the first "Giving Based" program designed to directly "Bless" the lives of individuals from around the world.

The Program has been appropriately named, "The Bless Program of MOGYOLOGY".

PROGRAM PURPOSE: To Bless Others

PROGRAM DESIGN: As the Gothic Warlock Lord Minister and Coven Master of The Coven Of MOGYOLOGY, EACH MONTH, I will be Randomly selecting a Member of The Coven Of MOGYOLOGY and 'Gifting' that member between $25-$50 USD.

A Random Member will be chosen using a Bingo Spin Wheel. Each Coven Member's name will be assigned to a Bingo Ball and placed in the Spin Wheel for the chance to be 'Gifted' for that month.

The cash amount to be 'Gifted' between $25-$50 USD will also be chosen by Bingo Spin Wheel method.

Any Sire is welcomed to Join and then Leave The Coven Of MOGYOLOGY each month after the chance of being 'Gifted'. You are also welcome to stay.

The drawing will be video recorded and posted to my journal the 1st day of each month.

DISCLAIMER: The Ministry currently only utilizes PAYPAL, VENMO or ZELLE accounts to transfer funds. No, I am not endorsed by them, work for them, or getting some sort of kick-back from them, I just don't want to pay a Transfer Fee and I'm not trying to connect every Cash Transfer business to my bank account or providing other financial information.

Yes, I'm aware that I will be sending money to strangers, but I will not be looking at attempting to recover and have refunded back to me any money. This will be a 'One-Way' transaction only. What they do with the cash after I send it to them is their business and has nothing to do with me or the Ministry.

The Ministery is not Tax Exempt nor is the money going to a charity so there is no tax write-off. The Ministry is simply "Gifting Cash" to people on a "Monthly Bases" and for LIMITED TIME (TRIAL PERIOD) starting on 11/01/2018.

Serenity & Happiness To All
20:46 Mar 01 2021
Times Read: 38


I was up until 5 a.m. recording content for my WeedTube channel and it took 3 Takes!

There kept being something I forgot to do like turn on the fucking mic on the camcorder...LOL!

So yeah, things are going pretty slow in my world today.

I have a full day of activities ahead of me and I'm pushing everything back and will accomplish them as I see fit.

Time to eat and.....



03:36 Mar 01 2021
Times Read: 30
Well, one more video to edit and then SST#3 and after that, recording content for my WeedTube Channel featuring my new Medicating Devices.

They get first look at them as a knod to the culture and then I'll feature them in my Monday recording for my YouTube Channel which will be edited and published next Mon.
REAL VAMPIRES LOVE VAMPIRE RAVE
Vampire Rave is a member of
Page generated in 0.5001 seconds.