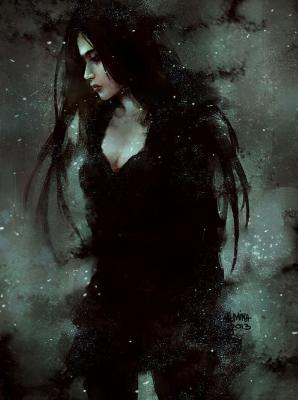 THIS JOURNAL IS ON 60 FAVORITE JOURNAL LISTS
Honor: 120 [ Give / Take ]













3 entries this month


19:10 Oct 30 2021
Times Read: 29






Keywords: Alchemy, Resourcefulness, Creativeness, Manifesting
Element: Air
Connecting the physical world with the spiritual realm, the Magician crow pulls the energy of the four suits representing earth, water, air, and fire to create a spark that has the power to manifest into a transformative idea. Rissming above the craggy desolate mountains lined by red and white roses at the base, the Magician symbolizes the first steps of generating success. He has the ability to carve out the desired path through difficulty, using life experiences and a pure heart.

This resonates with me completely and I will continue to carve my path that reaches towards my goals and dreams. Nothing will stop me now...everything is possible if you believe in it and put in the hard work to make it come true.

Have a beautiful day and gorgeous night everyone! Enjoy your weekend!
19:49 Oct 26 2021
Times Read: 46

It would be hard for life to get any better for this King Crow. His savvy skills earned him an abundance of riches and he lives a most luxurious lifestyle. His heart is pure gold and with wings outstretched, he shares all that he has accumulated, from material possessions to his acquired knowledge. He is always ready to help those around him reach their potential. This King of Pentacles brings the message to live a life of determination, grace and a good heart. In doing so, you too will find yourself living an abundant life.


I have been living in abundance, but not a luxurious lifestyle. I've been working my butt off to get to the point where I'm abundant financially, spiritually, and in all other walks of life. I've been through hell and back to reach this point and I am not going backwards.
It feels so good to relate to this card and I plan on continuing on this path forward.
20:32 Oct 18 2021
Times Read: 65

Judgement
Keywords: Transition, Reincarnation, Return
Element: fire

The crow calls out for those who are ready to rise up and face their past by accepting the judgement. Only by acknowledging the history will you be able to move forward into the future. Now is an excellent time to meditate and listen to your inner voice. It is only though quiet contemplation that you find a path to absolution. This card may reflect a recent awakening that has moved you to take stock of any habits or life choices holding you back.

This is one step forward from continuously getting the Death card prompting change. I'm changing, awakening, and rising up from the ashes stronger..and I'm ready to take Judgement if need be.
REAL VAMPIRES LOVE VAMPIRE RAVE
Vampire Rave is a member of
Page generated in 0.0499 seconds.