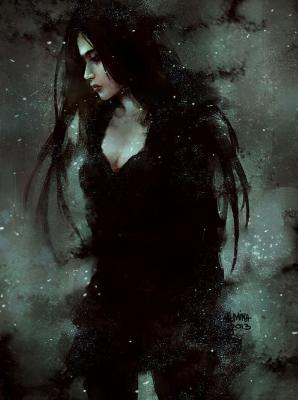 Proud Member of Coven of the Ascended looking for active members
Set at 22:25 on March 25, 2022

Websites
Quote:

"The fear of death follows from the fear of life. A man who lives fully is prepared to die at any time."- Mark Twain
"




Loves: Esotericism, Tarot, Music, Philosophy, Psychology, Travel, the Paranormal/Unknown, Astrology, Astronomy, Family, Friends, Deep Souls, Night, Abandoned Places, the Universe, Creating Art, Writing, Tattoos, Incense & Candles, Nature, Animals, the Outdoors, and much more.

Disturbed and Lacuna Coil are my favourite musical artists:




Dislikes: Insincere people, Shallow Minds, Childishness, Drama etc. (I'd much rather speak of what I love than what I hate. We will get along as long as you are genuine to who you are).




Some things About Me:
-I work full time and I am currently taking classes to complete my Bachelor's degree (History major, minor in business).
-I am somewhat of a part time archaeologist working on integrating Crystal healing and other "talents" on to my own site. This is more of an experiment of mine to see what unfolds.
-I am single. I'm not interested in anything but friendship anyway...I have become sort of jaded romantically.
-I have been into esoterism, the unknown/paranormal and the occult ever since I was six, when I experienced something I still can only theorize on.
-I don't call myself a witch or subscribe to any singular religion or belief. I guess "animist" would be a word to add to many about my varied beliefs. I am what I am.




-I love nature & animals.. and I wouldn't be happier than I would be living in the midst of nature, far away from other humans, with my pets and books surrounding me.
-I am as eccentric, open and rebellious as my Aquarius Sun, Sagittarius Moon, and Aquarius Rising. I am easy to get along with and I am open to chat about anything, so try me.




Books: My favourite authors are Anne McCaffery (Dragons of Pern and The Tower & The Hive Series); Anne Rice, Tanya Huff, Laurell Hamilton, Christine Feehan, Jeannine Frost.





My rating guidelines...



I was hoping that I wouldn't have to put in anything about rating as it's common sense but apparently not, so here it goes...If you've stopped by because I rated you below a 10 there is normally a VERY good reason. I like to give whelps a 10 to start them off and it doesn't take much to impress me lol. I DON'T care what your content is like or your attitude. I rate on EFFORT, if there's no effort gone into it you will get down-rated, and yes I do use the whole range of the scale!!, the only other reasons are if you've gone totally OTT on the swearing or your using VR to totally love yourself; you don't use LEGIBLE English or just using VR to get a date, I'm all for romance but there are other websites to do this, hell they're advertised on VR!! & YES I do expect these rules to apply to me as well!! ,Of course saying that, if you've updated please let me know and I will gladly re-rate. While I'm on a roll I also want to cover stamping, yeah I stamp, I'm a premium member and pay for the privilege for creating and using my stamp, However that DOES NOT mean that I have not read your profile, so get over it or go home.



If you want clarification on anything, please message me.


I am still working on this profile so that is it for now.
| | |
| --- | --- |
| Member Since: | Mar 16, 2021 |
| Last Login: | Jun 09, 2022 |
| Times Viewed: | 4,346 |
---
| | |
| --- | --- |
| Times Rated: | 277 |
| Rating: | 9.92 |
Rate this profile


---

CuriousAlice
06:10
Jan 18, 2023

ShadowBorn
00:02
Jan 17, 2023
Chere
20:01
Dec 05, 2022
[
All Comments
]
REAL VAMPIRES LOVE VAMPIRE RAVE
Vampire Rave is a member of
Page generated in 0.0551 seconds.