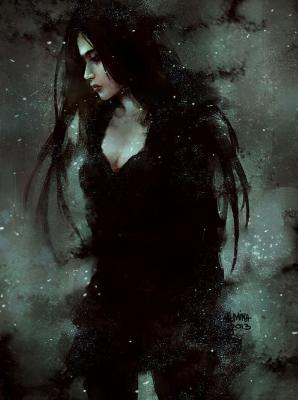 Proud Member of Voodoo🦴✨💀🌙
Set at 09:49 on May 15, 2021
WHAT CELESTIALXSEER IS DOING
Websites
Quote:

"There are more things in heaven & earth than are dreamt of in your philosophy."-Shakespeare


New profile but not new here. This is who some of you know as NikkiAidyn(aka Amaranthine, Ylvax, DarknessFollows, XZenithX, FeralHeart, & Eudaimonia).. I made this profile to help a friend in their coven...and to express myself yet more.




Loves: Esotericism, Tarot, Music, Philosophy, Psychology, Travel, the Paranormal/Unknown, Astrology, Astronomy, Family, Friends, Deep Souls, Night, the Universe, Creating Art, Writing, Tattoos, Incense & Candles, Nature, Animals, the Outdoors, and much more.

Sleep Token is my favorite musical artist:




Dislikes: Insincere people, Shallow Minds, etc. (I'd much rather speak of what I love than what I hate. We will get along as long as you are genuine to who you are).




Some things About Me:
-I work full time and I am currently taking classes to complete my Bachelor's degree(Psychology major, minor in business).
-I am somewhat of a part time blogger working on integrating tarot reading and other "talents" on to my own site. This is more of an experiment of mine to see what unfolds, but I have plans on opening a shop and selling the book(s), Oracle deck, and other original products that I am creating. If you would like a free tarot reading please let me know. I have years of experience but I seek out all of the practice I can get.
-I am married but I consider myself separated. Im not interested in anything but friendship anyway...I have become sort of jaded romantically.
-I have been into esoterism, the unknown/paranormal and the occult ever since eleven, when I experienced something I still can only theorize on.
-Divination is one of my favorite practices; I've found tarot and natural intuition to be my greatest tools. I can read regular playing cards, signs in nature, and divine by many other ways.
-I don't call myself a witch or subscribe to any singular religion or belief. I guess "animist" would be a word to add to many about my varied beliefs. I am what I am.




-I love nature & animals.. and I wouldn't be happier than I would be living in the midst of nature, far away from other humans, with my pets and books surrounding me.
-I am as eccentric and conflicted as my Cancer Sun, Sagittarius Moon, and Aquarius Rising. I am easy to get along with and I am open to chat about anything, so try me.

I am still working on this profile, but this is it for now.
Thank you for stopping by & feel free to drop a message; any adds, journal favors, and ratings are reciprocated, just let me know... Until next time.




Proud Member of:

"The cards give you images and symbols to focus your vague intentions and transform them into action. Your will is the magic. In other words, you are the magic. If you can create something in your heart and then act on it to make it happen, that is magic. Very simple, very straightforward—no witches, no spells, and no broomsticks."
-Theresa Francis-Cheung
| | |
| --- | --- |
| Member Since: | Mar 16, 2021 |
| Last Login: | Jan 16, 2022 |
| Times Viewed: | 3,174 |
---
| | |
| --- | --- |
| Times Rated: | 234 |
| Rating: | 9.91 |
Rate this profile


---

Deedrah
05:57
Jan 15, 2022

DemonicShadowz
12:15
Jan 08, 2022

LadyGrimoire
18:40
Jan 05, 2022
[
All Comments
]
NEWS



16:11:41
Jun 14 2021


I had to apply some security updates. I needed to take the site down for a few hours to complete everything. I did it in the middle of the night.. When hopefully, most of you wouldn't notice :)

More News...