← Mentorships
The Guardians of the Underworld

A variety supernatural dogs in folklore around the world with ominious features such as black fur, glowing red or yellow eyes, super strength or speed, ghostly or phantom characteristics, foul odor, and sometimes the ability to talk.


Legend says that if someone is to stare into its eyes three times or more, the person will definitely die. In cultures that associate the afterlife with fire, hellhounds may have fire-based abilities and appearance.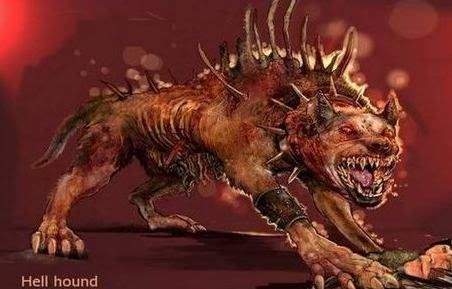 They are often assigned to guard the entrances to the world of the dead, such as graveyards and burial grounds, or undertake other duties related to the afterlife or the supernatural, such as hunting lost souls or guarding a supernatural treasure.


DEVIL DOG


Many living dogs are often referred to as devil dogs. Dobermans, Pittbulls, Rottweilers, and of course all evil Chihuahuas that have ever lived.



If that's not frightening enough the most commonly famous hellhound is probably Cerberus, the hound of Hades from Greek mythology.

Cerberus



A three headed hound with snake-like appendages or tail(s) that is said to be the offspring of two monsters: Typhoon, a fire breathing serpent, and Echidna, a half woman half serpent. Depicted as Hades most loyal watchdog, Cerberus guarded the gates that granted access and exit to the underworld.


Contributed by

2012


REAL VAMPIRES LOVE VAMPIRE RAVE
Vampire Rave is a member of
Page generated in 0.0901 seconds.