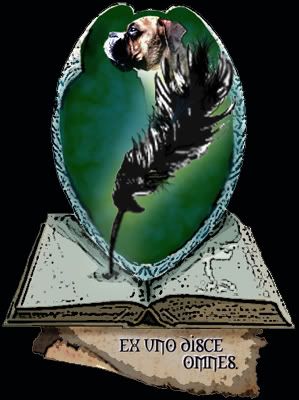 Proud member of The House of Caomhnóir-an-Eolas
Greetings! I have just returned from a semester abroad in London, spent mostly without internet (the horror!) but I met up with some VR buddies and learned quite a lot. Now that I'm back, keep an eye out for some updates and fun new pictures. Thank you for stopping by!
The five words my friends use to describe me most often are as follows:
Pagan
Hockey Goalie
Goth
Coloradian
History Major
From these five words most people seem to understand a good deal about me and my personality.
I'm also a DJ for my campus radio, resident local color and I have a fan club of people who all seem to have this creepy fasination with me. I plan on getting my Master's in Film/Broadcasting after I graduate.
I play hockey for the high. If I wasn't a goalie, I would be doing something else that involved pain, suffering, lots of sweat, and most likely dangerous to my health. I need the rush, the only time I've been deprived of hockey due to sickness I took to doing anything I could to get the same sensation including abusing substances, cutting myself and generally self-destructing. Now that I'm playing again I'm doing better but I look to the end of my career with a bit of nervousness. Out of desparation I'll probably end up coaching or becoming a mercenary for a beer league. Though I have taken up boxing now, so maybe I can keep that up for a high!
Otherwise, I'm the only vampire on campus, and as far as I can tell all of town, and I miss all my friends back home who get me. So I'm glad I found this place and the people that I've met here.
Personal Thoughts
I guess this could also be called philosophy...but I'm not that cocky, goddamn it.
As an American citizien who's been lucky enough to travel extensively both internationally and domestically, I hope that I have a better understanding of the world than my counterparts who can't find their own home state. Many have asked about the apparent non sequiter in my favorite books. The reason
The End of Poverty
should be on all of your 'to read' lists is because I know that it maps out a way to really help people everywhere, and the more people who know about the problem, the more the solution will be obvious. I don't agree with everything the UN has done, but I do think they are the agency best positioned to, in fact, bring an end to extreme poverty. It's my own personal issue and I try my best to do my part.
Everything else you could ever want to know about me...
Hair: Black
Eyes: Green, but I wear blue contacts because I like the look and the way people react to them, and because secretly I want to be a Fremen.
Height: 5'8
Weight: Even as I type this I laugh...I'm a college athlete who works out three hours a day. How much do you think I weigh? Prize for the winner to be announced.
Loves: Men, hockey, movies and Godiva Chocolate
Hates: Fundies, God Kids, people who can be perky at 7 in the morning, and people who tell me I'm going to hell. When all four traits are combined, I take no responsibilty for my actions.
Favorites
Bands
Helloween
KISS
Blind Guardian
Dimmu Borgir
The Who
David Bowie
Heart
Gwar
Motley Crue
Guns'n'Roses
Johnny Cash
Green Day
Movies
Serenity
Repo Man
Monty Python
LOTR
Underworld
Batman Begins
Walk the Line
HGTTG
Bend it like Beckham
Boondock Saints
Labyrinth
Clockwork Orange
Books
Dark Lord of Derkholm
Blade of the Immortal
Dune
Ender's Game
Ender's Shadow
LOTR/The Hobbit
The Black Gryffin
The End of Poverty
Terry Pratchett
TV
The Daily Show
The Colbert Report
The Grim Adventures of Billy and Mandy
Kim Possible
Venture Bros
West Wing
Firefly
Mitch Hedberg RIP

The predators of predators, Clan Assamite will
raise nervousness in even the most confident of
vampires. Often working as mercenaries and
assassins, this clan of the east derives much
of their power, to the unnerving of most
Kindred, through the consumption of their
victim's blood and soul in the dreaded rite of
Diablerie. Their potency as assassins is
heightened by their powers of stealth, silence,
and deadly poisoncraft. Though Clan Tremere
tried to defang the deadly diablerists with a
potent curse, the Assamites have recently cast
off the arcane shackles, and reawakened with a
renewed thirst for Kindred blood.

Which Vampire: The Masquerade clan do you belong in?
brought to you by Quizilla