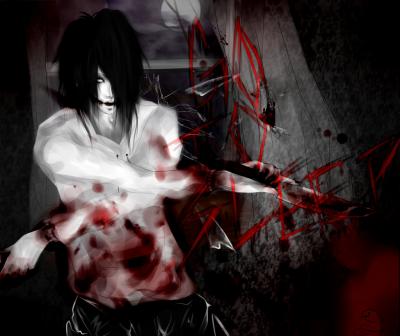 | | | |
| --- | --- | --- |
| | | |

Websites
Quote:

"When life gives you lemons. . . You might as well shove 'em where the sun don't shine, because you sure as hell aren't ever going to see any lemonade."

Proud ACM of Et Sanguinem Auro


Welcome to my Den, where we are all of the dark. Please make yourselves comfortable.
,..,


~. X . ~


I am here walking a moonlit path, one of the dead
that wander as ghosts. We drift on the borders of realities and are feared wherever we go.. sometimes sad, for we the fallen ones. Our hearts never gave up the fight to life, and so we sleep for eternity. Witness our dark wrath and respect our still-feeling hearts.




"Most kids don't believe in fairy tales very long. Once they hit six or seven they put away "Cinderella" and
her shoe fetish, "The Three Little Pigs" with their violation of building codes, "Miss Muffet" and her
well-shaped tuffet—all forgotten or discounted. And maybe that's the way it has to be. To survive in the
world, you have to give up the fantasies, the make-believe. The only trouble is that it's not all
make-believe. Some parts of the fairy tales are all too real, all too true. There might not be a Red Riding
Hood, but there is a Big Bad Wolf. No Snow White, but definitely an Evil Queen. No obnoxiously cute
blond tots, but a child-eating witch… yeah. Oh yeah."
― Rob Thurman, Nightlife





Greetings, I am Caliban. First of all, I'm a personality akin to other personalities on here; this profile is based off of a character in the Nightlife series by Rob Thurman. I am a Sire and I own a few accounts. Anyway. I'm taken..

I am a stubborn person at times, but most of the time if you respect me I will respect you..I am easy-going and easy to get along with for the most part. I usually put others first, but I do get a bit lazy...or I just don't care.

I work with spirits to attain what I wish for in life. Far from the grave I was in, I can sense and speak to them..
I practice a variety of 'magic'. It's all intent and will. I won't harm anyone unless deserving, but that's only worse case scenario. I have yet to do such.




Come by soon X


We are the children of the night, look in our eyes;
Feel the calming pulse in moonlight death. We
arise!

The splendor of dark becomes our face, Our Night embraces
And we feel death in life, caressing solar trances.

Fly with me sweet souls! Seek to discover, heaven in what's under
Life with Death. Stoke the flames & touch desire.

Dance in dark infinity, taste our truth in bloody sights ,..,
With every snarl of real abandon, prey of our rites.

Arisen we horror & haunts, honorable to moon & earth, no actions in reverse.

-Caliban




"What're you still doing up? You know all good little ninjas should be in bed, visions of homicidal sugarplums dancing in their heads."
| | |
| --- | --- |
| Member Since: | Aug 14, 2013 |
| Last Login: | Jan 05, 2016 |
| Times Viewed: | 16,773 |
---
| | |
| --- | --- |
| Times Rated: | 676 |
| Rating: | 9.798 |
Rate this profile


---

Nike
05:08
Jan 18, 2023

ShadowBorn
04:54
Dec 31, 2022
Bennu
17:26
Sep 03, 2022
[
All Comments
]
REAL VAMPIRES LOVE VAMPIRE RAVE
Vampire Rave is a member of
Page generated in 0.0628 seconds.