| | | |
| --- | --- | --- |
| | | |

Websites
Quote:

bite me ....... hard....... harder
Name: Cynthia
Nickname: Cindy everyone calls me Cindy
Age: 22
Sex: Female of course how many male Cindy's do you know?
Likes: I like the bar and my friends and going to the bar with my friends I love my son, hurt him and I will hurt you!
Dislikes: Not a big fan of people who cause people pain and anguish. Well in a bad way

A very proud member of

I like pain sometimes a little sometimes a lot. I don't like when people hurt me on purpose for their own self gain but a little hair pulling, biting, and scratching is always fun. I like to be tied up and held down.


So the last time you saw this space I wrote about this guy that was supposed to move in with me... Sadly for me that never happened but thats ok I'm over the silly stuff in my life. I am seeing someone now and I find him most special to me. But I am moving away for work shortly which means that I will be further away from the ones I love which suck but I'm doing whats best for my son and mother at the time. See my mother is really sick and she is just getting sicker. The only way to get her even a little better right now is to go away, make lots of money and pay for better medical care! Who knew medical care would cost so much in Canada?

I am a mother of one and have been doing the single mom thing for three years. Yes my son is 3 and he is my evil little spawn and I love him with everything I have.

And these are my protectors!
I am the type of person most people only read about. I see you for who you are before you have to show me. I can see the good and the bad in you before you have the chance to hurt me. I see more of the world around me than most of you can even fathom. Yes I still get hurt but thats because some people are really really good at hiding who they really are. You know those feeling in the pit of your stomach? Whether they be good or bad? I feel them but I also see them. I have good examples but here is not the place to tell them. Right now I am studying wiccan beliefs because that is where I believe my life's path is supposed to take me. I do not and will not ever push my beliefs on anyone because I know what its like. It's not fare to have your paths chosen for you you should take that evil scary walk if you want to!


I know I'm more of a rambling on sorta person but I don't care I love me for who I am what I have done what I might do and what I believe in. I don't have time for people who don't like me for me, I don't want you to change me because your not worth it for me to change who I am. I'm sorry if that may offend some of you but think about it!

I don't like the long bright days I prefer the dark nights. If you see me outside It's probably at night.


My favorite thing to do at night is sit....... I used to take a walk every night along this dark path to a rock, I know, I know....... My rock sat on the edge of the ocean and I would sit there for hours just watching and listening, watching the stars and the moon and listening to the angry waves crashing into the shore. It was the most peaceful place to be no one knew where I was and I didn't care it was my time alone to think and wonder and contemplate the world before me.

Some things to know about me:
I'm afraid to fly
I hate heights
And boats are not my friend to touch on that one just a little bit: My brother and my only friend in this world was killed in a boating accident about 6 years ago and I have never been whole since. We were alike in so many ways that most people can't even grasp. He was a year older than me but we were more like twins than twins themselves. The day he left us I was only half but slowly I am beginning to become whole again.

I don't really know what else to say about me so if there is anything I missed just ask. And feel free to add me as your friend I'm always into meeting new people just don't hurt me because I bite back!

Oh ya I have 3 tattoos
2 bull dogs on my shoulder blades and a tribal evil kind of looking butterfly on my right calf and there is so many more to come, but they are still in the designing process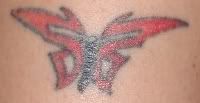 | | |
| --- | --- |
| Member Since: | May 09, 2007 |
| Last Login: | Nov 18, 2007 |
| Times Viewed: | 5,068 |
---
| | |
| --- | --- |
| Times Rated: | 450 |
| Rating: | 9.377 |
Rate this profile


---

NikkiAidyn
12:55
Oct 22, 2021

Ylvax
19:34
Jun 24, 2021
Earthgrinder
04:36
May 10, 2020
[
All Comments
]
REAL VAMPIRES LOVE VAMPIRE RAVE
Vampire Rave is a member of
Page generated in 0.0672 seconds.