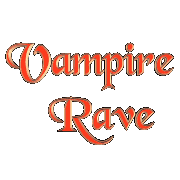 Vampire Rave
This is me for forever
One of the lost ones
The one without a name
Without an honest heart as compass
This is me for forever
One without a name
These lines the last endeavor
To find the missing lifeline
Oh how I wish
For soothing rain
All I wish is to dream again
My loving heart
Lost in the dark
For hope I'd give my everything
My flower
Withered between
The pages two and three
The once and forever bloom gone with my sins
Walk the dark path
Sleep with angels
Call the past for help
Touch me with your love
And reveal to me my true name
Oh how I wish
For soothing rain
All I wish is to dream again
My loving heart
Lost in the dark
For hope I'd give my everything
Oh how I wish
For soothing rain
Oh how I wish to dream again
Once and for all
And all for once
Nemo my name for evermore
Nemo sailing home
Nemo letting go
Oh how I wish
For soothing rain
All I wish is to dream again
My loving heart
Lost in the dark
For hope I'd give my everything
Oh how I wish
For soothing rain
Oh how I wish to dream again
Once and for all
And all for once
Nemo my name for evermore
Nemo my name for evermore
I'm a Goth/Emo, call me what you want. My name is Kerry though I preferred being called Alvaria. Kerry means Dark One in Gaelic. I have manic depression and have attempted suicide several times though my family barely knows.
I am a natural loner and a socio phobe, I hate being surrounded by people whether I know them or not.
Through my child hood I have been rejected and bullied by family members and other kids my age as I moved through the East Coast of Australia. I have been told I'm worthless, pathetic, a waste of oxygen and useless...been told so much that I have actually believed it and still do. I am at risk of developing Schizophrenia.
I was sexually abused by my own father at the age of 6, moved away from my birth town at the age of 7 and moved around for around 2 and a half years until we finally settled in owning a hotel/motel in FNQ(Far North Queensland or as we called it Fucking Nothing Quickly).
The primary school I went to pushed me aside just like all previous schools have done so I withdrew and started to read thick fantasy novels around 1000 - 2000 pages(meanwhile I was in Year 5)
I've never had any real friends and those I thought were my friends turned out to be using me for one thing or another and so forcing me to push everyone away. Only recently have I actually started coming out of my shell all thanks to a real friend at my college, her name is Vamps. A great friend that I have just recently lost friendship with....I've never really known what it was like to have a real loving family. I have come to think that I am alone in the world... My mum seems to think I need counselling ...I better shut up now...If you wanna know more bout me just contact me. Thank you for looking at me profile.
FAVOURITE MOVIES:
Blade( all 3),
Underworld,
Underworld: Evolutions,
Lord of the Rings(all 3),
X-men(all 3)
Constantine
Van Helsing
V for Vendetta
Pirates of the Caribbean(all 3)
Mortal Kombat
The Covenant
and I can't remember the rest!!!!!!
FAVOURITE BANDS:
Evanescence
Linkin Park
Nickelback
Megadeth
Dry Cell
Slipknot
AFI
Rammstein
Disturbed
Nightwish
Within Temptation
Arch Enemy
Cradle of Filth
Killswitch Engage
Vader
Opeth
Deathstars
Rob Zombie
Papa Roach
Senses Fail
Full Blown Chaos
Lost Prophets
Apocalyptica
and lots more.
LIKES:
Music
Spiders
Snakes
Skulls
Black
Red
Denim
DISLIKES:
Narrow - minded people
Contradictors
Hypocrites
Groups of people(socio phobe)
Closed spaces(claustrophobic)
Centrelink
Judgmental People
Thought I'd notify you that I am now doing portraits of peoples faces or face and shoulders though you will have to be patient seeming as I just started and an amateur. So if you would like a portrait of you done please send a close up picture of you(no in appropriate photos please) to one of my emails above (preferably kezza_662@hotmail.com seeming as I'm barely on the other one) I will get it done as soon as I can and scanned and emailed to you. My promise to you:
I'll try not to make you look too much like an ape or alien :):)
Kind Regards
Depressant