My band the THE CHILDREN OF THE DAMNED perform the dark acts of music. By this is mean Gothic rock.
I have always considered myself different by my attraction to the darker side of everything.
I fell in love with the thoughts of vampires around the age of 6.
But i have always been in love with the dark arts
Like i was bound to the darkness
Take the quiz:
What kind of goth are you? (now with pics)

Vampire goth
You are a vampire goth, you may drink blood quite frequently. And perhaps you tell people that you are part of one of the 13 main clans.
Quizzes by myYearbook.com -- the World's Biggest Yearbook!
Nemesis - Arch Enemy
We walk this earth
With fire in our hands
Eye for an eye
We are nemeses
We are with you
On this vicious, oh
Fight, fighting for freedom
United, we stand..we stand
We are a legion
Voice of anarchy
This is revolution
Creating new disorder
We are enemy
Divided of the system
Crossing democracy
Trading it in this time...yeah
One for all
All for one
We are strong
We are one
One for all
All for one
We are one
Nemesis
A malicious fever burns
In our heart, in our veins
New blood, my blood
Our blood, runs the same
One for all
All for one
We are strong
We are one
One for all
All for one
We are one
Nemesis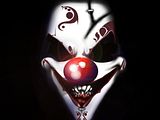 Ravenous- Arch Enemy
I am hunting for your soul
It dwells within your heart
I lacerate the pounding flesh
Your spirits shall be mine
So rise my spirit rise!
Revel in this dead mans' body
Grip his soul, sip the blood
Life is death
A holy carnage
Ravenous
I will be your god
Carnivorous Jesus
I need your flesh
Ritual slaughter
Fill up the chalice
With the essence of your life
Liquid strengths
Trapped in your veins
I crave your blood
You must die
The Dante's Inferno Test has banished you to the Seventh Level of Hell!
Here is how you matched up against all the levels:
Take the Dante's Divine Comedy Inferno Test
I have always loved rock the band I like are:
Opeth
Lamb of God
Disturbed
Godsmack
Cradle of Filth
HIM
Slipknot
Atreyu
Behemoth
Children of Bodom
Slayer
Mushroomhead
Arch Enemy
Hatebreed
Crossbreed
Korn
Metallica
Mudvayne
Static-x
and much more...

Your clan is a dysfunctional one. That is because you are a Malkavian. Something is poisonous about this clan's blood that drives all those embraced to madness. However, in this madness, you tend to have great insight. Unfortunately, people just take it as senseless ramblings. In every family there is an insane one. You're it.


What Vampire Clan Do You Belong To?

Not many people know much about me because I am generally a very closed person Nothing comes out but information I still take
I have always been misunderstood by others
and for once I seem to fit in

Your Deadly Sins


Greed: 100%


Sloth: 100%


Wrath: 100%


Envy: 80%


Lust: 60%


Gluttony: 40%


Pride: 40%


Chance You'll Go to Hell: 74%


You'll die in a castle, surrounded by servants.
Likes: The darkness, being alone, chains, Band
Dislikes: Light, family & preps
Guitar: Yes
Smoke/Drink: Yes/Yes
Single: Yes
Favorite Books: Vampire Cronicles by Ann Rice
Religion: None
Favorite Movies: Underworld 1 & 2, Queen of the Damned, The Ring
My band: CHILDREN OF THE DAMNED
Interests:Dark arts, Magick, and tarot cards