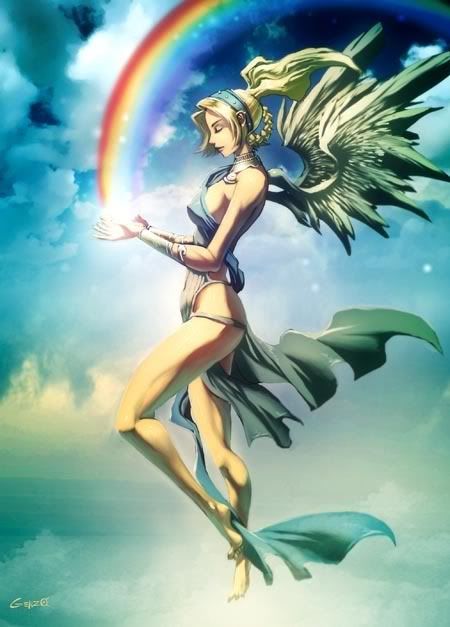 Why Lady Iris?
IRIS was the goddess of the rainbow, the messenger of the Olympian gods. She was often represented as the handmaiden and personal messenger of Hera. Iris was a goddess of sea and sky--her father Thaumas "the wondrous" was a marine-god, and her mother Elektra "the amber" a cloud-nymph. For the coastal-dwelling Greeks, the rainbow's arc was most often seen spanning the distance beteween cloud and sea, and so the goddess was believed to replenish the rain-clouds with water from the sea. Iris had no distinctive mythology of her own. In myth she appears only as an errand-running messenger and was usually described as a virgin goddess. Her name contains a double meaning, being connected both with iris, "the rainbow," and eiris, "messenger."
In Greek mythology, Iris is the personification of the rainbow and messenger of the gods. As the sun unites Earth and heaven, Iris links the gods to humanity. She travels with the speed of wind from one end of the world to the other[1], and into the depths of the sea and the underworld.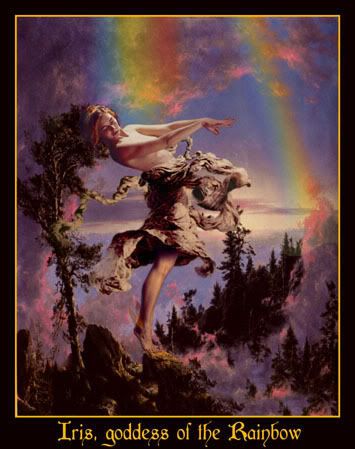 Iridescence is an optical phenomenon characterized as the property of surfaces in which hue changes according to the angle from which the surface is viewed (as may be seen of soap bubbles and butterfly wings).
Iridescence is caused by multiple reflections from multi-layered, semi-transparent surfaces in which phase shift and interference of the reflections modulates the incident light (by amplifying or attenuating some frequencies more than others). This process is the functional analog of selective wavelength attenuation as seen with the Fabry-Pérot interferometer.
The word is derived in part from the Greek word iris (pl. irides), meaning "rainbow", which in turn derives from the goddess Iris of Greek mythology, who is the personification of the rainbow and acted as a messenger of the gods. Goniochromism is derived from the Greek words gonia, which means angle, and chroma, which means color. It is the property of certain surfaces to change their colour depending on the angle under which they are viewed. From a physics standpoint this is rather uncommon behaviour, and in man-made objects this is usually only found in paints that are specifically designed for the effect. Examples are pearlescent paints or interference pigments, which are sometimes used for custom paintjobs on cars. Some specially woven fabrics or certain shampoos can also exhibit such behaviour. Natural examples of goniochromism can be found in the appearance of certain insects, such as the Morpho butterfly, whose metallic-looking wings exhibit a colour shift depending on the observation angle.
I am a water and air elemental and choose to be that way. Mix the two together and you understnad what I mean...
I am a Reiki Master and pursue the art of healing to its fullest. I have a wealth of knowledge and books to match to reference if ever need be. I am a romantic at heart, a poet, a person that loves life to the fullest and enjoy being child like. I am one who enjoys my spirituality and am not afraid of all faiths. Not a vampire, not some new age guru, not some hippie chick. Just a person who likes this beautiful mess we call earth and all of its beings. I am an ever learning student and love to learn.
Hygeia
Oh Hygeia, much desired and general queen! Hear me!
Life bearing goddess.
Mother to all
In the house you flourish and fair
Rejoicing in your aspect of art
The force of inspiration, helping hand and aides' life's banes
O fertile queen, universal queen, healer and more
Help this mystic mind avert disease of every kind and be one with life
Thank you!
Hygeia
Personification of psychic and physical health.
She relieves human aliments as well as those of animals.
To remedy illness
She advise on diets and medications
Asclepius's daughter goddess and guardian of physical and mental health
Bring for a healthy human in front of you!
Heal my aches and pains
Heal my body of cellular fat so that I may a size 18 again
Thank you dearest queen of health!
I bow to you in honor of healing all those I love!
Oh great goddess Hygeia
Mother of healing
Queen of bright eyes
Wealth of healing
Send the energy to me
Nourishing me from your sacred bowl!
Thank you fro healing me
Keeper of healing dreams, and psychic healing
I call on you for healing me
Healing my mind
Healing my body
Healing my soul
Cleanse and heal all areas of my soul
Freeing me from all disease and discomfort in this body
Teach me how to embody health and wholeness all the days of my life!
My coven
What I love....
Bath time a sweetness like no other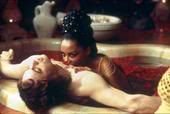 Kissing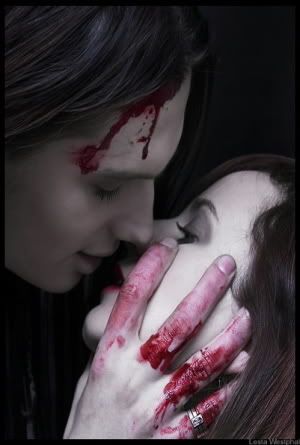 Praying to my gods and being one with them.
Angels of all kinds
Who protects me
My dislikes
people who judge a book by a cover
people who seem to think it is alright to laugh at others and never really being able to laugh at themself
haters of religion
haters of race
haters of animals
Personal quote: Silence is gold and is a bliss that many seek and never find...
Fun stuff
My animal medicine
sayings