My name is Dewey, It's not my birth name but it's the name I go by. I am 43, 5'9", light brown hair with green eyes. I am the proud mother of two of the most amazing girls, they make my life worth living. My girls are 20 and 16; it's amazing how fast the years go by. But, no matter how old they get or how tall they grow, they are and will always be my babies..*Smiles*... I live on Long Island, about an hour outside of Manhattan. I love to take the train into the City with my daughters and walk around, It's always so alive and exciting... I am very shy when meeting new people, but once I get to know you I'm loud, crazy, and always laughing (I love to laugh). I don't do drugs and drink on occasion, so laughing is my high. I'm a very caring person and a trusting and loyal friend. At times I can be very stubborn and bitchy (but aren't we all sometimes?). I have very low self-esteem and can be extremely critical of myself. I am my own worst enemy... I don't like people that are fake or pretend to be something other than what they are. I am a very honest person and I hide nothing, I am who I am you either like me or you don't, and if you don't, oh well, life goes on.... My sister Bizzygurl introduced me to VampireRave. I'm not a vampire or gothic, I just enjoy dark and mystical things. I like that there is a diverse group of people here on VR and hope to make a few new friends.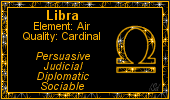 Spending time with my family (especially my daughters), Music music music!, Going to concerts, Singing, Reading, Camping, Walking on the beach, Kissing (nothing like a really good kiss), Long haired guys, Snuggling, Honesty, Laughter, Cruisin' in my car with the windows down and the music crankin', Walking in the snow catching snowflakes on my tongue, Sunsets, Thunderstorms, Candles, Old Muscle Cars, Chocolate I could OD on it, Angels and Faeries, Tattoos.
Favorite Colors: Pink and Purple.





I love music it evokes so many emotions and memories. I listen to many different genres of music. If it's good, I will listen to it. Although I am and have always been partial to rock..

Here is a sample of what I like to listen to.





-A-

AC/DC

Aerosmith

AFI

Alanis Morissette

Alice in Chains

Anthrax

-B-

Bad Company

Beastie Boys

Pat Benatar

Billy Joel

Black Crowes

Black Sabbath

Blind Melon

Blue October

Blues Travelers

Bon Jovi

Body Count

Buckcherry

Bush

-C-

Candlebox

Johnny Cash

Circle Jerks

-D-

Days of the New

Disturbed

3 Doors Down

-E-

Eagles

Elton John

Elvis Presley

Eminem

Evans Blue

Evanescence

-F-

Fleetwood Mac

Flyleaf

Foo Fighters

Foreigner

-G-

Godsmack

Green Day

Guns and Roses

Gwen Stefani

-H-

Hawthorne Heights

HIM

-I-

Incubus

Iron Maiden

-J-

Jane's Addiction

Jethro Tull

Jewel

Judas Priest

-K-

Kid Rock

Kiss

Korn

-L-

Led Zepplin

Linkin Park

Lit

Lynyrd Skynyrd

-M-

Matchbox Twenty

Megadeth

Metallica

Motley Crue

My Chemical Romance

-N-

Nickelback

NIN

No Doubt

NWA

-O-

Offspring

Ozzy Osbourne

-P-

Panic! At the Disco

Pantera

Papa Roach

Pearl Jam

Pink

Pink Floyd

Public Enemy

Puddle of Mudd

-Q-

Queen

-R-

Rage Against the Machine

Ratt

Red Hot Chili Peppers

Red Jumpsuit Apparatus

REM

Rush

-S-

Saliva

Sebastian Bach

Seether

Shinedown

Skid Row

Slipknot

Smashing Pumpkins

Soundgarden

Staind

Stevie Nicks

Stone Temple Pilots

Suicidal Tendencies

System of a Down

-T-

The Doors

Three Days Grace

Tool

Trapt

-V-

Van Halen
(w/David Lee Roth)

Music=Life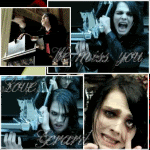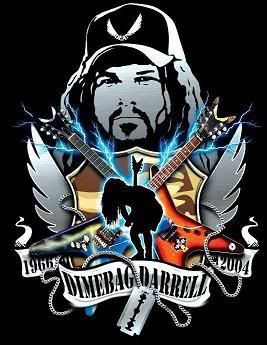 I enjoy watching movies.. whether I go out to the theatre or rent a movie and stay home. I love that I can escape from reality for a while,
even if it is for only an hour or two.
I like all genres of movies.

Here's some of the movies I enjoy..




-A-

A Bronx Tale

A walk to remember

Animal House

Arthur

-B-

Bram Stoker's Dracula

-C-

Cheech & Chong

Constantine

-E-

Edward Scissorhands

-F-

Fast Times at Ridgemont High

Fight Club

Final Destination (1 & 2)

Finding Nemo

-G-

13 Ghosts

Goodfellas

-H-

Harry Potter

Hills have Eyes

House of Wax

-I-

Interview with a Vampire

-L-

Ladder 49

Leathal Weapon trilogy

Lord of the Rings trilogy

-M-

Meet Joe Black

My Big Fat Greek Wedding

My Cousin Vinny

-N-

Nightmare Before Christmas

Nothing to lose

-P-

Pirates of the Caribbean

Pretty Woman

Psycho

-R-

Rocky Horror Picture Show

-S-

Saving Private Ryan

Shawshank Redemption

Silence of the Lambs

Silent Hill, Singles

Sixteen Candles

Sixth Sense

-T-

The Breakfast Club

The Crow

The Green Mile

The Godfather trilogy

The Notebook

The Shining

There's something about Mary

-U-

Underworld

Underworld Evolution

-V-

Van Helsing

-W-

Wedding Crashers

What dreams may come






I believe that imagination is stronger than knowledge, that myth is more potent than history. I believe that dreams are more powerful than facts - that hope always triumphs over experience - that laughter is the only cure for grief. And I believe that love is stronger than death.
-The Crow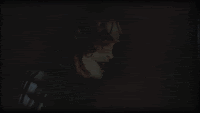 I don't usually watch alot of tv because I'm either working, spending time with my girls, or playing on the computer.. but when I do these are a few of the shows I enjoy watching.




Grey's Anatomy

Las Vegas

Law and Order
(SVU & CI)

Criss Angel - Mind Freak

UFC

Family Guy

The Sopranos

American Choppers

Miami Ink

American Idol
(yeah, I know, I'm a geek!)

Charmed

That 70's Show

Will & Grace

Sex in the City

And I like to watch
Animal Planet






I have always enjoyed reading. As a young child I would ride my bike to the library, take out a stack of books, and sit and read for hours. I always had my nose buried in a book. Lately though I haven't had the time to read as much as I would like..




A few Authors I like:

Anne Rice

Carol Goodman

Danielle Steel

Stephen King..
-

Some of the Books I've Read:

The Vampire Chronicles

Lives of the Mayfair Witches

The Ghost Orchid

Lake of Dead Languages

Dream Catcher

The Green Mile

The 5 people you meet in heaven

Summer Sisters

Tara Road

All the Harry Potter books

*Note: I just finished reading The Drowning Tree, by Carol Goodman.. Great book!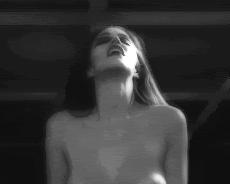 I Am...
a daughter, a sister, a grand-daughter, an aunt, a niece, a cousin, a mother, and a friend. I am a partner, a student, a young girl, and a grown woman. I am confident and scared, terrified and excited. I am loving and caring, thoughtful and hopeful. I am sick and tired. I am shy and friendly, careful and careless. I am broken and whole. I am sweet and a bitch, innocent and sexy. I am strong and I have weaknesses. I am light and dark. I am misunderstood, misguided, and mislead. I am hard working and determined, but a little scared on the inside. I wish on the stars and dream my dreams. I pray to god and cry my tears. I smile on the outside, while I'm dying on the inside. I listen to others who won't listen to me. I walk on eggshells and I walk on fire. I believe in passion, but not true love. I love you and I push you away. I want you, but not so close. I am everything and nothing all at once. And all I want is for you to.. Love Me.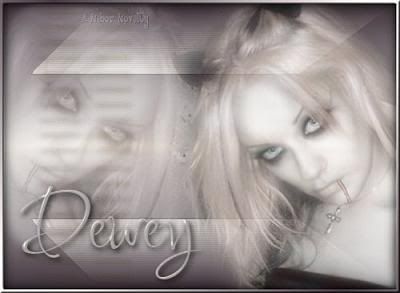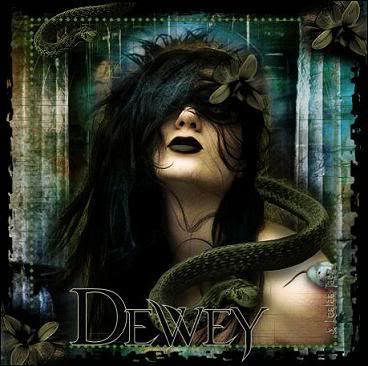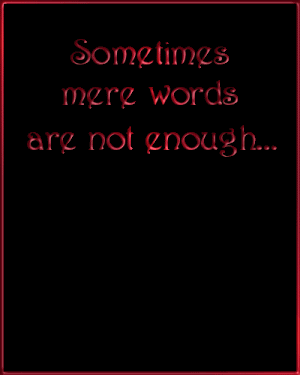 ~Just a few of my favorite quotes~
(None of these quotes are my own)

"The minute I heard my first love story,
I started looking for you, not knowing how blind that was.
Lovers don't finally meet somewhere.
They're in each other all along."
-Maulana Jalalu'ddin Rumi

-

"Choose your Love wisely. Love your choice always."

-

"Pure Love is a willingness to give without a thought of receiving anything in return."

-

""Life is like a dick, when it gets hard, f*ck it."

-

"Save your breath.. You'll need it to blow up your date!"

-

"Love is composed of a single soul inhabiting two bodies."
-Aristotle

-

"Find the person who will love you because of your differences, not in spite of them and you have found a lover for life."

-

"Love is blind. Sometimes it is also deaf and retarded."

-

"He who laughs last, thinks slowest!"

-

"Don't frown. You never know who is falling in love with your smile!"

-

"For every beauty, there is an eye somewhere to see it.
For every love, there is a heart somewhere to receive it."

-

"The beauty of a woman is not in the clothes she wears,
the figure that she carries, or the way she combs her hair.
The beauty of a woman must be seen in her eyes, because that is
the doorway to her heart - the place where love resides...
The Beauty of a woman is not in a facial mole, but true beauty in a woman is reflected in her soul. It is the caring that she lovingly gives, the passion that she shows. The beauty of a woman with passing years -- only grows."

-

"The soul is like the surface of a lake...
when it is still, it mirrors the beauty all around it."

-

"Yesterday is in the past, tomorrow is a mystery, but today is a gift...that is why it is called the present"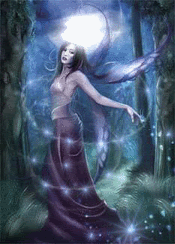 I am a big fan of the extremely gorgeous and very sexy Masuimi Max...
Here's some of her pics...enjoy! =)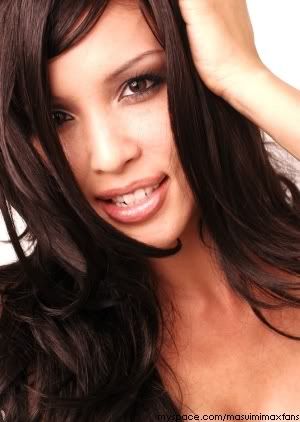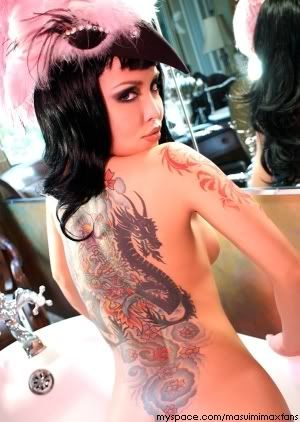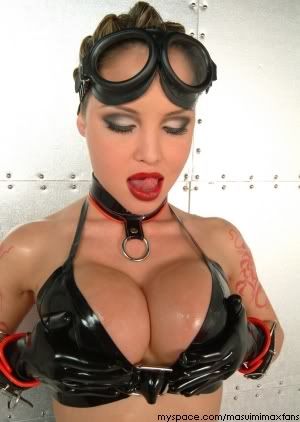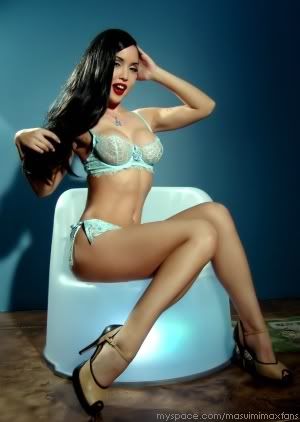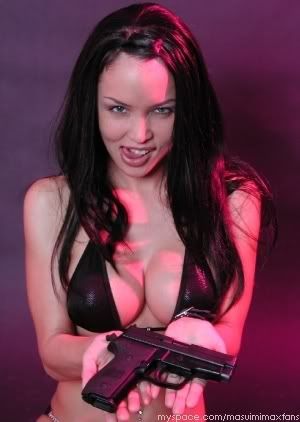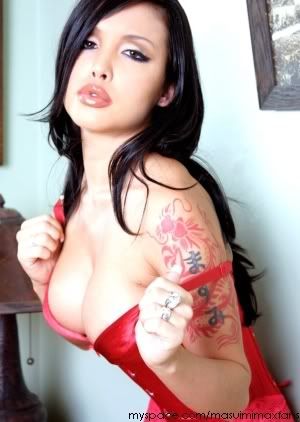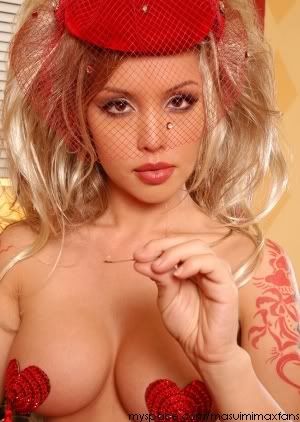 I'm also a fan of the gorgeous Aria Giovanni.
Here's a few of her pics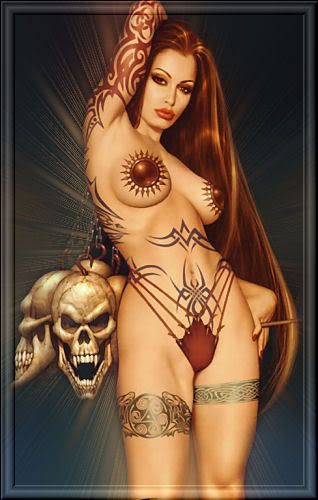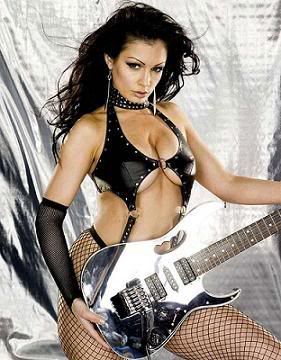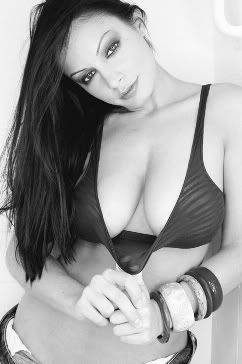 Masuimi Max and Aria Giovanni

Sexy...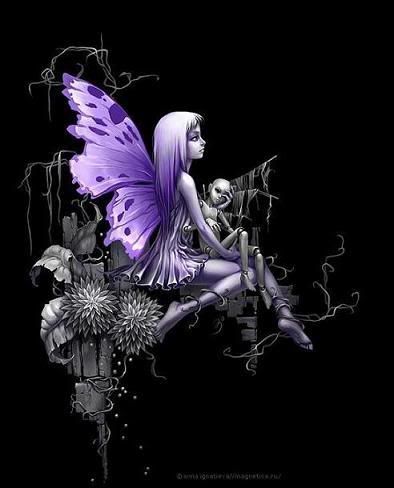 I have been a fan of Sebastian Bach since 1989. I had the chance to meet him twice after his preformance in Jekyll & Hyde (which he rocked). He was the coolest person you ever want to meet. He talked with us for a while, signed autographs, and took pictures with us. The biggest highlight for me was.. before leaving he leaned over and gave me a big hug and a kiss on the cheek.. and wouldn't you know.. I cried! *rolls eyes*






What kind of Angel are you?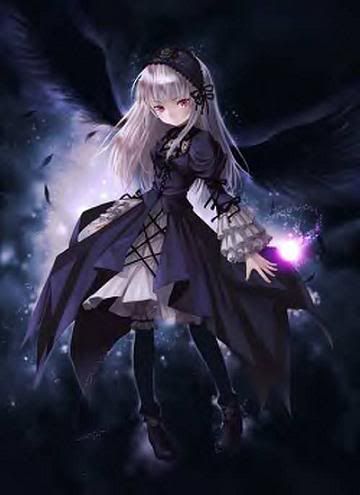 You are a Dark Angel. You hate the light and want everything to be dark. You usally stay in the shadows and cause problems or you just watch problems pass you by. You might enter Heaven or Hell but that depends on you.



What is your connection with darkness?

Your connection with darkness is through your depression. Hated, sad and often feeling lonely, there is only a few that appreciate the real you. You tend to keep to yourself and away from the world since you don't want to be hurt and betrayed again. Music gives you the understanding you need to get through; it's your "therapy". Or you express yourself through art or writing to get emotional releases. Chances are you're also an anti-social person, who only enjoys spending time with close friends, if even that. The world has finally showed it's true face for you it feels, and you wish life wasn't this miserable to live through. Maybe you'll find happiness in the future, but right now you're simply hiding away from the world. Who needs people anyway?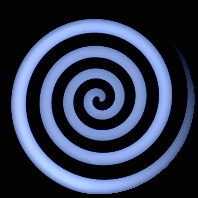 Song currently playing on my profile



-One Less Reason-
When Doves Cry
(Prince Cover)

Dig if you will a picture
Of you and I engaged in a kiss
The sweat of your body covers me
Can you my darling,
Can you picture this?

Dream if you can a courtyard
An ocean of violets in bloom
Animals strike curious poses
They feel the heat,
The heat between me and you

(Chorus)
How can you just leave me standing?
Alone in a world so cold? (A world so cold)
Maybe I'm just too demanding
Maybe I'm just like my father, too bold
Maybe you're just like my mother
She's never satisfied (She's never satisfied)
Why do we scream at each other?
This is what it sounds like when doves CRY!!!

Touch if you will my stomach
Feel how it trembles inside
You've got the butterflies all tied up
Don't make me chase you

(Chorus)
How can you just leave me standing?
Alone in a world so cold? (A world so cold)
Maybe I'm just too demanding
Maybe I'm just like my father, too bold
Maybe you're just like my mother
She's never satisfied (She's never satisfied)
Why do we scream at each other?
This is what it sounds like when doves CRY!!!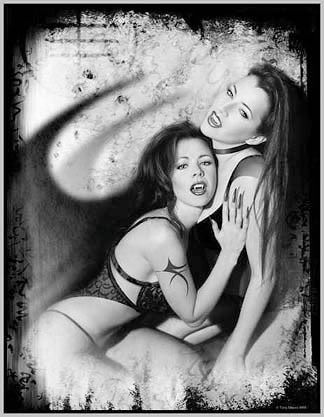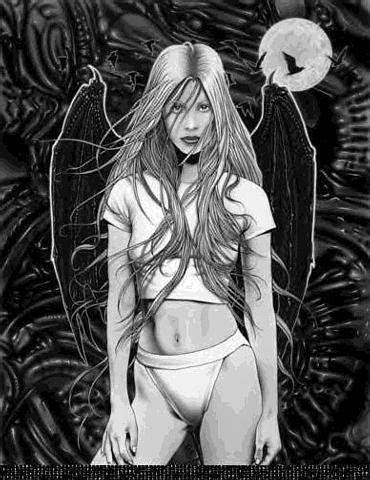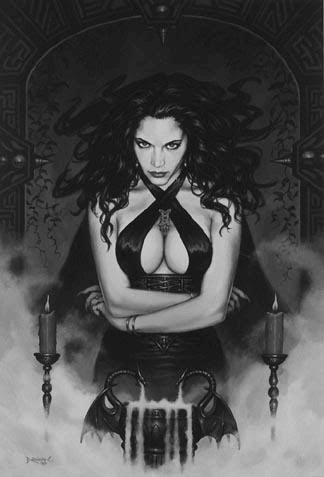 The beauty of your glowing body beckons me.. To touch, to taste, to love it's graceful expanse, from your forehead to toes, fingers to nose. How I hunger to know you so completely.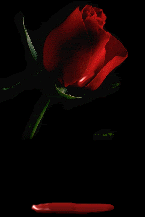 Your body I desire, your mind I envy. Your bed I want to be in,
while your soul I want to own...