| | | |
| --- | --- | --- |
| | | |

Websites
Quote:

A subject for a great poet would be God's boredom after the seventh day of creation.




I invite my enemy's with a smile and shall greet them with what ever is needed. When people become cold I am the antartic. When people love I have compassion. When people care I protect. When they dont care i could care less. heartless When its needed, and when I love its for a reason. I have no time for foolish questions so please think before you ask. I AM the king of kings and lord of lords, The supreme Immortal, Deep, I have many names...






"I believe that man will not merely endure. He will prevail. He is immortal, not because he alone among creatures has an inexhaustible voice, but because he has a soul, a spirit capable of compassion and sacrifice and endurance."







After coming into contact with a religious man I always feel I must wash my hands.






"There is no hunting like the hunting of man, and those who have hunted armed men long enough and liked it, never care for anything else thereafter."






"A long and wicked life followed by five minutes of perfect grace gets you into Heaven. An equally long life of decent living and good works followed by one outburst of taking the name of the Lord in vain - then have a heart attack at that moment and be damned for eternity. Is that the system?"







"It is a statistical fact that the wicked work harder to reach hell than the righteous do to enter heaven"






"Be Silent yourself, that will induce Silence in others. Do not fall into the habit of shouting, talking long and loud. Reduce contacts to the minimum. Carry with you an atmosphere of quiet contemplation, wherever you happen to be. The less you talk, the more will become your mental power. With the increase in your mental capacity, there will be increase in your power of discrimination too. Consequently, you will give up individual discrimination . Because of this, you will begin to consider the good of the world at large rather than your own individual welfare. You must cultivate such broad feelings from this young age itself."






"The first step to eternal life, is you have to die."






"I don't see how he can elude capture forever. .... The lighter he travels, the less likely he is to be detected. Yet he also needs protection, and the more defended he is, the more he is a hard target to destroy and is easier to find."


--Realm of Gaurdians--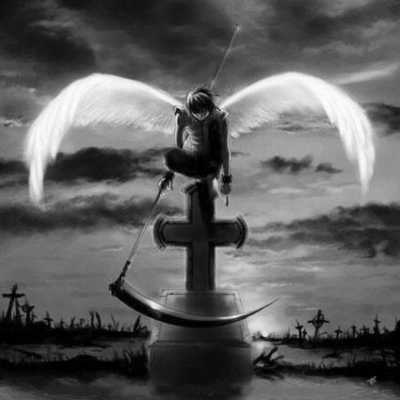 | | |
| --- | --- |
| Member Since: | Jul 11, 2009 |
| Last Login: | Jul 28, 2016 |
| Times Viewed: | 4,737 |
---
| | |
| --- | --- |
| Times Rated: | 404 |
| Rating: | 9.717 |
Rate this profile


---

MistressofChains
10:33
May 14, 2022
Rated by MistressofChains

NikkiAidyn
14:03
Apr 11, 2021
ReaperSoulMate
22:07
Oct 09, 2020
[
All Comments
]
REAL VAMPIRES LOVE VAMPIRE RAVE
Vampire Rave is a member of
Page generated in 0.0647 seconds.