There Is Only One, Who Can "Dance With The Devil."
Set at 18:30 on September 02, 2012

Websites
Quote:

Serve Me! For It Is Better Than Serving In Heaven
My Home On Vampire Rave is



I am Haides. I have many incarnations. You may know me as The Dark Lord, Hades, Satan, The Devil, Prince Of Evil. Choose one, I care not, for, my purpose is but one and the same. To corrupt all those who meet me. To promise that, which you will never receive.

I am God of the dead! I am in the eyes of many, a fearsome figure to those still living. I well know you are in no hurry to meet me. You are reticent to swear oaths in my name, and avert your faces when sacrificing to me.

Enter my world of gloom, smoke, fire and myst. Pay your drachma to Charon. Board, and be transported across the river Styx. I await your arrival, for, you see, I find great joy in the sound of your sigh, the sight of your tears. Should you wish to stand in my presence, seek out the one, DancesWithTheDevil. She stands to my left. She roams the underworld bringing to me those worthy to stand in my presence.









Let me introduce you to my little She Bitch DancesWithTheDevil. Do not let her beauty fool you. In her previous life, she was pious. She lived a wholesome, yet pure existence. She dained to help others, setting them before herself. There was a side to her, that others never knew.

Behind her facade, lurked an insidious desire to which she allowed herself to indulge. The little whore, partaking all forms of lascivious things in the mortal world. She condemns herself.

She pulls at the strings of my own black heart, if one can call it that. I watched her closely, as she spun out of control. Falling deeper into the pit, coming closer to me. I knew, there would come a time, when the mortal world would be left behind.

I claim her as mine. She stands at my left, reigning in Hell beside me. Let no one here in this world, or the world of "The Rave" seek to make advances towards her. For should this ensue, my full wrath will be released, without hesitation. She is my Bitch, my whore! An object to do with as I see fit. I seriously doubt if another could handle her.







Do not think a momentary lapse gives you cause. While She occupies much of my thought, I ever keep watch over my realm. I see all, hear all, know all within my dominion. Do not seek to deceive.

Should you make the attempt? I will confine you to the deepest pit. I shall rip the skin from your body, enjoying all the while your screams of pain, which become my pleasure.











The Chamber Of Torment


Here, I find pleasure. I have many realms, chambers within chambers. This being but one. Here, the souls of those who commit the most minor of offenses in their mortal life are under torment.

Revel in the work of my Minions! Let not the torn and bloody bodies deceive. Their souls live, feeling all the pain and torment I conjure within my mind.

Behold! Choose! Heft a beating heart in your hand. Rip it from the chest! Feel within the soul of the mortal life it sustained! Does it not give you pleasure to watch the torment of the soul itself as you torture that which you hold?

Rip the entrails from the body. Tie them around the neck, tightly. Watch as the eyes reveal the inner torment, listen as they gasp. Slam the body, upon a hook, feel it as it slams against the spine. Rip the torso from the body, let it fall to the floor! Utter Joy!



Try as you might, you cannot avoid your fate. You tempt me in your mortal world. You condemn yourself. I am here, only to see that you atone for that which you deem pure. Think before you act mortal! Fail to do so? I shall see you in this life!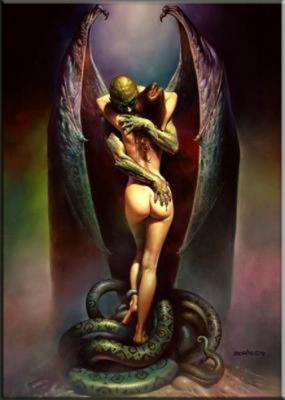 | | |
| --- | --- |
| Member Since: | Aug 27, 2011 |
| Last Login: | Apr 27, 2013 |
| Times Viewed: | 8,944 |
---
| | |
| --- | --- |
| Times Rated: | 307 |
| Rating: | 9.883 |
Rate this profile


---

MistressofChains
16:32
Mar 26, 2022
MistressofChains was here
ThanaNight
00:48
Sep 28, 2021

Amaranthine
12:28
Mar 09, 2021
[
All Comments
]
REAL VAMPIRES LOVE VAMPIRE RAVE
Vampire Rave is a member of
Page generated in 0.1132 seconds.