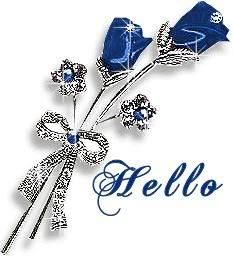 PROUD NEW MEMBER OF THIS FINE COVEN
THIS IS OUR ALLIANCE
I think I have finally found a home with this mentorship
>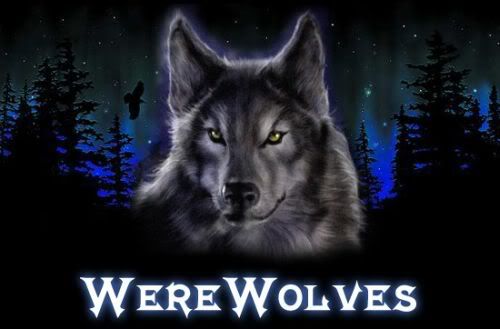 We should never try to deny the beast – the animal within us.
Dr. George Waggner, The Howling
I'm going to TRANSFORM him, and unleash the savage instincts that lie hidden within…
Dr Alfred Brandon, I Was a Teenage Werewolf
Little girls, this seems to say, never stop upon your way, never trust a stranger friend, no-one knows how it will end! As you're pretty, so be wise! Wolves may lurk in every guise! Now, as then, it's simple truth, sweetest tongue has sharpest tooth!
Rosaleen, The Company of Wolves
'I'm hairy on the inside,' – Angela Carter, Company of Wolves
For the strength of the Pack is the Wolf, and the strength of the Wolf is the Pack. – Rudyard Kipling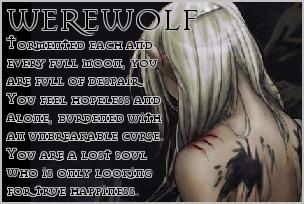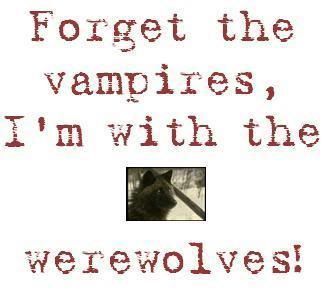 I am here because I have a great love for all things vampire and of course werewolf. I must say that my preferences lean towards the warm blooded werewolf. They are strong and fierce; what other qualities could one ask for and of course they possess the loyalty of the wolf.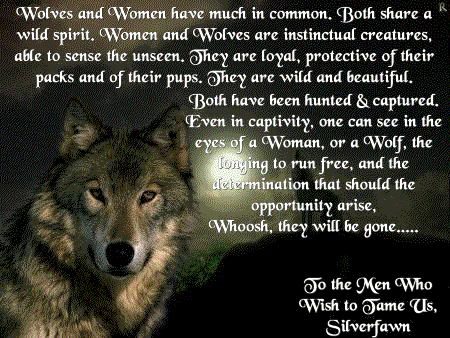 Let me make it clear that I am not here looking for a mate and I DO NOT CYBER; DON'T EVEN ASK! I am involved in a relationship at the current time and that is all I need.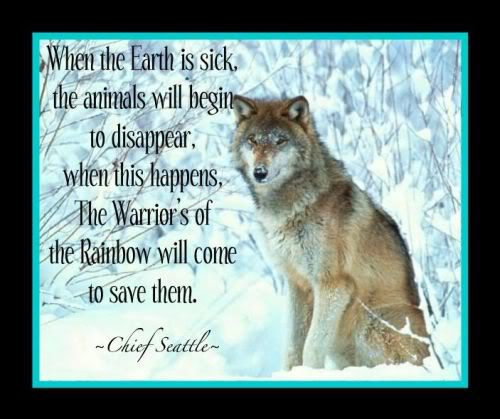 I have always had a special fondness for the wolf. They are such majestic and loyal creatures. I find their spirit to be equaled only by their beauty.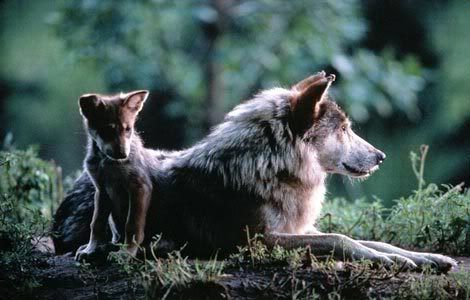 One of the most important things to know about me is that I am a mother to a beautiful little girl; she is the light of my life and by far the most important thing in my life. We are both Geminis
~Magickal Graphics~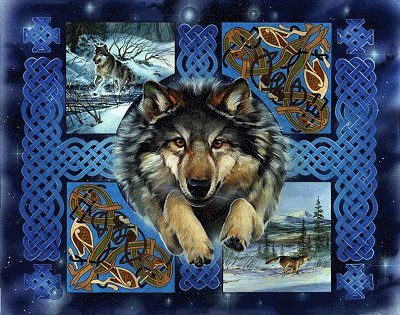 Wolf: Canis Lupus
Wolves are legendary because of their spine-tingling howl, which they use to communicate. A lone wolf howls to attract the attention of his pack, while communal howls may send territorial messages from one pack to another. Some howls are confrontational. Much like barking domestic dogs, wolves may simply begin howling because a nearby wolf has already begun.

Wolves are the largest members of the dog family. Adaptable gray wolves are by far the most common and were once found all over the Northern Hemisphere. But wolves and humans have a long adversarial history. Though they almost never attack humans, wolves are considered one of the animal world's most fearsome natural villains. They do attack domestic animals, and countless wolves have been shot, trapped, and poisoned because of this tendency.

In the lower 48 states, gray wolves were hunted to near extinction, though some populations survived and others have since been reintroduced. Few gray wolves survive in Europe, though many live in Alaska, Canada, and Asia.

Red wolves live in the southeastern United States, where they are endangered. These animals actually became extinct in the wild in 1980. Scientists established a breeding program with a small number of captive red wolves and have reintroduced the animal to North Carolina. Today, perhaps 100 red wolves survive in the wild.

The maned wolf, a distant relative of the more familiar gray and red wolves, lives in South America. Physically, this animal resembles a large, red fox more than its wolf relatives.

Wolves live and hunt in packs of around six to ten animals. They are known to roam large distances, perhaps 12 miles (20 kilometers) in a single day. These social animals cooperate on their preferred prey—large animals such as deer, elk, and moose. When they are successful, wolves do not eat in moderation. A single animal can consume 20 pounds (9 kilograms) of meat at a sitting. Wolves also eat smaller mammals, birds, fish, lizards, snakes, and fruit.

Wolfpacks are established according to a strict hierarchy, with a dominant male at the top and his mate not far behind. Usually this male and female are the only animals of the pack to breed. All of a pack's adults help to care for young pups by bringing them food and watching them while others hunt.
taken from: http://animals.nationalgeographic.com/animals/mammals/wolf/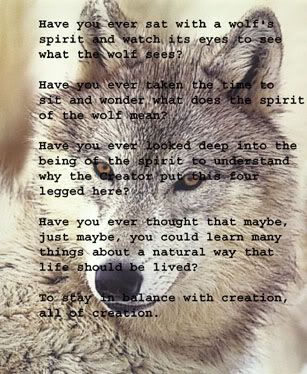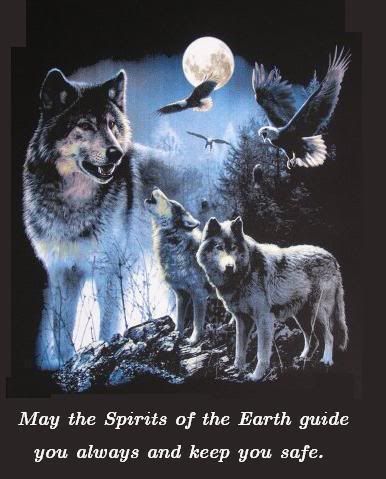 this stamp is very special to me; I have now joined my older sister on the rave and like it says, you mess with her, you mess with me!!!