Solar Water Disinfection and Sterilization


by
Cancer
Solar water disinfection (also referred to as SODIS) is a method of disinfecting and sterilizing water using only direct sunlight and plastic PET bottles. SODIS is an effective method of decentralized water treatment, usually conducted at the household level. It is recommended by the World Health Organization as a viable method for household water treatment and safe storage.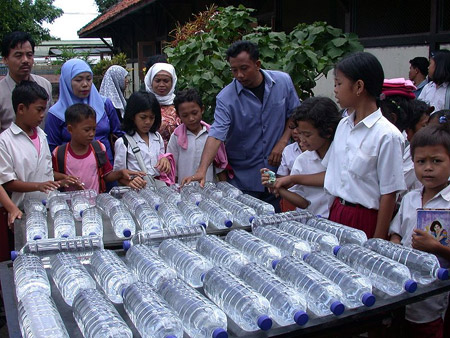 In addition to use in developing nations where clean drinking water is hard to come by, SODIS can be used in survival situations. On average 6 hours of direct sunlight is needed to effectively sterilize water.






Sunlight exposure has been shown to deactivate diarrhea-causing microorganisms in polluted drinking water. The benefits of solar radiation include:


UV-A interferes directly with the metabolism and destroys cell structures of bacteria.


UV-A (wavelength 320-400 nm) reacts with oxygen dissolved in the water and produces highly reactive forms of oxygen (oxygen free radicals and hydrogen peroxides), that are believed to also damage pathogens.


Cumulative solar energy (including the infrared radiation component) heats the water. If the water temperatures rises above 50°C, the disinfection process is three times faster.

At a water temperature of about 30°C (86°F), about 5 hours of exposure is required for SODIS to be efficient. As water temperatures rise above 45°C (113°F), the synergistic effects of UV radiation and temperature further enhance the disinfection process.

At lower temperatures or during periods of over cast weather, 2-3 days may be required to properly disinfect water.

If the water is highly turbid (contains particles that are not dilluted), it should be filtered before SODIS is used. In a survival situation, filtration could be done through a t-shirt or other material.





All pages by Cancer
Page last updated: Jun 23 2011


---
REAL VAMPIRES LOVE VAMPIRE RAVE
Vampire Rave is a member of
Page generated in 0.0697 seconds.