CuRsEdToDaRkNeSs's Journal

THIS JOURNAL IS ON 124 FAVORITE JOURNAL LISTS
Honor: 3,842 [ Give / Take ]













12 entries this month


Television score!

02:26 Mar 31 2021
Times Read: 202


I found Bewitched on Roku Tv! I am ridiculously stoked about this! It is in my top 10 favorite shows ever! I absolutely adore old sitcoms. I completely see myself diamond painting and binging Bewitched tonight!

Anyone else share my love of old sitcoms? What are your favorites?

More look alikes.

02:59 Mar 25 2021
Times Read: 254


Since I was a teenager, I have always been told how much Christina Ricci and I favor. Decided to reface app that one and put my face on her. I can see it a little.... I think. What do you guys think? (Yes to clarify, this is actually MY face in case there is any confusion for anyone who may not have heard of this app.)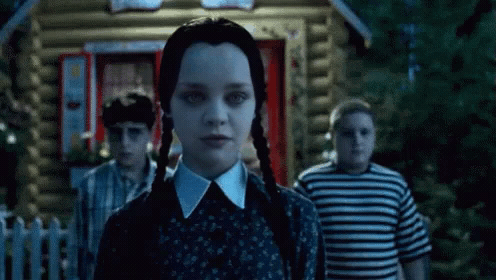 Mr. and Mrs. Smith
03:44 Mar 23 2021
Times Read: 280
Ok.... last one for the night. Mr. and Mrs. Smith Angelina Joli with my face. lol.


Loving the refaceapp
02:37 Mar 23 2021
Times Read: 298
I may be having a bit TOO much fun with the refaceapp. LOL!


Refaceapp
18:30 Mar 22 2021
Times Read: 339
I get told by many that I resemble a few different movie stars. When I was a teenager it was Christina Ricci, now I get Fiona Apple, Danille Fishel (Topanga from Boy Meets World), and Angelina Jolie the most. I decided to play with the Refaceapp today and this is what I came up with. The following clips are of me not the actual movie stars. I dunno. lol.


Bananas
17:16 Mar 19 2021
Times Read: 369
WHAT is with bananas? Yesterday I bought a bunch of bananas. I like to buy them all green so that they have time to be eaten before going bad. I prefer my bananas a bit firmer and sour personally so it works out where I eat the greener ones and the ones that go yellow faster get eaten by everyone else. WHY is it that you can buy a bunch of green bananas on Thursday evening and by Friday morning they are almost all basically yellow? Is there some cosmic law that states once the banana leaves the stores shelf it MUST begin the aging process at a warp speed pace? There has to be something to this that I am unaware of. lol.
Traveling in the rain
22:35 Mar 17 2021
Times Read: 389
When traveling I DESPISE when it rains.... You have to pack the car in the rain, drive in the rain, get out in the rain when you make pit stops... I HATE it... then you can't just dry off or change clothes because well, you're in your car! So of course, today on the day we are headed out on a trip what does it do? MONSOONS! Thunderstorms with potential for tornadoes, and what is the route of these storms you may wonder? THE EXACT DIRECTION WE ARE GOING THE ENTIRE TRIP! I mean seriously? WTF mother nature? Tornado weather already scares me to no end, so driving in it is really going to flair up the anxiety. Sedative may be needed. LMAO!
Laundry
05:11 Mar 15 2021
Times Read: 414
I don't mind washing and drying the laundry..... I don't even mind folding and hanging the laundry.... However, I HATE, LOATHE, DESPISE putting the laundry away! Anyone else feel me on this? The pile of clean laundry grows until you just have to put it away or it becomes taller than you? Mine currently consists of huge blankets and comforters that I need to put away which makes it tall, but still... UGH!
Willies for Wifi is NOT acceptable.....
23:29 Mar 14 2021
Times Read: 429
This guy had me crying I laughed so hard!


Z0MB1E
01:13 Mar 14 2021
Times Read: 469
Dear Weenie Head,


Happy Birthday Payne!
17:04 Mar 03 2021
Times Read: 525
Happy Birthday to my Payne! I hope you have a great day today... I know covid sucks and all so celebrate light and easy today and party hard when you are well!
V is for Vendetta Fly!
02:54 Mar 02 2021
Times Read: 566
Have you ever encountered a fly with a vendetta? I have as of today! The only thing I did to this fly was shew it away from the dinner I was preparing. Apparently that was the straw that broke this fly's back! The rest of the night this damn fly kept attacking me. It would bop me in the head and fly off.... this went on for at least 2 hours! When I went to shower the stupid little flying menace chased me down the hall and into the bathroom where it proceeded to continue to attack me! So of course, this means war! I proceed to swat at it with a towel, missing every single time unfortunately, and with every swat at him that I make he flies at me and bops me! This little fly had balls I tell you! I did end up spraying him with air freshener but did not kill him..... We shall see if tomorrow the little bastard still has it out for me... if he does.... I am bringing in the big guns. My son! DUN DUN DUUUUUUUN!

Grumbles... stupid fly.....
REAL VAMPIRES LOVE VAMPIRE RAVE
Vampire Rave is a member of
Page generated in 0.1168 seconds.