← Mentorships

Protégés of the Insane Clown Posse, the Detroit-area Caucasian rap duo Twiztid based their act on a similarly theatrical, outrageous, makeup-heavy image and an obsession with serial-killer horror films. Jamie Madrox and the Monoxide Child cast themselves as psychotic axe murderers on their 1998 debut album, Mostasteless, which was reissued with new artwork and extra tracks a year later in the wake of ICP's rise to national notoriety. Twiztid's second album, Freek Show, was released on Halloween 2000 in conjunction with ICP's Bizzar/Bizaar sets; Mirror Mirror followed two years later. The Green Book hit the shelves in 2003, with Man's Myth, Vol. 1 and Vol. 2 both landing in 2005. The 2007 album Independent's Day featured numerous guest stars, including DJ Quik and tha Dogg Pound along with D12 members Bizarre and Proof. Two years later W.I.C.K.E.D. appeared, the initials standing for "Wish I Could Kill Every Day." The duo toured extensively throughout the States in the 2000s, developing a small cult following throughout the Midwest in particular.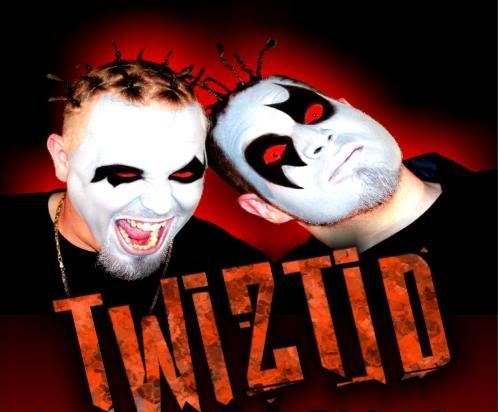 Twiztid is composed of members Jamie Spaniolo and Paul Methric. The group performs a style of hardcore hip hop known as horrorcore. Twiztid has released eight studio albums, one extended play and five compilations. In their days before Twiztid, the duo were members of the hip hop trio House of Krazees, which disbanded in 1997.


Page Creation by:
demi & DamionxApocalypse
REAL VAMPIRES LOVE VAMPIRE RAVE
Vampire Rave is a member of
Page generated in 0.0396 seconds.