This is my single quiz for all of those people on this site who thinks that to be bad-ass, you have to lie on a stupid internet quiz to prove how evil you are. Ooh, scary you. Be yourself, dipshits.
How evil are you?

My name is Tará. I have a slight Irish accent and believe in the Norse gods. I was born in Cork (that's in Ireland for the geographically challenged) and raised in upstate New York in a little town called Woodstock. You may have heard of it. *wink* I spent the majority of my teenage years living in New York City and live there to this day. Now, though, I tend to spend much of my time in Florida as my domestic family lives down there. Florida is Hell, according to my book.
It's hot.
It's muggy.
And it's filled with all manner of mosquitos.
I'm 22 years old. I'm a Scorpio...
But if you want to know the full extent of my astrological chart, take a look at the table in my journal under the "stories" section
. I ommitted the exact degrees so you wouldn't know everything about my birth. =) Everything on that chart hit me right on the nose.
Update: I moved that part from my profile because it takes too long to scroll through it. That was annoying!
I have seven pets. A Timber wolf named Shizhe'e (Navajo for "father") He also responds to Chuchi (some idiot started calling him that thinking he was a husky and it stuck). One Siamese (Isis), one orange tabby (Punk) and a Norwegian Forest cat (Bella). My wolf is okay with my cats, who aren't allowed near my python (Odin), who is not allowed near my rat (Thor), who in turn is not allowed near my Emperor scorpion (Donnybrook). Living at my place is like living in a constant state of chaos....
As far as how I look? You can look in my portfolio. I'm 6'0", have eyes that morph between four different colours (blue, grey, green and a light violet), my hair is naturally a deep red, but I keep dying it.
I speak Gaeilge, Latin & English...Though Gaeilge is my first language, I manage with English fairly well. Latin took a long time to learn, but I found the experience worth it. I know 15 other languages passably, but I'm not so good at writing them. I learned to speak most during my travels.
I have
eight tattoos
. A phoenix (upper right arm), Picasso's "Portrair of Dora Maar" (upper left arm), and six small celtic knot tattoos. The first is on the lower right side of my stomach that symbolizes Serenity. Three are on my lower back. A slightly larger one in between two smaller ones. They stand for Beauty, Freedom and Creativity, respectively. One just below/behind my left ear that stands for Perseverance. Another one just below and behind my right ear that symbolizes Prosperity.
None of my tattoos are visible to the public unless I'm wearing a bathing suit, shave my head or wear something
very
revealing. The reason that is is because I find tattoos to be a very personal experience. I got my tattoos for me, not for everyone else.
I also have
fourteen piercings
. Six in my left ear, three in my right, navel, nipple, tongue, lip and clit. No, I'm not a serious pain junkie. Most of those I got out of curiosity. My curiosity takes a form of it's own and when it is manifested, I have no real choice in the matter. Let me tell you, I would not get my clit pierced if it were solely up to me. If I were a cat,
I'd be dead a hundred times over
.
All of that is due to the fact that I'm a tattoo artist and a piercer. I did a couple of my tattoos and piercings myself. (And free of charge! That's the major benefit of working in a shop.) I specialize in biomechanical, macabre, photorealistic, Celtic, Norse & mythological tattoos.
I'm a musician of all sorts. I play Guitar/bass (all styles: 11 years), sitar, piano/keyboards/synth/harpsichord/organ/clavichord (17 years), clarinet (9 years), violin/fiddle (10 years), lute/charango, mandolin, banjo, recorder, drums/bodhrán (7 years), taiko, jaw harp, harmonica, flute, irish whistle/tin whistle, koto, a little bit of harp, chapman stick, kora, dulcimer, ukelele, didgeridoo and a few other random/cultural instruments that you probably wouldn't recognize unless you heard it. If you couldn't already tell, I love music and learning instruments.
I like to travel. A lot. I've been to 6 continents and plan on hitting the 7th once I get warm enough clothing and/or global warming really starts to take effect. I also do domestic traveling, but America isn't exactly my "culture" of choice. I've got some photos in my portfolio from different places.
If you make it to my portfolio, you'll also see some artwork. Do not steal it. They are mine and I will rape you for all you're worth if you do. Which, trust me, isn't as pleasant as it sounds. My vagina has steel teeth.
Well. Maybe not. But I can tell you that it won't be very fun for you.
I don't smoke. I hate smoking.
I don't do drugs, as I find the world a warped enough place without the use of narcotics.
I do drink, however, and have been drinking since I was 8. My dad and I would always have Bailey's and french toast in the mornings for breakfast. Ever since then, I can't really start the day off well unless I have a drink. My whole schedule gets thrown off if I forget it. My favourite drink is a Car Bomb. Here's a recipe for it, dedicated to my fellow drinkers:
2/3 mug of Guinness Extra Stout

1/3 oz. Jameson's Irish Whiskey

1/3 oz. Kahlua

1/3 oz. Bailey's Irish Cream
After you get all of that together, you pour the liquors into a shot glass and drop it into the mug with the Guinness already in it. It sort of looks like a Guinness within a Guinness and is a nice visual effect.
Word of warning
: It's not really a good drink to have when you're drunk. I will almost guarantee you'll chip a tooth when you try tipping it back and the shot glass hits your teeth.
My car is the first love of my life - It's a maroon and black 1986 El Camino that my neighbour, best friend and I built pretty much from the ground up 4 years ago. It's my first car and I'm determined to keep it until the day I die. I've also got a table below for my car's specifications, which I will be updating soon. Promise. No, really. I promise!
Make: Chevrolet

Model: El Camino

Year: 1986

Nickname: Axl

Car Setup: stock

Sound System Setup: stock

---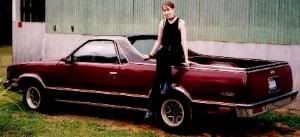 Quarter Mile: 14.3 s @ 100 mph->

0-60: 6.9 s

Est. Horsepower: 450

Weight: 3600

---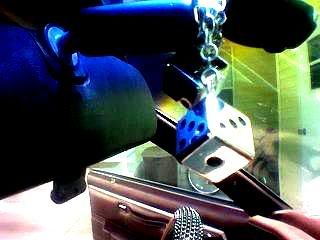 Performance Modifications
Drivetrain / Transmission: B&M

Engine Components: Holley

Exhaust: Flowmaster

Header: Dynomax

Ignition: MSD

Intake: Edelbrock

Shocks: KYB


Major Upgrades: stroke-increase, bore-increase, engine swap

---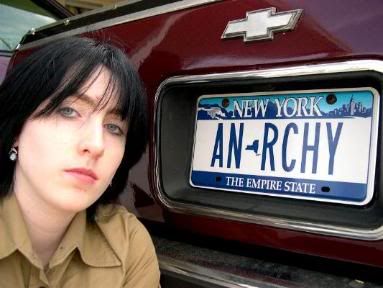 Interior/Exterior Modifications
Gauges: Autometer

Steering Wheel: Grant

Tires: BF Goodrich

---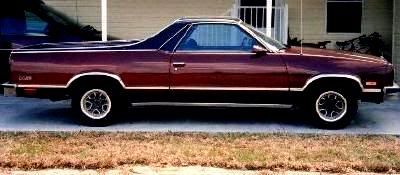 Amplifier: Kenwood

Equalizer/Signal Processor: Blaupunkt

Head Unit: Blaupunkt

Mid-Range Speakers: Diamond Audio

Security: Excalibur

Subwoofers: Blaupunkt

Tweeters: Blaupunkt

Wiring: Audiobahn