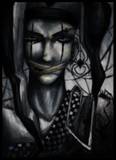 | | | |
| --- | --- | --- |
| | | |

Websites
Quote:

"When you kill a man you're a murderer, kill many and you're a conquerer, kill them all and YOU'RE A GOD"
I have returned to VR after a long abscence due to personel and technical issues..

I live my life for two reasons. My daughters, Alondra (4 yrs) and Tristan (3 yr). They are the only reason I still walk in this world.

If you want to know what kind of person I am please ask. I like to keep to myself and watch others fuck up through life. I do walk through life at night, and every night I try to cheat death. I DO NOT pass judgement unless you cross me. I am a firm beliver in "treat others as you wish to be treated". If you do not like what I have to say then leave me alone, I can be blunt and emoitionless. I will protect my friends till the end, and everyone else can burn in HELL. If you wish to get past my flaws then I will give you all the time in the world. If not then MOVE ON!! I have better things to do.

Words To Live By:

Some days it's just not worth chewing through the leather straps..
I am still a virgin, I'm just not that good at it..
True friends don't stab you in the back, they stab you in the front..

My Interests:

Watching my girls grow, I am envious of their bond and unconditonal love they have for eachother (if only we continued like this as adults) - Being at the beach listening to the wave crashing on the shore - Listening to music (which is mostly 80's) - Taking my girls to the zoo and watching the joy they have looking at the aminals (as Alondra would say) - A good baseball game (Los Angeles Angels of Anaheim, what a name) - I like doing nothing at all

Music I like:

80's Rock and Big Hair - AFI - Atreyu - Bush - Depechc Mode - Evanenscense - Fuel - Flyleaf - Garbage - Green Day - Guns N Roses - Horror Pops - Iron Maiden - Kid Rock - Korn - LA Guns - Live - London Underground - LOA (Lords of Acid) - Marilyn Manson - Megadeth - Montley Crue - Mother Love Bone - MCR - New Order - Nickelback - Nine Inch Nails - Pantera - Pearl Jam - Rammstein - RHCP - Saosin - Steve Miller Band - Sublime - Switchblade Symphony - System of a Down - T.A.T.U. - Tigar Army - Tora Tora - Violent Femms - VNV Nation - White Stripes

TV Shows I Like:

Battlestar Galactica - Dexter (when i can) - Emergency - Ghost Hunters - Home Improvement shows - Mythbusters - Painkiller Jane - Supernatural Shows - Discovery Channel - History Channel - TLC Channel

Things I Dislike:

Drama, Drama, Drama - Being Lied To - People That Think it is Allright to Hit Others and or Animals


| | |
| --- | --- |
| Member Since: | Jul 20, 2007 |
| Last Login: | Apr 30, 2010 |
| Times Viewed: | 3,871 |
---
| | |
| --- | --- |
| Times Rated: | 379 |
| Rating: | 9.724 |
Rate this profile


---
ReaperSoulMate
05:42
Apr 05, 2022

MutantGoth
22:41
Nov 02, 2021

NikkiAidyn
12:57
Oct 22, 2021
[
All Comments
]
REAL VAMPIRES LOVE VAMPIRE RAVE
Vampire Rave is a member of
Page generated in 0.0717 seconds.