~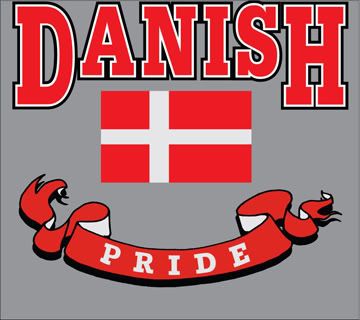 ~





Therianthropy is a generic term for any transformation of a human into another animal form, or for a being which displays both human and animal characteristics, either as a part of mythology or as a spiritual concept. The word is derived from Greek therion (Θηριον), meaning "wild animal" or "beast", and anthrōpos (ανθρωπος), meaning "man".In folklore, mythology and anthropology, therianthropy can be used to describe a character that shares some traits of humans and some of non-human animals. The most commonly known form is lycanthropy (from the Greek words lycos ("wolf") and anthropos ("man")), the technical term for the transformation from man to animal form. Although the precise definition of lycanthropy specifically refers only to the change into wolf form (as with a werewolf), the term is often used to refer to shape changing to any non-human animal form.




When people believe they change into an animal form (theriomorphosis), or possess supernatural non-human animal traits, the term clinical lycanthropy is often used. This classification is a form of mental illness, though many anthropologists would point out that the belief has extensive religious precedent in shamanic cultures. Likewise, people who call themselves shapechangers as a form of social identification are generally not considered ill by mental health professionals unless their beliefs interfere with the normal functioning of their lives. This can be a controversial issue, as the line between what the Western mind passes off as a strange or alternative belief and what is considered a mental illness is indistinct.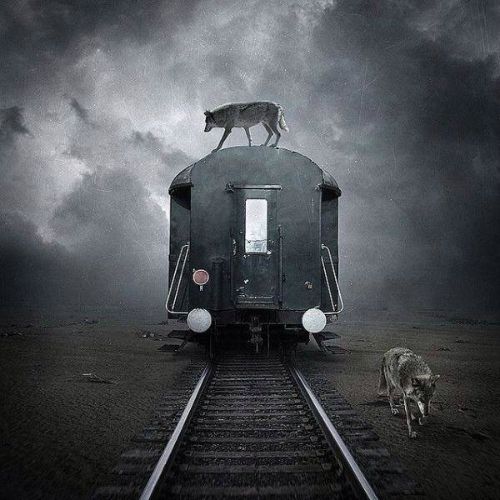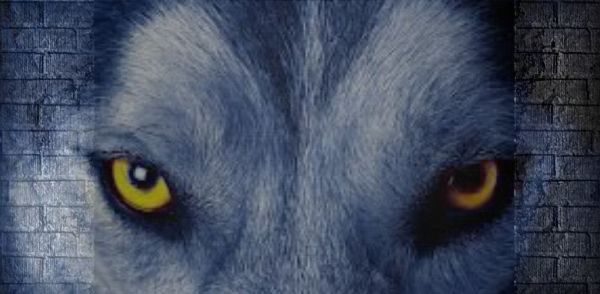 Wolves (Canis Lupus) once had an almost worldwide distribution, but are now limited primarily to North America, Eurasia, and the Middle East. Their preference on habitat ranges among Forests, Tundra, Taigas, Plains and Mountains. In the northern hemisphere, human encroachment on their habitat and persecution of the animals themselves have drastically reduced their range. The wolf is today frequently in the line of fire in conflicts between many different interests: Tourism/Industry, City/Country as well as Conservation/Exploitation. As the wolf is a top predator the state of the wolf can frequently be seen as a state of the land where it lives.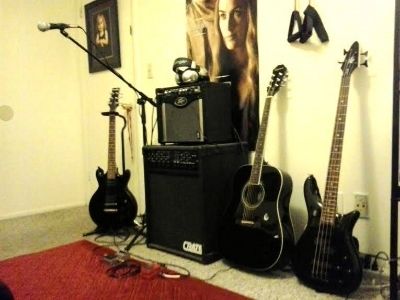 Some of my music gear and a couple of my guitars
Singer and guitar player for 23 years.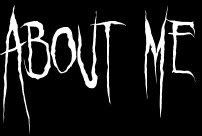 My name is Jaye, I am Wiccan/Pagan of Viking decent. I live in Northern Utah. I am a Father (my kids don't live with me) and a single man. A good man and very kindhearted. I am a loving spirit, a Brother and a son. I have actually been on VR for 11 years (I deleted once, and a name change twice). so give respect here, I am an old vet here people...I am a Musician (I have played the Guitar and Bass for 23 years), I am an Artist (There are some samples of my pencil artwork in my portfolio, and my digital dark and macabre artwork website is:




http://jayehawk75.wix.com/artbyjaye




I love to cook (and drink red wine once in a while.) I love campfires and cuddling, Horror movies, the supernatural and paranormal, I am a Capricorn,... I feel deeply others sorrows as I am also an Empath. I am an eternal Punk Rock/Hippy/Hardocre rock mix with a dark Gothic and Romantic inside. I have Tattoos all over and 5 piercings, I enjoy working out and skateboarding/Surfing, Full Moons, Stormy Weather. Candles and incense. I love, love. I believe there are still people out there that understand it the right way.



My younger brother Kyle... Showin' off his Viking blood, we are proud.
My best friend.




Some of my favourite bands are Afi, Bad Religion, Red Jumpsuit Apparatus, Old MCR, Fugazi, The Vandals, Face To Face, Anti-Flag, Tiger Army, Op Ivy, RANCID, Agent Orange, BLACK FLAG, mxpx, The Used, Saosin, White Zombie, Guttermouth, Alice in chains, Karnivool, NOFX, Dead Milkmen, Wolves at the Gate, Boysetsfire, Finch, Scary Kids Scaring Kids, Sick of it all, Mazzy Star, Tori Amos, Head Automatica, Brand New, Souxie and the Banshees, The Cure, Blind Melon, Faith no more, Primus, Memphis May Fire, Chevelle, Bullet For My Valentine, Pierce The Veil, Smashing Pumpkins, Bring Me The Horizon, Sublime, Led Zeppelin, Jimi Hendrix, RATM, O.C.C., Capone N' Noriega, Saffir, Method Man, Tha Alkaholiks, Souls of Mischief, Pharcyde, Beastie Boys, Mars Volta, Descendents, Poison The Well, From Autumn to Ashes, At The Drive-In, Thursday, Millencolin, Dead Kennedy's, Bombshell Rocks, Armor For Sleep, Sex Pistols, The Ramones, H2O, Say Anything, Deisel Boy, Silverstein, Circa Survive, I Am Ghost, Armor For Sleep, Steel Pulse, Bob Marley, Soundgarden, Nirvana, Pearl Jam, Jimmy Eat World, Bayside, Matchbook Romance, Flyleaf, We came as Roman's,Pantera, Helmet, Iron Maiden, Ed Sheeran, Alkaline Trio, Of Mice & Men, Depeche Mode, Dead Letter Circus, Puscifer, Tool...ect. I only bite on full Moons so if you wish to know more of me feel free to send a message, and don't forget to rate and check out my portfolio! All rates shall be returned.

... Oh and no worries, I am a very loving, kind and spiritual soul, can be very funny and aproachable I have been told. unless there's drama and certain lines are crossed all is well friends. :)





Friends from Black flag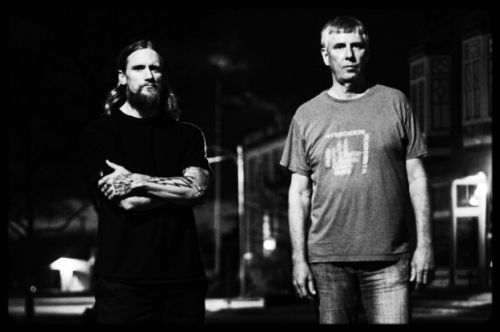 Below and above are Mike Vallely and Greg Ginn of Black Flag.




So here is GREG GINN, Guitarist and the last founding member of Black Flag and me chillin' after a sweaty show.




Newly appointed lead frontman of Black Flag and professional skateboarder Mike Vallely and me chillin' after a sick show in salt Lake City. Pit was fucking crazy!




~The many faces of me~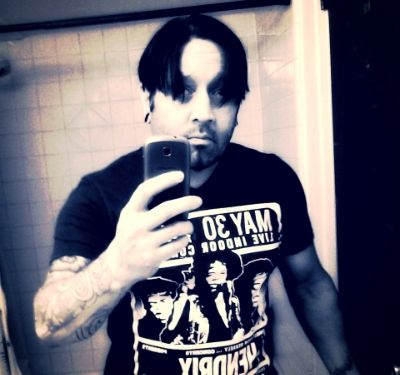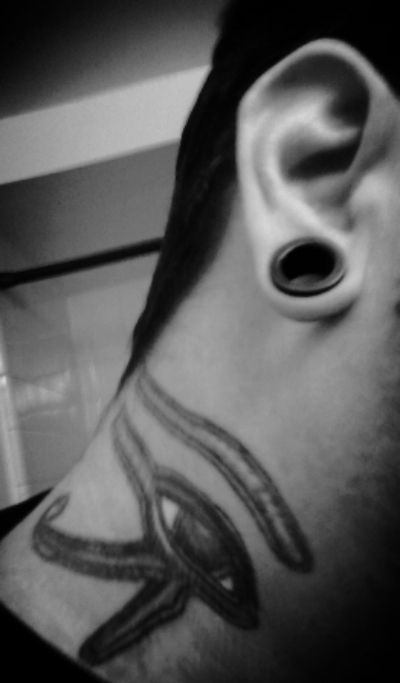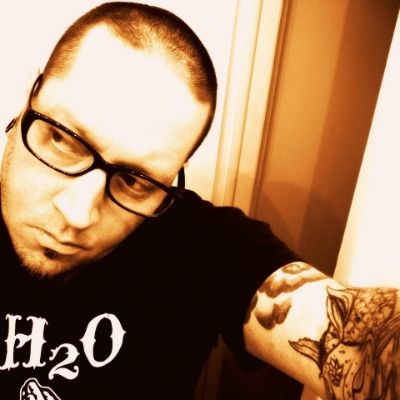 ~Getting my arm worked on by a friend~