Acceptance is just a copout
Set at 00:41 on August 06, 2018

Websites
Quote:

Be your beautiful dark self.


I like animals more then people. However on line I can be myself without having to deal with the weirdness.




I am a romantic by nature but it's got a dark side.





I like all kinds of music except for rap. I am one who listens by mood and I am a vibesexual on that level. Can be metal to hard core to goth music.

My Hobbies:
Sword fighting
Horseback riding
Amsrs
Anime
Movies of horror to humor
Poetry
Bubbles
People watching
Renfairs
Comic-con
Reading
Studying different religions
Going to nature

Movies I like:
Nightmare before xmas
Enemy mine
Vampire hunter D
Detective D
The violinist

Favorite book:
Sarah By Ester Hicks

Favorite stones:
Amethyst
Citrine
Amber
Onyx
Rose quartz
Clear quartz
Use them in bracelets and neck pieces I make.

Favorite food:
Pizza home made not store bought.
Spaeztle in garlic sauce






About myself:
I am single by choice not chance. I like doing things with friends and also alone.
I am one who plays with bubbles and talks to animals and trees. I love the ocean, the forest, woods, rivers, streams, lakes and more. I enjoy being who I am ask questions and I will let you know. I am an open book.

My Mentorship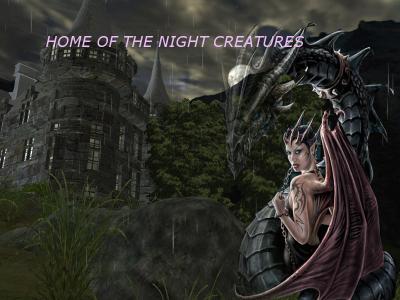 The coven I am in



The alliance we are in




Things about me

1.WERE YOU NAMED AFTER ANYONE?
a goddess in India.
2. WHEN WAS THE LAST TIME YOU CRIED?
A week ago
3. DO YOU LIKE YOUR HANDWRITING?
Not Really.
4. WHAT IS YOUR FAVORITE LUNCH MEAT?
Roast beef
5. DO YOU HAVE KIDS?
NO
6. IF YOU WERE ANOTHER PERSON WOULD YOU BE FRIENDS WITH YOU?
Yeah I would!
7. DO YOU USE SARCASM A LOT?
All the time
8. DO YOU STILL HAVE YOUR TONSILS?
Yes
9. WOULD YOU BUNGEE JUMP?
Done it three times.
10. WHAT IS YOUR FAVORITE CEREAL?
Cocoa crispies
11. DO YOU UNTIE YOUR SHOES WHEN YOU TAKE THEM OFF?
Nope
12. DO YOU THINK YOU ARE STRONG?
ALWAYS! Being a submissive isn't for the weak.
13. WHAT IS YOUR FAVORITE ICE CREAM?
Cherry and chocolate chips
14. WHAT IS THE FIRST THING YOU NOTICE ABOUT PEOPLE?
Their eyes... they're the gateway to the soul
15. RED OR PINK?
Pink sucks
16. WHAT IS THE LEAST FAVORITE THING ABOUT YOURSELF?
My Fat Rolls I hate my stomach.
17. WHO DO YOU MISS THE MOST?
My grandmother.
18. WHAT IS THE SPARK FEATURE THAT HAS HELPED YOU THE MOST?
My family and friends.
19. WHAT COLOR SHOES ARE YOU WEARING?
Shoes? Slippers at the moment they are gray.
20. WHAT WAS THE LAST THING YOU ATE?
chicken soup
21. WHAT ARE YOU LISTENING TO RIGHT NOW?
Dogs barking
22. IF YOU WERE A CRAYON, WHAT COLOR WOULD YOU BE?
Black with sparkles,
23. FAVORITE SMELLS?
Nag Champa, Dragons Blood, Amber, Pine, Cedar, Winter Fir and tree of life, could go on but wont..
24. WHO WAS THE LAST PERSON YOU TALKED TO ON THE PHONE?
My godmother
25. MOUNTAIN HIDEAWAY OR BEACH HOUSE?
Definately a Beach House! I live close to the mountains.
26. FAVORITE SPORTS TO WATCH?
Rugby
27. HAIR COLOR?
Auburn
28. EYE COLOR?
Green
29. DO YOU WEAR CONTACTS?
Glasses
30. FAVORITE FOOD?
Spaghetti
31. SCARY MOVIES OR HAPPY ENDINGS?
I've been a horror movie buff since I was 9
32. LAST MOVIE YOU WATCHED?
A milion ways to die in the west
33. WHAT COLOR SHIRT ARE YOU WEARING?
purple
34. SUMMER OR WINTER?
FALL
35. HUGS OR KISSES?
Both!
36. FAVORITE DESSERT?
Cheesecake!
37. STRENGTH TRAINING OR CARDIO?
Strength and cardio
38. COMPUTER OR TELEVISION?
Depends on my mood
39. WHAT BOOK ARE YOU READING NOW?
a book about stars in sky.
40. WHAT IS ON YOUR MOUSE PAD?
NONE dont have one!
41. ANY TATTOOS?
25 and one planned out.
42. FAVORITE SOUND?
The sound of a tattoo gun
43. ROLLING STONES OR BEATLES?
Beatles!
44. WHAT IS THE FARTHEST YOU HAVE BEEN FROM HOME IN 2014?
Florida
45. DO YOU HAVE A SPECIAL TALENT?
I deliver messages from spirits
46. WHERE WERE YOU BORN?
Great Neck NY
47. WHERE ARE YOU LIVING NOW?
Collinsville IL
48. WHAT COLOR IS YOUR HOUSE?
Brick
49. WHAT COLOR IS YOUR CAR?
Don't own a car!
50. ANY PETS?
Atka and Osiris (dog and cat duo) My furbabies

Protected by

| | |
| --- | --- |
| Member Since: | Jun 10, 2017 |
| Last Login: | Aug 08, 2018 |
| Times Viewed: | 9,912 |
---
| | |
| --- | --- |
| Times Rated: | 505 |
| Rating: | 9.924 |
Rate this profile


---

NikkiAidyn
00:19
Nov 10, 2023

LadyDancer
21:15
Nov 02, 2023

BloodMoonMystic
10:09
Jan 22, 2023
[
All Comments
]
REAL VAMPIRES LOVE VAMPIRE RAVE
Vampire Rave is a member of
Page generated in 0.1015 seconds.