Love at first sight-attraction based on the visual not the meaningful.
Set at 05:44 on September 08, 2011

Quote:

For your opinion of me to matter, I would have to respect you.
"We must remain as close to the flowers, the grass, and the butterflies as the child is who is not yet so much taller than they are. We adults, on the other hand, have outgrown them and have to lower ourselves to stoop down to them. It seems to me that the grass hates us when we confess our love for it. Whoever would partake of all good things must understand how to be small at times."
~Friedrich Nietzsche~color>size>face>
"Happiness is a butterfly, which when pursued, is always just beyond your grasp, but which, if you will sit down quietly, may alight upon you."
~Nathaniel Hawthorne~color>size>face>
This profile is new to VR, though I am not. I will be adding text and graphics as I am inspired, and as I am so inclined.

If you take the time to truly get to know me, and if you show me even the most basic respect, I will gladly accept you as a friend and show you the same courtesies.

Never should you assume to know what I'm thinking or what I "really" mean, nor should you attempt to read between the lines I speak or type; I promise you'll be in for a very rude awakening, if you do.

I have both a decent and an indecent sense of humor, and I am not easily shocked, offended or insulted. Of course, that statement is not meant to constitute an open invitation to try.

face>color>size>
Very proud to be a Member of the Coven Chateau Orleans.face>color>size>
And honored to be in the Alliance of Arthropoda.
face>color>size>
"Softly the evening came. The sun from the western horizon
Like a magician extended his golden wand o'er the landscape;
Twinkling vapors arose; and sky and water and forest
Seemed all on fire at the touch, and melted and mingled together."
~Henry Wadsworth Longfellow~color>size>face>
"But beauty seen is never lost,
God's colors all are fast;
The glory of this sunset heaven
Into my soul has passed… "
~John Greenleaf Whittier~color>size>face>
"Only dead fish swim with the
stream all of the time."
~Linda Ellerbee~color>size>face>
"I know the human being and
fish can co-exist peacefully."
~George W Bush~color>size>face>
(What can I say? I couldn't resist including this one - priceless!)color>size>face>
Much like a carousel, when the "ride" begins, life is exciting and fun. Unfortunately, as it continues its seemingly endless circle of daily routine, some of us can't help but want to jump off... or puke.color>size>face>
Passion Flowers

She heard no sound before her gate,
though very quiet was her bower.
All was as her hand had left it late:
The needle slept on the broidered vine,
Where the hammer & spikes of the passion-flower
Her fashioning did wait.

~Helen Gray Cone~color>size>face>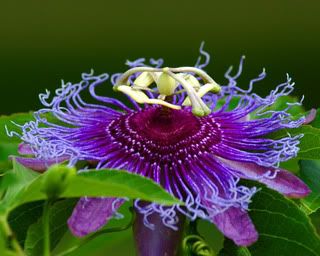 The Passion Flower

Art thou a type of beauty, or of power,
Of sweet enjoyment, or disastrous sin?
For each thy name denoteth, Passion flower!
O no! thy pure corolla's depth within
We trace a holier symbol; yea, a sign
'Twixt God and man; a record of that hour
When the expiatory act divine
Cancelled that curse which was our mortal dower.
It is the Cross!

~Sir Aubrey de Vere~
color>size>face>
| | |
| --- | --- |
| Member Since: | Dec 07, 2008 |
| Last Login: | Jul 19, 2013 |
| Times Viewed: | 8,600 |
---
| | |
| --- | --- |
| Times Rated: | 726 |
| Rating: | 9.943 |
Rate this profile


---
XCanadianPrairieFireX
20:53
May 13, 2021
Wiccanmoon
03:30
Apr 22, 2021

NikkiAidyn
01:26
Nov 23, 2020
[
All Comments
]
REAL VAMPIRES LOVE VAMPIRE RAVE
Vampire Rave is a member of
Page generated in 0.18 seconds.