by
rlugo718



This is the story of the adventures of Shadow. In her 23 years of life, she had many adventures and brought a smile to our lives every day. She was and will always be the momma of all the mommas and baby of all the babies. She was the momma of all of our dogs like they were hers. When we first got her, Matt was 12 years old. He feed her with a baby bottle and kept her in his shirt pocket.

When we went to Vegas to get married, we came home to find Laura, our first cat, had died. Shadow was depressed. The vet said it was feline aids. They said she wouldn't make it, a matter of time. Well, she lived 23 years. I say it was depression. It was a good life. This page will be some of her stories.





It was suggested to make comic of her adventures. Since I'm not much of an artist I thought this is a good start.


A lot of cats looked like her in movies like Church in Pet Cemetery or the cat in Dogs and Cats. We wondered if she had a side job and was collecting a paycheck for her movie deals.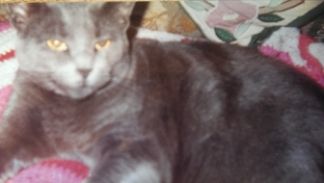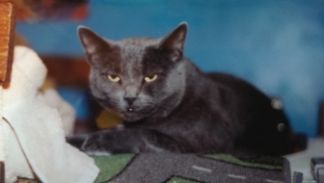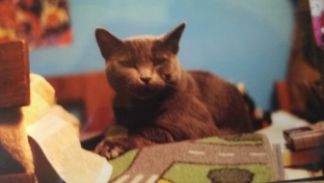 Shadow started the fight club. She was the champion. Her technique was the Mexican standoff. I'm not going to get you now but look out.






My first Shadow story was when she was a few months old. Matt and I went to the Bahamas. Mom and dad took care of the kitties. Mom, of course adored Laura, the big one. When I called to find out how it was going cat sitting. Mom said "oh Laura is such a good girl" and "that Shadow is a little rat. Your father had to tie the bird cage to the dresser cause that Shadow was after the birds". Sure enough, the cage was tied to the dresser when I came home. Shadow became dad's favorite. She sat in the chair with him.


Second Shadow story-

When Scooby was just a puppy of 3 months, we were afraid to leave Scooby around Shadow. She thought he was a toy that she could stalk. So Dave put up a screen door at the back of the house so the kitties would be in the back and Scooby would be safe. Every time we came back Shadow would greet us at the door with Scooby. WTH! We set up a video camera. Once again Shadow greeted us at the door.

Door was okay, not broken. Laura, our other kitty was still in the back. So, we sat down to watch the video. Shadow pawed at the door till she was able to slide her skinny little self out. Meanwhile big Laura couldn't fit. She was raccoon size.

I think even after death Shadow is making commercials and movies. I think that was her as the Cheshire cat in Wonderland.

Willow has joined Shadow in Kitty heaven. Hope they are doing Fight Club together. RIP!


Third Shadow story-
Shadow always laid down on the bottom of my bed. In the dark I couldn't see her so I thought wow, I didn't put my laundry away!. When I went to put it away, I heard a meow. Now when I leave my folded laundry on the bed, I think of my girl.

She raised Scooby as her own. No wonder he thought he was a cat. Shadow was the momma of all the mommas as I would say.

Never forgotten. I think she is doing video games now. Definitely played in Pet Cementary.



All pages by rlugo718
Page last updated: Jul 06 2014


---
REAL VAMPIRES LOVE VAMPIRE RAVE
Vampire Rave is a member of
Page generated in 0.0684 seconds.