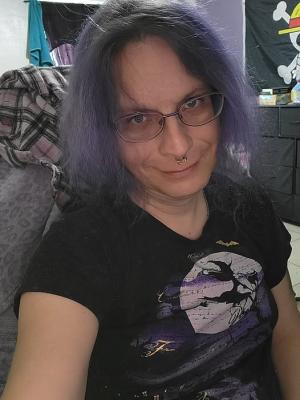 THIS JOURNAL IS ON 272 FAVORITE JOURNAL LISTS
Honor: 2 [ Give / Take ]













8 entries this month


New Avatar?

19:09 Jan 31 2018
Times Read: 464


Thinking of making this my new profile picture


Day 123
03:00 Jan 31 2018
Times Read: 477
When you get double intake of your meds the roller coaster that you once thought was rough. I'll tell you it is not; when compared to this that has more twists and turns then anything that could possibly be designed. I feel like a cheat code up up down down left right aba select start. Then some other crazy code you have to do origami for.
4 months / 120 days
00:26 Jan 28 2018
Times Read: 497
4 month achievement !!!!!! 120 days dosages increased I'm in for a wild ride. So much progress did my nails getting better at makeup. Coming out to more people at work. So much positive I hope it keeps up!
Day 110
01:46 Jan 17 2018
Times Read: 535
Down and sad
Day 104
04:16 Jan 11 2018
Times Read: 572
I feel so alone. I'm crying upset, still no card no access to my bank account it's been 11 business days. I totally forgot about my food stamp card I have to follow up on that. I feel my world is falling apart. I don't know what to do to fix my loneliness anymore. I fear I've burned to many bridges with no return.
DAY 100
03:32 Jan 07 2018
Times Read: 611
Day 100: I would say that this was a overall ok day, but that would be a lie. I'm sad , crying upset, can't hold back my feelings right now. I don't know maybe I'm seeking approval. I was going to do a video but I still haven't done a voice and right now can't afford a razor and look awful today. I also saw something in my memories that really saddened me and really can't do anything about it. I really thought i'd be doing more today but it'll have to wait til i have a day off again.
Day 98
03:34 Jan 05 2018
Times Read: 623
Almost 100 days on HRT and it's getting a lot easier to deal with the mood swings.
REAL VAMPIRES LOVE VAMPIRE RAVE
Vampire Rave is a member of
Page generated in 0.1064 seconds.