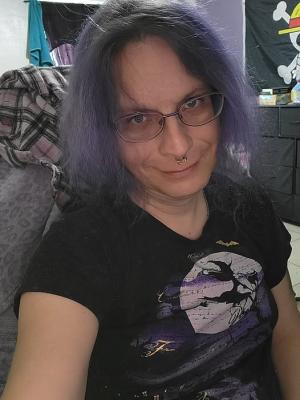 THIS JOURNAL IS ON 274 FAVORITE JOURNAL LISTS
Honor: 11 [ Give / Take ]













11 entries this month


Baphomet Design By me.

20:41 Mar 29 2021
Times Read: 768

Baphomet
08:22 Mar 29 2021
Times Read: 798


I have a new Goddess. Things are changing for me. I've been whipped by a belt for the first time. Wasn't as good as I would have liked but yeah. Even though it wasn't that great at least I can do it. Things are a bit exciting for me and at the same time not so much. Being poly is the best thing to happen for me I have so many loving partners. It's amazing.

***

I want to cut


***

Felt used want to know more message me. If you actually care seems no one gives a flying fuck.

No one cares

***

I'm watching you and you don't know it.

***

I do what I want.
ooooh
22:31 Mar 27 2021
Times Read: 815
I was whipped and it was good that is all.
666 finally! other stuff.
11:27 Mar 27 2021
Times Read: 841
Finally I'm starting to find the woman I've always been. So many drastic changes. I feel so good and loved. Yet I struggle with my trauma depression what not. It's so bad now that I'm insulting myself and calling myself fat. I can't stop them from speaking and it goes back and forth. I don't like it too many personalities out at once. I had a major trauma episode that gave me so much fear i collapse into a ball but was hanging on the counter with all my life cuz i turned on the water. SO much like this is happening. I'm scared that I'll lose everything. I'll keep trying to fight but it's really hard cuz all i want to do is sleep and never wake up Also I turned on the water to do dishes and I had a terror trauma event curled up into a ball holding on the counter for dear life you ignored that and I needed assurance but k I'll leave you be.


Looking at my picture now. I'm absolutely loving me
Sexy Time
08:31 Mar 18 2021
Times Read: 881
Breakdown 2021 I
00:58 Mar 16 2021
Times Read: 917
I've been having major dysphoria to the point is was intolerable. All the hate messages overwhelmed me and i broke down in tears. I hate myself I hate myself hate myself each one with two hits in my head. yeah I abuse myself. I'm also a cutter. I don't deserve to exists. What's wrong with me. Then tried to reach out to my support group no one was available. I ran inside woke up one of my partners and was telling them I was having a breakdown. I immediately collapsed to the floor the body had stopped responding majorly overwhelmed. Deep emotional crying and couldn't stop and almost had to call crisis. I hope this isn't a sign of another breakdown that may send me to the hospital.
it's been...
05:25 Mar 15 2021
Times Read: 947
A rough few days full of dysphoria , Dissociation, dealing with hate messages, etc trying more and more to be myself and people just stomp down on me.
This is no joke no expirement this is the real deal
09:03 Mar 13 2021
Times Read: 983
If you dont' know what LGBTQ is all about read up on it tons of resources. Hell I Have a bunch of them. I'm a fucking woman. end of story.
Fuck you
08:58 Mar 13 2021
Times Read: 984
BIG NONO Don't ever misgender me. One way ticket to me being pissed off. If you had nothing constructive to say you shouldn't have said anything at all. I'm fucking hot now 100 million times hotter I'll show what I want my body my choice not for you to say what i can and cannot do. If this is how you are going to be unfriend me forget you knew me. I don't need more dysphoria to add to my trauma bucket
Panty shot
08:40 Mar 13 2021
Times Read: 991
Stay Tuned
09:30 Mar 12 2021
Times Read: 1,014
FOr some stuff i guess lol
REAL VAMPIRES LOVE VAMPIRE RAVE
Vampire Rave is a member of
Page generated in 0.1529 seconds.