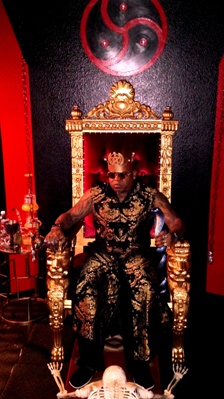 THIS JOURNAL IS ON 368 FAVORITE JOURNAL LISTS
Honor: 1,442 [ Give / Take ]













12 entries this month





15:34 Jan 29 2018
Times Read: 742








Want!!!








17:41 Jan 21 2018
Times Read: 779




FeverDreams will be sporting this new 2018 Bikini. All I'm asking is for her to send me a Selfie when she tries it on. ^_-




21:56 Jan 20 2018
Times Read: 781
15:49 Jan 20 2018
Times Read: 786
Don't focus on the fact that I'm now awake. Your concern should be what type of shenanigans I'm going to partake in and why your Mom will be calling you from MY phone...LOL!
23:04 Jan 17 2018
Times Read: 800
I will not watch that again (watches it for the 5th time)....LOL!


06:01 Jan 13 2018
Times Read: 807
Her: I'mma need you deeper than six, it's not a coffin
Me: I'mma need you tighter than cave, I'm not Batman
00:30 Jan 13 2018
Times Read: 808
Time to get some Reading in. Then a Sauna Treatment. Then Dinner Time.
19:08 Jan 05 2018
Times Read: 835
Her: So, what do you have planned for me?

Me: Oh, nothing too wild, but can you sign this Non-Disclosure Agreement and remember, what happens in The Warlock's Lair...Stays in The Warlock's Lair.


15:38 Jan 05 2018
Times Read: 839
Things happen in life that some say are signs from the Universe trying to remind us of something that we may need to do.

So, I was drinking out of a water bottle and spilled a little on the face of a picture of an actress in a magazine...🤔


15:30 Jan 04 2018
Times Read: 851
So it goes something like this. I wake up and then spend my entire day feeding off the Energy of whatever I feel projects Serenity, Happiness, Love, Sex & Magick.

I blog/vlog actions as well that has to do with those Elements Of Warlock Awesomeness.

I share that which sparks an emotion within me.

My general connection to the Outside World is via my laptops/cell phone by way of the internet. So those careers that have a person staring all day at some type of computer screen, I know what that's like. However, I do it as a hobby. One of many, but it is my main one.

So daily, I spend ALL day laughing at, reacting/responding to some shit or another.

Yeah, Life Is Good!!!
01:54 Jan 03 2018
Times Read: 873
So I think I'm going to go to Hobby Lobby and buy a bag full of the letter 'D' and then drive around town stopping beside random women and throwing one at them then pointing at my passenger side seat. I heard that's the way guys flirt in 2018. LOL!
REAL VAMPIRES LOVE VAMPIRE RAVE
Vampire Rave is a member of
Page generated in 0.2578 seconds.