I used to have another account which i had to delete, it was BeautifullyChaotic24, so if u have talked to me before let me know :)



▬▬▬▬▬▬▬▬▬▬▬▬▬▬
Old Eиσυgн Tσ Kиσw Bзттзя;;
  -TσYσυиgTσCαяз..


LIVE.♫. LAUGH.☺. LOVE.♥.



Mythology is awesome
Music is GOD
i love Lyrics and Quotes
Just graduated high school
Defying gravity =]
Challenging "normal"
Loves to read
SHERRILYN KENYON AND STEPHINE MEYER
[D-H seris & Twilight saga, best ever!]
Music..
PARAMORE, All american rejects!, AFI, Fall out boy, Sneaky sound system, Good charlotte, Linkin park, Greenday, Jet, Silverchair, Snow patrol, Akon, MCR, HIM, Taylor Swift, Evanescence, Soko, Kelly Clarkson, Nickelback, Many more...
Film
Queen of the damned, Romeo and Juliet, The little mermaid, Cinderella, Beauty and the beast, Alice in wonderland, Harry potter (s), The covenent, The da vinci code, 300, Moulin Rougue, The lost boys, Mean girls, Many more..
TV
SUPERNATURAL!!, Simpsons, Family guy, Futurama, Charmed, CSI, NCIS, The secret diary of a call girl, Girls of the Playboy mansion
Screamers, always♥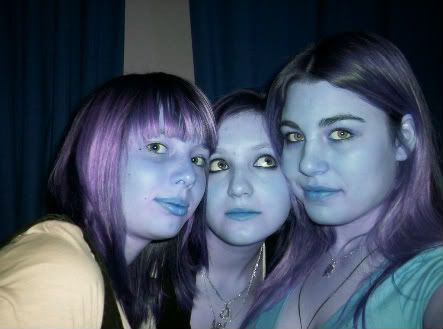 Dislikes
racists, jerks, people who think they are better then others, spoilt brats, pretending to be something your not, trying to put ur views on others, sexists, people hu are abusive, unloyalty... u get the point
likes
quotes, honesty, people being upfront, romance, music, texting, animals, taking photos, reading, drawing, nature etc
oh an i cant wait to go clubbing =]
NOTE: i used to have A LOT more pictures on my profile and i used to have a portfolio of pictures aswell, however someone on here theatened me when i wouldnt send them photos. I DONT SEND PHOTOS, I DONT CYBER. They are the only two things that i will NOT tolerate, i will just block you.
So this has been my page, any other questions just give me a shout, always happy to meet new people =]